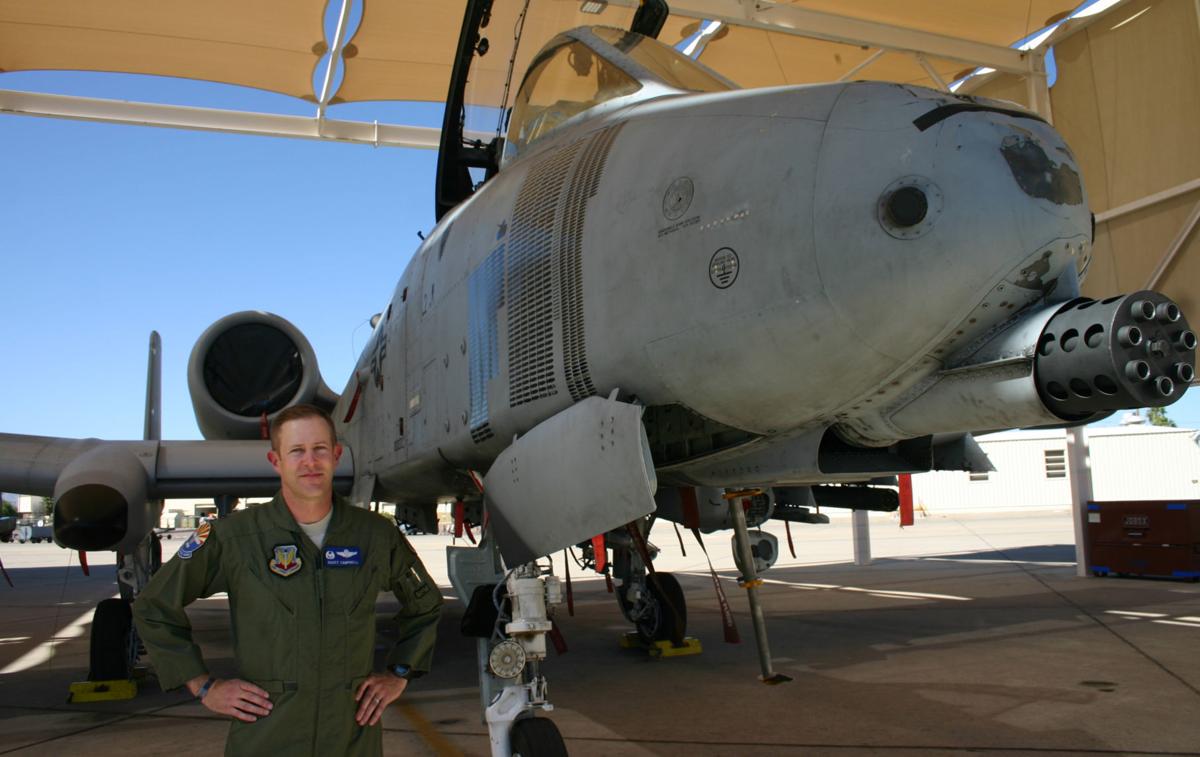 Col. Scott Campbell will relinquish command of Davis-Monthan Air Force Base in late June, amid uncertainty over the base's future.
But despite lingering concerns over plans to phase out the A-10 Thunderbolt II ground-attack jet, one of D-M's mainstay missions, Campbell says D-M remains strong and will be in good hands as he looks to the next chapter in his Air Force career.
And he's leaving D-M on a high note, after the base recently clinched its second award as the Air Force's top installation.
After a two-year rotation as commander of D-M's host unit, the 355th Fighter Wing, Campbell will pass on the wing's ceremonial flag to Col. Mike Drowley on June 29.
Campbell and his wife, Col. Kim Campbell, both decorated A-10 Thunderbolt II combat pilots, are being reassigned to the Air Force Academy in Colorado Springs, Colorado, where he will initially serve as operations director for the academy's superintendent.
Drowley is currently chief of staff at the U.S. Air Forces Central Command at Al Udeid Air Base in Qatar.
A former A-10 combat pilot and instructor, Drowley is no stranger to D-M, after training as a pilot here in the late 1990s and heading training at an A-10 squadron at D-M from 2000 to 2002.
"He's a fantastic aviator and leader," said Campbell, who served with Drowley when both were weapons instructors at Nellis and Pope air bases in the early 2000s.
Campbell, who is 42, said he and his wife met at the Air Force Academy and had been planning to move to Colorado Springs and eventually retire there. The couple, who have two boys ages 5 and 9, had already bought a house in Colorado Springs when the academy orders came through.
Kim Campbell, who now commands the 612th Theater Operations Group under the 12th Air Force at D-M, famously flew her "Warthog" back to base using manual controls after it was shot up over Baghdad in 2003.
Her role at the academy is still uncertain but will likely entail instruction, Scott Campbell said, noting that she already has been involved in an online mentoring program for young pilots.
In a wide-ranging interview, Campbell credited D-M's airmen and the Tucson community for helping D-M win the 2018 Commander-in-Chief's Installation Excellence Award, which Davis-Monthan also won in 2012.
First awarded in 1985, the annual award is given by each service to recognize innovation and excellence, and D-M also was the Air Combat Command's nominee in 2016.
"It's recognition of the size and complexity that is this base," Campbell said of the award.
After electing not to vie for the 2017 award, Campbell said D-M went after the 2018 award with a strategy of highlighting how D-M's airmen have excelled despite flying aging planes, and dealing with old facilities and lack of resources.
"We made an effort to show some of our oldest and most run-down facilities," he said. "And the point of it was, look what our airmen are able to do, and that to me is what innovation is: Airman going, 'OK, I don't have the resources to do this, but I'll figure out a way to do this efficiently and effectively."
Campbell said D-M, which beat out Florida's Hurlburt Field for the top honor, also showed off community partnerships including joint fire training with local agencies on base, and a cost-effective foreign-language program at the University of Arizona for linguists who ride aboard D-M's electronic-combat planes to translate intercepted messages.
Local business and community leaders also turned out during tours of the base, including Tucson Electric Power Co. execs who helped explain the benefits of a new substation on base and efforts to boost reliability and incorporate solar power, he said.
"We knew we would blow them away with all this partnering we do at all different levels," Campbell said, adding that he also had airmen individually explain to Air Force judges how they overcame scant resources to get their jobs done.
The $700,000 prize that comes with the Commander-In-Chief's award will be used for a major upgrade to one of D-M's fitness center, and security upgrades to another gym to allow 24-hour access, Campbell said, noting that airmen requested the upgrades in a base-wide survey.
In 2012, some of the $1 million D-M got for its last award was used to upgrade the base's South Wilmot Road gate, on the base's south side, allowing it to be used part time.
"We've adapted it, but it's not highly effective," Campbell said.
He said he has submitted a construction request to the Air Force to spend about $12 million to upgrade the South Wilmot gate with a modern commercial-vehicle search facility.
That would help the community because delivery trucks now entering the Swan Road gate off Golf Links Road frequently cause backups, he said.
The top installation award may not factor directly in future decisions about base closures, but it can't hurt, Campbell said.
Campbell said D-M remains "unmatched" as a critically important training base, citing its year-round access to Southern and Central Arizona's gunnery ranges.
D-M also hosts a diverse set of missions besides the A-10 including the 55th Electronic Combat Group, a growing combat search and rescue operation, and the unique aircraft maintenance and storage operation known as the "Boneyard," the 309th Aerospace Maintenance and Regeneration Group.
Campbell added that D-M combat-rescue operations remain strong, noting that a rescue flight at the base was expanded to a full squadron last year.
While the A-10 retirement is on hold for now, the local base has been in the running for new and additional missions.
Earlier this year, D-M was passed over as a base for a new MQ-9 Reaper drone unit and as home to the first Air Force Reserve squadron of the F-35 Joint Strike Fighter.
But Campbell said D-M remains a strong candidate for future drone and F-35 basings, as well as for a light-attack plane the Air Force is testing as a possible replacement for the A-10 in lower-threat combat situations. The Air Force has narrowed down its light-attack demonstration to two jets, Textron's Aviation's AT-6 Wolverine and the Embraer A-29 Super Tucano.
"I think we'll continue to be a target for future missions,' " Campbell said. "Long term, I think we're going to get light-attack, or the F-35. I don't see the A-10 just going away and you not getting something here."
Though D-M lost out to Naval Air Station Joint Reserve Base Fort Worth on the initial Reserve F-35 squadron, the Air Force is conducting an environmental impact statement on basing the stealthy jet here as an alternative site.
But some local residents are vehemently opposed to hosting the F-35 here, contending that because it is much louder than jets that fly here now it is not appropriate for one of the Air Force's most urban bases. They also say it's too risky to fly the new, single-engine plane over the city.
Campbell said D-M has taken many steps to minimize jet noise in recent years, including sending A-10s to Fort Huachuca's Libby Army Airfield for repeated traffic-pattern training and mandating higher approach altitudes, though the latter makes landing somewhat more difficult.
"In the end, we're an Air Force base, and I think we've done a lot to minimize the negative impacts on the community without putting our aircrews at risk, and that's the balance I have to strike," he said.