One by one, hundreds of asylum seekers in Nogales, Sonora, who gathered near the downtown port of entry on Tuesday morning raised their hands when their numbers were called.
"4,008? 4,009? 4,010?" a Nogales police officer called out as he scanned the crowd to see if anyone raised their hands. When they did, they got in a line to speak with an official from the Nogales mayor's office who would ensure their names stayed on the list of people waiting to make their claim with U.S. officials at the port of entry.
Some asylum seekers told the Arizona Daily Star they had just arrived, while others already had spent months in Nogales trying to keep their children healthy and find places to stay.
The stories they told last week included fleeing draconian laws and homophobia in Cuba, political oppression in Venezuela, religious persecution in Russia, and deadly violence in the Mexican state of Guerrero.
Raidel Tejera, 31, fled Cuba with his wife, Claudia Baguet, 23, and arrived in Nogales six weeks ago. Baguet is now eight months pregnant and worried about finding a safe place to have her baby. Tejera is trying to find a job so they can pay for medical care, but the Mexican government won't give him the documents he needs to work legally.
They maintain a relatively cheerful demeanor, but their time in Nogales has not been easy. Tejera said he was assaulted not long after they arrived.
The small apartment they share with three other Cubans has no furniture other than a table and several threadbare mattresses.
Still, they don't regret leaving Cuba. "The entire country is a prison," Tejera said.
"We want to live in a free country. There is no type of freedom in Cuba."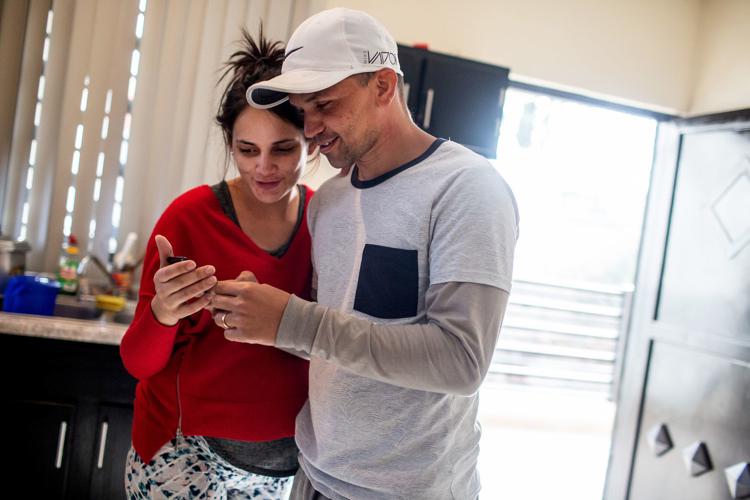 Jorge Talavera, a 28-year-old petroleum engineer from Venezuela, now sells tortillas, cheese and sweets from a table near the port. He said he and his family came to Nogales five months ago after the Venezuelan National Guard beat Talavera.
He helped organize a protest after his neighborhood went two weeks without electricity, on top of longstanding shortages of food, water and heating fuel. Trucks from the Venezuelan National Guard arrived and masked men got out, grabbed his wife, and beat him over the head, Talavera said.
"I thought they were going to kill me in that moment," he recalled.
When he left the hospital, four men with the National Guard were waiting for him and told him not to file a complaint, he said. He ended up filing a complaint days later.
Soon after, white trucks with blacked-out windows and no license plates started circling his block. The threats from the National Guard continued and he decided to flee.
A man from the Mexican state of Guerrero said he fled with his family after his father was murdered by the organized crime group that controls his town and all the surrounding towns. He is among a growing number of Mexican citizens seeking asylum in the United States.
He and others from Guerrero were incredulous last week when they heard the Trump administration is trying to send Mexican asylum seekers to Guatemala, a country from which thousands of people have fled to the United States in the past year to escape gang violence and poverty.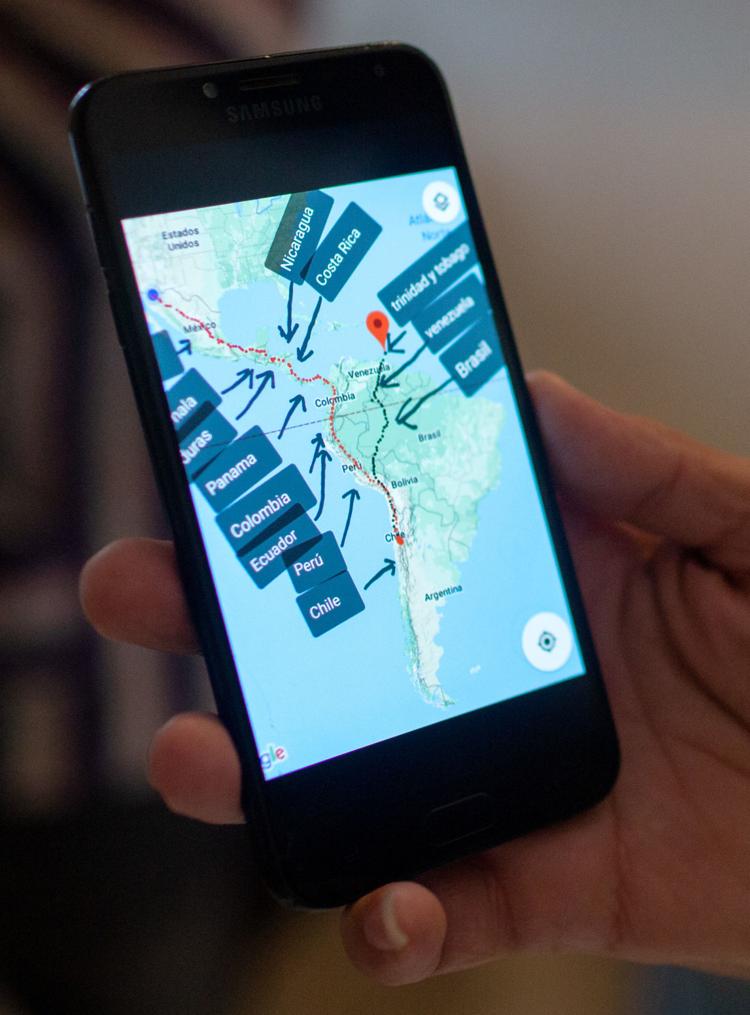 "We fled violence, how are they going to send us to even more violence?" one man asked.
They and hundreds of others went to the port of entry last week to make sure they raised their hands when the police officer called their numbers.
For the roughly 2,300 asylum seekers waiting in Nogales, the list is a central part of their daily lives.
They tape their numbers to their identification documents and share updates about the list via group text messages and word-of-mouth. Last week, those messages focused on getting to the plaza, as well as to a migrant aid station run by the Mexican government, to make sure they stayed on the list.
When the police officer called out a number and nobody responded, the number was eliminated from the list. The assumption is the people with those numbers left to try their luck in another border town, gave up and headed home, or decided to cross in the desert and turn themselves over to Border Patrol agents.
Similar lists emerged in other Mexican border towns last year as tens of thousands of asylum seekers tried to make their claims in California and Texas. At times, the list was handwritten in notebooks. The Nogales version is kept on a laptop used by Rafael Garay Cardenas, the assistant to that city's mayor who is constantly flanked by police officers.
Rumors are flowing among the asylum seekers that bribes are moving people up the list. Cardenas said he gets offered bribes "almost daily" to move people up but has never taken any.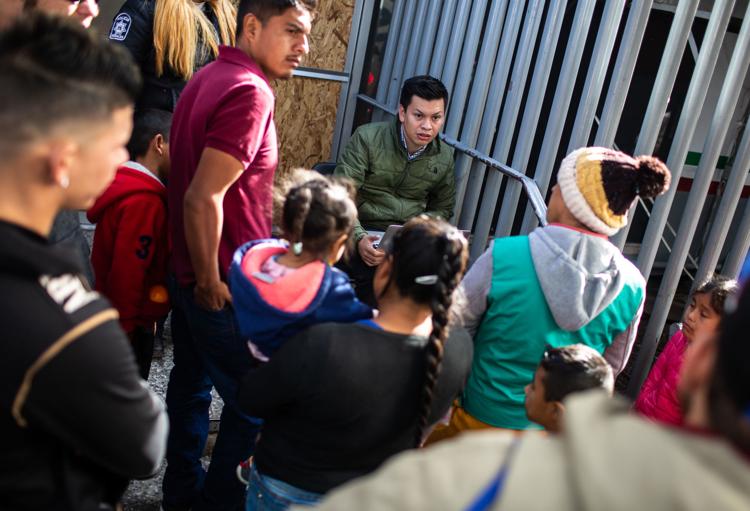 As of last week, about 1,500 adults and 800 children were waiting to speak to U.S. officials, according to Cardenas.
Cubans make up nearly half of the asylum seekers in Nogales, numbering about 600 adults and 500 children. Venezuelans account for roughly 300 adults and 200 children. A similar number are Mexican, with the majority coming from Guerrero and about 100 from Michoacan.
Their fates will be revealed after they go through the turnstiles that mark the entrance to the port of entry.
After they make their asylum claim, will they be released to Casa Alitas or other shelters in Tucson? Nearly 20,000 asylum seekers in 2019 found refuge in Tucson for a few days while they arranged travel to cities where they could live with friends and relatives while they waited for immigration court hearings.
Will they be sent through the Migrant Protection Protocols, meaning they will be returned to Nogales but will eventually have to make their way to El Paso for their immigration hearings?
The U.S. program, also known as Remain in Mexico, began in California and Texas early last year and started two weeks ago in Nogales. Now, U.S. officials send about 30 asylum seekers each weekday back to Nogales to wait, Cardenas said.
When asked why federal agencies are not keeping the status quo and sending asylum seekers to Tucson shelters, the public affairs office for Customs and Border Protection in Arizona said: "Catch and release has ended. Aliens will not be permitted to disappear into the U.S. before a court determines that they are entitled to relief or protection."
A few dozen yards from the turnstiles, Liosmany Martinez sat on a bench with Jose Luis Lago, waiting for a chance to speak with Cardenas about moving them up the list.
They said they fled homophobia in Cuba, including a doctor who botched an intravenous line for Lago, leaving him unable to completely close his right hand, because the doctor did not want to touch a homosexual person.
They are trying to make their asylum claim as soon as possible so that Lago, who suffers from hemophilia, can be treated by specialists in the United States. Without reliable medical care, Lago said he is worried he could die at any time in Nogales.
As Lago and Martinez waited on the bench, other asylum seekers made their way toward the turnstiles. Cardenas said between six and 12 asylum seekers speak to U.S. officials each weekday.
Last week, a Cuban woman hustled toward the turnstiles, pulling a small suitcase behind her. It was her turn to speak with U.S. officials at the port.
She said she was "nervous for what's about to happen now" as her teenage daughter's face beamed with excitement.
They were escorted to the turnstiles by another Cuban woman with tears in her eyes. They had met on the journey from Cuba and were living together in Nogales.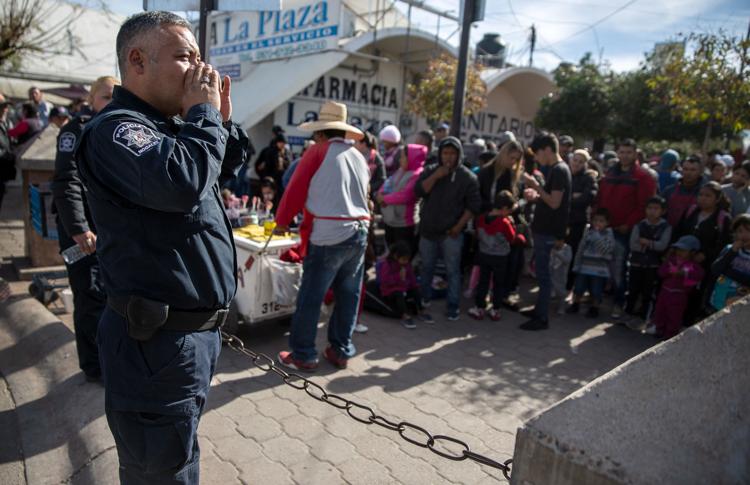 The woman with tears in her eyes recently went through the turnstiles herself and spent a few days inside the port building, where cots were set up for asylum seekers. U.S. officials returned her to Nogales, Sonora under the Migrant Protection Protocols and gave her a court date in March in El Paso.
About 56,000 asylum seekers entered the Migrant Protection Protocols from January to November, mostly in Texas and California, according to the Transactional Records Access Clearinghouse at Syracuse University, which tracks federal data. The vast majority of asylum seekers do not have lawyers. About 120 cases have ended with some sort of relief for asylum seekers. Fewer families are asking for asylum in Texas than last summer, but Arizona has seen an uptick in recent months. In November, CBP started sending asylum seekers from Arizona to El Paso and then to Ciudad Juárez, where they wait for hearings in El Paso.
More than 700 people were sent from Arizona to El Paso from late November to the end of 2019, according to CBP. About 610 had surrendered to Border Patrol agents and about 120 had made asylum claims at ports of entry. It is unclear whether CBP is still busing some asylum seekers to El Paso. CBP did not respond to questions about whether the practice ended when CBP started sending asylum seekers back to Nogales earlier this month.
Talavera, from Venezuela, has a court date in March in El Paso, although he hopes he can go to immigration court in Tucson.
For the time being, the Tucson court is not handling Migrant Protection Protocols cases, according to CBP. "We do not have the logistics set up to use it, but that could change," CBP said in a written statement.
For Talavera, and several other asylum seekers who spoke to the Star, the name of the Migrant Protection Protocols is misleading.
"MPP is not a protection for migrants, because Mexico is not a safe country," Talavera said. "If they want to offer you protection, they should offer it there (in the United States)."
He told the story of a scary night not long after they arrived in Nogales. They were staying in a hotel when a man banged on the door of their room, asked if they were migrants, and demanded money. The man eventually left them alone. They now rent a house.
Nogales has been a landing spot for migrants for decades, but the shelters in the city cannot handle thousands of people waiting for months. Most of the asylum seekers who spoke to the Star had rented a hotel room or an apartment.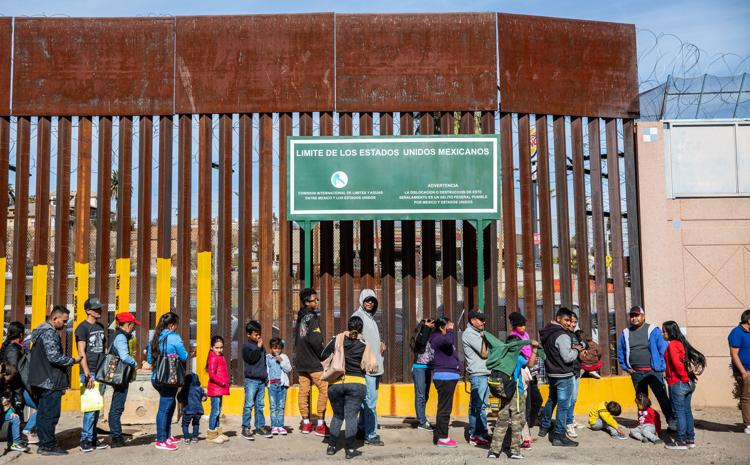 Inside their apartment near the end of a street that winds its way up the hills, Tejera and Baguet talked about life in Cuba with Jose Batista, 51, who said he was a lawyer in Cuba.
The lack of freedom of expression in Cuba is well known. To show how many other Cuban laws could not exist in a democratic society, Batista pulled up a copy of the Cuban legal code on his laptop.
If you buy more goods than you normally would need, even cartons of eggs, you go to prison, Batista said. If you add to your house or do well as a bar owner, you have to show exactly how you got the money. Even then, you still may go to prison. In many cases, an accusation can be enough for a conviction.
Their lives in Cuba are long gone, Tejera said. Mexico is the 14th country they traversed since they left Cuba two years ago. They are hoping the United States will be the 15th.
For the time being, they are still looking for answers about what will happen to them, often in the face of a bureaucratic logjam. They can't speak with U.S. officials yet and Mexican officials "wash their hands" of responsibility and pass all the blame to the U.S. government, Baguet said.
Tejera said they will keep walking down the hill to the port of entry every day to see if they can make their asylum claim before the baby comes or at least find a safe place for Baguet to give birth. Until their efforts are successful, they will head back up the hill to their apartment and wait another day.