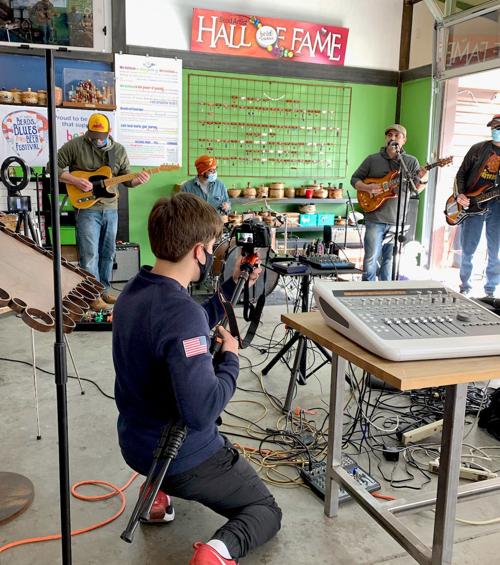 COVID-19 has inspired fundraising innovation galore among local nonprofits, and Beads of Courage is no exception.
The organization is taking an entire festival virtual — complete with a concert featuring country and folk music and authentic blues from New Orleans along with expo booths highlighting beading and wellness activities.
The online fourth annual Beads, Blues & Beer Festival will be staged from 2 to 4 p.m. Sunday, March 28; tickets are available at bit.ly/BOCBBB.
"While it is nice to be together in person, now there is the benefit that anyone, anywhere, can watch this event on a Sunday from the comfort of home … that is the silver lining of a virtual event," said Jean Gribbon, who founded the nonprofit in 2005 to help children with chronic and serious illnesses record, tell and own their stories of survival through beads.
"We are a based in Tucson with programs in more than 150 hospitals throughout the United States and 400 hospitals globally, so we are really excited to have people from around the country attend the festival to learn about the Beads of Courage mission and enjoy great music."
Characterized by programs that have traditionally provided in-hospital services through child-life specialists and other clinicians, Beads was forced to halt programs at the onset of the pandemic. Once concerns about virus contamination through objects were alleviated, Gribbon became determined to bring the beads back to the kids in their homes.
"We knew we had to continue to support the emotional needs of our patients. While all of us were adjusting to social isolation, it makes our team appreciate that isolation is the norm for kids who are very sick and isolated in the hospital from friends and family," said Gribbon.
Gribbon and her team quickly realized the solution to continued support was the internet; they decided that the nonprofit's Bead Strong program, which provides education on mindfulness and breathwork in conjunction with specific beading activities, would be the ideal virtual vehicle. More than 500 children, teens and their families have now received virtual services through the program.
"The key word of 2020 was pivot, so we decided to set up Zoom sessions so our child-life team could facilitate Bead Strong sessions. Families sign up their kids, and we mail Bead Strong Bead Kits to them prior to the sessions. We would never have considered virtual programming, but now we are learning that we can meet these kids and their families in their homes. They still need our support even if they are not in the hospital," said Gribbon.
Each session promotes strength in body, mind and spirit by utilizing a unique mantra printed on a colorful commemorative card in combination with a mindful art activity and a basic breathing technique, according to Krista Burgbacher, a certified child-life specialist and program director for Beads of Courage.
"We hope that this experience gives families and children the opportunity for self-reflection, self-expression, creativity and communication. It is often difficult for children to communicate what is going on in their lives, and having a modality to make it more comfortable for them to express their feelings and share is helpful. This is true even for adults: It is helpful for everyone," Burgbacher said.
Additionally, Burgbacher said Bead Strong sessions offer takeaways through commemorative cards and beading projects (such as pewter and glass beads strung together for key chains) that children and adults can reference in their daily lives.
"All of our programs incorporate beads as tangible items to reflect on moments of courage or mindful moments or other positive emotions. Humans use these tangible reminders to bring them back to those moments and recognize they have skills they can implement in times of stress," said Burgbacher.
Ultimately, Gribbon said continued innovation to better support young patients and their families emotionally is as vital as ever.
"We have amazing feedback from patients and families and clinicians who have said they are so grateful to have Beads of Courage during the pandemic since hospitals are not allowing support people or volunteers to come in for patients.
"Our program has received so much validation, and we have lofty goals for 2021. Fundraising through the Beads, Blues and Beer Festival will help to make those happen," Gribbon said.