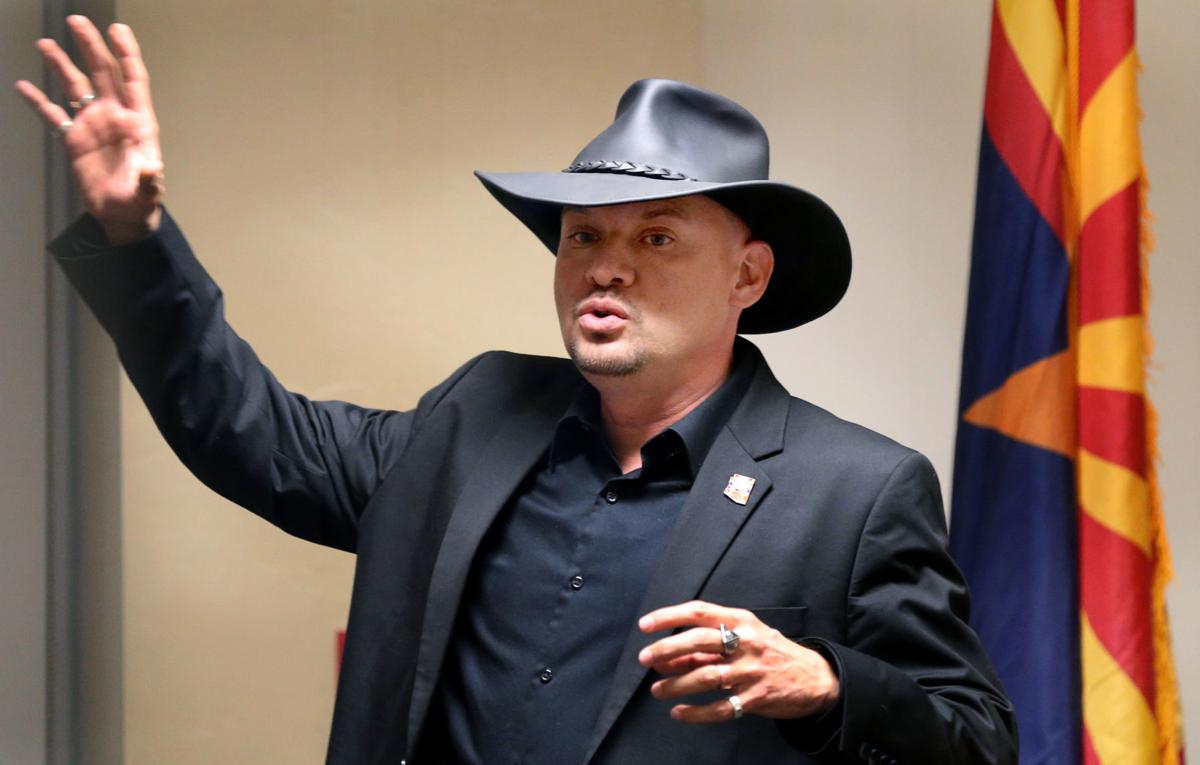 The head of the Tucson chapter of the Border Patrol agents' union condemned offensive Facebook posts that led to a firestorm of criticism in recent weeks and investigations of agents.
"You can't condone some of the language that was used," Art Del Cueto, president of the National Border Patrol Council's Local 2544 in Tucson, told the Arizona Daily Star.
There was "no excuse" for some of the malicious posts, Del Cueto said, but he said those posts made up a small part of what was discussed on the Facebook page.
"The majority of it was just shop-talk," he said.
The posts on a Facebook page used by Border Patrol agents included fake images of a congresswoman made to look as if she were performing a sex act on the president. Other posts said migrants were "like wild animals, stop feeding them and they wont hang around and s--- on the street," according to posts archived by the Intercept, an online investigative news site, before they were deleted.
The Facebook group was created in August 2016 for current and former Border Patrol agents, ProPublica reported when it broke the story July 1. The group was named "I'm 10-15," a Border Patrol code for "aliens in custody," and included roughly 9,500 members.
Del Cueto said he never posted anything or "liked" any posts. He took issue with certain posts that spread rumors about border-related bills or misinformation about what the union was doing.
He also said it is unclear how many of the group members were agents.
After members of Congress and Border Patrol officials condemned the Facebook posts, Customs and Border Protection officials announced they were conducting internal investigations of potential misconduct by 62 current and eight former agents, the Associated Press reported Monday.
Del Cueto entered the discussion when the Intercept published a July 12 story that named Border Patrol officials and union leaders as members of the Facebook group, including Del Cueto.
The AP quoted an unnamed retired agent who said anyone who wanted to join the Facebook group needed to show their graduating class number from the Border Patrol academy and a current member had to vouch for them.
Del Cueto said that information was incorrect. Instead, anyone could be added by a member of the group, even without the person knowing, he said.
"I was added to that page," he said. "I don't even know who added me."
Del Cueto said he brought up issues when he saw managers posting inappropriate content. He was "shocked" to see Carla Provost, chief of the Border Patrol, was part of the group. The Intercept reported that Provost did not appear to have posted anything controversial.
In March, Del Cueto was embroiled in a local controversy after University of Arizona students chanted "murder patrol" at two agents who were speaking with criminal justice students on campus and then followed the agents outside to their car. Days later, Del Cueto told a radio host if he had been off-duty and a protester had shouted at him like that, "I would have punched her in the throat."
On Tuesday, Del Cueto said what he meant was a regular person might react violently if they were "attacked" the way the agents were. He wasn't saying that if he had been one of the agents on campus he would have punched her, he said.
Degrading language used by Border Patrol agents in Southern Arizona emerged in May when federal court filings in Tucson showed Matthew Bowen, a Nogales-based agent, calling migrants "disgusting subhuman s--- unworthy of being kindling for a fire," among numerous offensive text messages.
Bowen is accused of knocking down a Guatemalan man with his Border Patrol vehicle in December 2017 and then lying in a report about the incident, court records show. His trial is scheduled to start next month.
U.S. District Court Judge Cindy K. Jorgenson described the text messages as "abhorrent" in a June 12 court filing. At best, she wrote, the texts reflected Bowen's "distasteful thoughts," and at worst, his "repugnant racism."
Get local news delivered to your inbox!
Subscribe to our Daily Headlines newsletter.