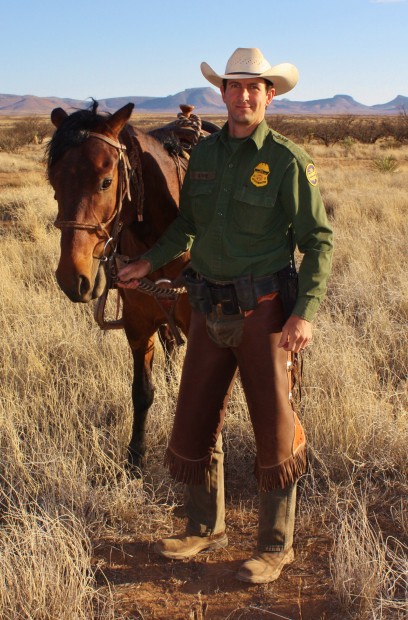 Border Patrol Agent Nicholas J. Ivie was killed by friendly fire, federal investigators confirmed today.
"While it is important to emphasize that the FBI's investigation is actively continuing, there are strong preliminary indications that the death of United States Border Patrol Agent Nicholas J. Ivie and the injury to a second agent was the result of an accidental shooting incident involving only the agents," the FBI said in a short news statement released Friday afternoon.
"The FBI is utilizing all necessary investigative, forensic, and analytical resources in the course of this investigation."
Word that investigators were looking into whether friendly fire caused the Ivie's death started to spread Thursday. By early Friday, some news organizations were reporting that the FBI would confirm the speculation.
The Cochise County Sheriff's Office said Friday that it is continuing to work with the FBI on the investigation. It said based on the work by the federal agency "We are faced with the reality that this event was a tragedy for the United States Border Patrol and all law enforcement agencies nationwide.
The statement by sheriff's spokeswoman Carol Capas continued, "The FBI completed the ballistic testing and came to the indisputable conclusion that this was an instance of 'Friendly Fire.' "
Cochise Sheriff's Chief Rod Rothrock said in the news release, "This event is tragic and the conclusions of the investigation, make it no less so."
Border Patrol officials held a brief news conference Friday evening to make a statement.
Commander Jeffrey Self said he told Ivie's family earlier Friday there was the possibility the agent died from friendly fire but that it changed nothing about Ivie's sacrifice to his country.
"He gave the ultimate sacrifice," Self said. "And did it in the line of duty."
"He will be remembered by all of us who served beside him," Self said from the Tucson Sector headquarters in Tucson. "The work of the Border Patrol is dangerous."
 The shootings happened early Tuesday about five miles north of the border near Bisbee.
Ivie and two others had responded to an alarm triggered by a sensor aimed at detecting smugglers and illegal immigrants entering the U.S
Ivie was shot and killed. Another agent was shot in the ankle and buttocks but was released from the hospital after surgery. The third agent was uninjured.
Ivie's death marked the first fatal shooting of an agent since a deadly 2010 firefight with Mexican bandits that killed U.S. Border Patrol Agent Brian Terry in December 2010 near Nogales and spawned congressional probes of a botched government gun-smuggling investigation.
Terry's shooting was later linked to that "Fast and Furious" operation, which allowed people suspected of illegally buying guns for others to walk away from gun shops with weapons, rather than be arrested.
Twenty-six Border Patrol agents have died in the line of duty since 2002.
The Associated Press contributed to this story.