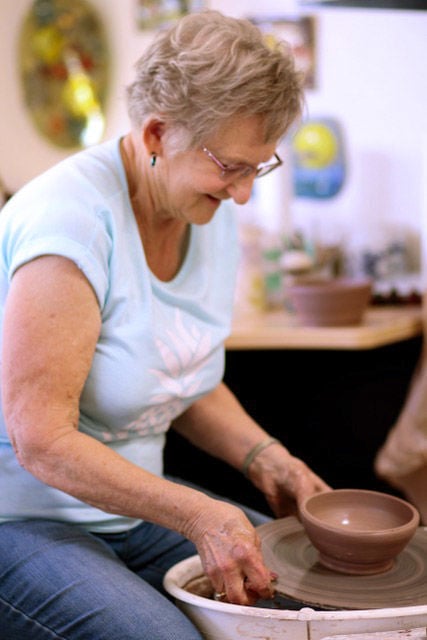 This year, more than ever, it takes heart to fill the empty bowls in our community, and local potters, vendors and other supporters have stepped up to the plate to facilitate the 10th annual Interfaith Community Services "Empty Bowls: A Fundraiser to Fight Hunger and Feed Hope."
The unique hybrid event, which costs $30 per person, will feature a virtual program at 10 a.m. Saturday, March 6, and drive-thru components for the pick-up of pre-packaged "mystery bags" highlighted by handmade ceramic bowls and other items.
The drive-thru will take place from noon to 4 p.m. Friday, March 5, and Saturday, March 6, at Interfaith Community Services Northwest Food Bank, 2820 W. Ina Road.
The event puts a COVID-friendly spin on the fundraiser that typically draws at least 1,000 guests to the Tucson Chinese Cultural Center to choose from hand-crafted bowls and enjoy tastings of soups, stews and desserts from numerous local eateries. It is the signature fundraiser for ICS, generally raising at least $100,000 to support operating costs of food banks and other services.
"It is a really different year and we had to stretch our imaginations to try and figure out how to have the event safely, but everyone was determined since it is our 10th anniversary. This is such a beloved event that so many volunteers, potters, vendors, artists and guests look forward to and they were thrilled when we decided to forge ahead," said Ann Garn, ICS communications and publications manager.
Garn said the traditionally volunteer-heavy fundraiser has come together as a result of the dedication of longtime supporters and sponsors, particularly since the volunteer landscape has changed due to the logistics of social distancing.
"Many of the organizations, co-ops and studios that helped in the past have been unable to participate, so many of the participating potters have backyard studios or throw at home. The potters have really risen to the challenge: Many have set personal goals and thrown more pots than ever. They have just been incredible," said Garn.
Among those are Laurie Dunham, a self-described "hobby potter" who crafted 166 bowls at her home studio, Doghouse Pottery. She has contributed 800 bowls to the cause since she became involved five years ago.
Dunham, who used a "taste neutral" theme in hopes of appealing to a broad audience with her bowls this year, said she feels fortunate to share her creations with others.
"There are 800 people out there who will have one of my bowls in their houses. It is personally gratifying to be able to do something that you love that helps someone else. How can you not win with that situation?" she said.
Dunham also finds gratification in the fact that the proceeds from her time and talent are directly benefiting those dealing with food insecurity.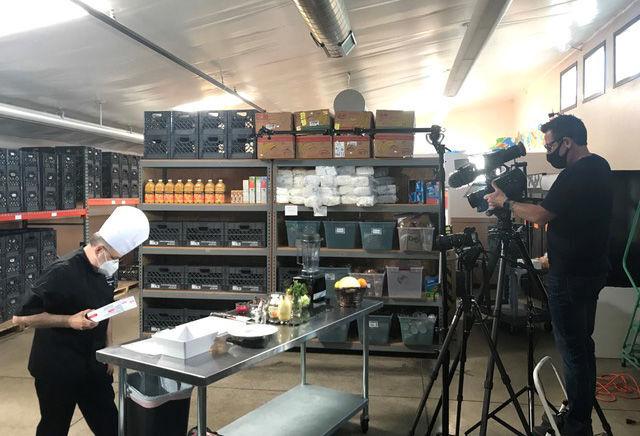 "I have never been hungry, but the idea of someone not having a place to go to get food for their kids is heartbreaking. I think people like the fact that if they pay $30 at Empty Bowls, it all goes right back to the Interfaith Community Services Food Bank. They don't like to donate $100 and have only $10 go toward the charity," she said.
Clay artist Linda DeBoer, who has been involved with Empty Bowls since its inception, agreed that increased community need since the onset of the pandemic has provided extra incentive for everyone involved.
An event organizer who donated 75 wheel-thrown and hand-built bowls this year from her home studio (lindadeboerclay.com), DeBoer said she was happy to stay busy with the project during the pandemic and is moved that her efforts will impact lives. During the 2020 fiscal year, ICS served 9,387 households and 25,585 individuals through its two food banks at 2820 W. Ina Road and at New Spirit Lutheran Church, 8701 E. Old Spanish Trail.
"The need is so great and it is obvious that everyone wants to do something, but even volunteering in groups is not encouraged right now, especially for those over age 65. This event offers a way to be part of an organization that can and does help people in need. It feels good to think that what we are doing is helping someone down the line," DeBoer said.
That philosophy is embraced by Masood Shirmohammadi, the executive chef at Splendido at Rancho Vistoso, which has been a "Souper Hero" and sponsor of Empty Bowls for the past eight years.
Shirmohammadi did his part by contributing to the virtual program: He demonstrates on video step-by-step how to make Chilled Melon Soup, which has been a crowd favorite since it debuted at the fundraiser seven years ago. A copy of the recipe — which boasts key ingredients of honeydew, cantaloupe and vanilla yogurt — will also be included in each "mystery bag" at the drive-thru.
"The soup is wonderful. Last year at Empty Bowls, people kept coming up to me to tell me how they look forward to this soup every year. It stands out as a refreshing, fruity and light chilled soup that people can prepare at home as a light snack or even a healthier dessert option. The recipe was developed by chefs prior to me, but every chef fine-tunes it a little while staying true to the recipe," said Shirmohammadi.
Ultimately, Shirmohammadi said that Splendido is active in many causes throughout Tucson and he is happy to support their efforts personally and professionally.
"Personally, I think that no one should go to bed hungry. It is great for us to do our part in any way we can to help our community," he said.