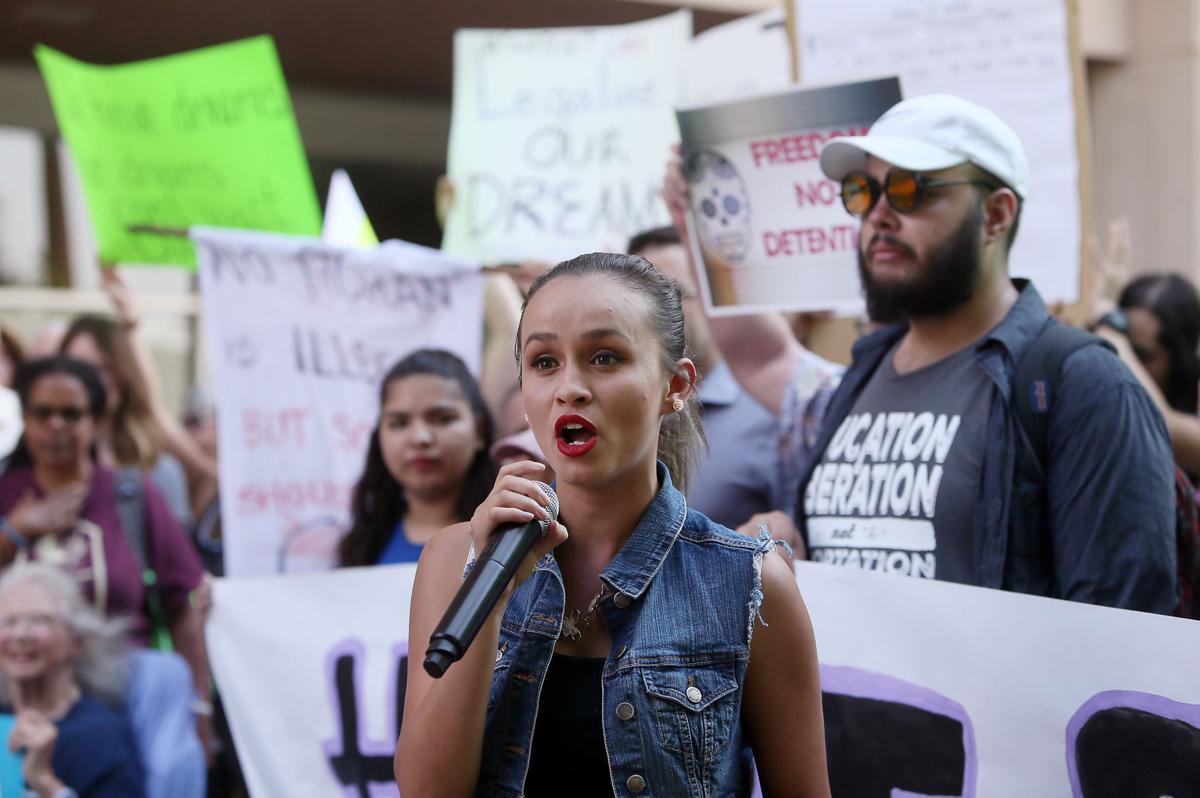 A presidential order on immigration spurred about 100 Tucson teens to walk off their school campuses Tuesday in protest.
Students from Cholla and Tucson high schools headed to the University of Arizona Mall to protest the end of a federal policy that protected immigrants who were brought into the United States illegally as children.
Trump administration officials announced Tuesday morning they would end the Deferred Action for Childhood Arrivals policy begun by the Obama administration in 2012.
"We couldn't sit there and receive an education knowing other people were being denied," said David Calzadillas, a 16-year-old junior and student council vice president at Cholla High Magnet School.
Two other Cholla juniors, Brianna Trevizo, 17, and Vanessa Gomez, 16, said they each have family members who are DACA recipients and need to work, in some cases to support young children. Their family members now could be eventually deported to Mexico, even though one of them doesn't speak Spanish.
"We came here to protest because we think it's the right thing to do," Gomez said.
A few hours later outside Tucson City Hall, DACA recipients and their supporters gathered to voice their opposition to the president's decision.
"DACA allowed me to work, to buy a car, to drive without fear of being stopped by a cop, from the fear of deportation, to continue with my educational goals," said Jessica Rodriguez, a DACA recipient with Living United For Change in Arizona.
"There was a decision made today to take that away," she told the crowd of about 150 people.
However, she said, "We are undocumented, unafraid, and we are not going back into the shadows."
Edward Cott, with United Struggle of Parents and Students, or LUPE for its acronym in Spanish, said the immigration crackdown being carried out by Trump officials began with the Clinton administration and never stopped.
He called on local officials to stand up to the federal government and protect the rights of their constituents.
"We've got to demand they take concrete steps to defend vulnerable communities that are being criminalized, persecuted, continue to be attacked by the federal government," Cott said.
Josue Saldivar, a DACA recipient with Mariposas Sin Fronteras, or Butterflies without Borders, said politicians have failed for 15 years to pass legislation that would permanently protect immigrants brought into the country illegally by their parents.
"Our humanity has been generalized. It has become a buzzword and we have become political pawns," Saldivar said. "But we each of us have our own humanity and that should be respected."
Local educational institutions also voiced their support for DACA recipients.
A letter signed by Pima County School Superintendent Dustin Williams and the superintendents of the Sunnyside and Flowing Wells school districts said many school employees, from teachers to cafeteria workers, are DACA recipients.
If the program were ended, Tuesday's move would put those people in legal jeopardy and hurt the schools, they said. More importantly, students' lives may be thrown into a tailspin.
Gabriel Trujillo, the leader of Tucson's largest school district, Tucson Unified, reminded families on Tuesday that its campuses are a "safe place" and that students will never be questioned about their legal status or that of their family members.
The Pima Community College Governing Board issued a statement saying it "resolutely supports a permanent and certain path forward for our DACA students to fulfill their educational goals and pursue their dreams."