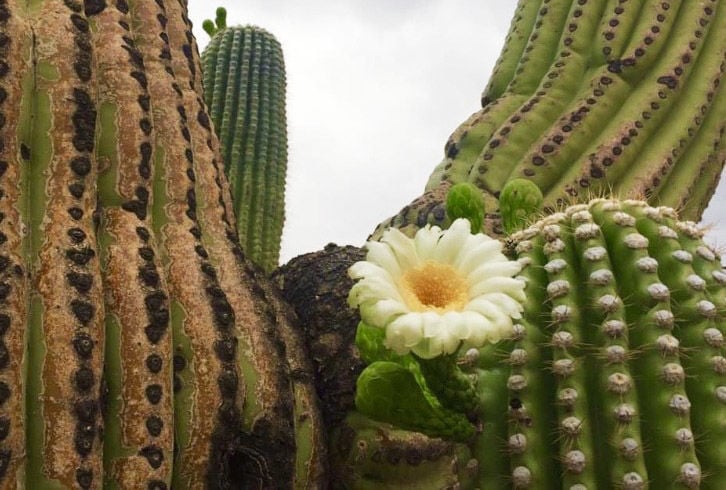 Everything else about 2020 has been weird, so why not saguaros?
An unusual number of the iconic cacti produced flowers and fruit in the fall this year, and scientists are trying to figure out why.
It wasn't every saguaro. It wasn't even most of them. But it was more than some experts had seen before.
"I've lived in Tucson for 30 years, and this seemed unusual to me," said Don Swann, a longtime biologist at Saguaro National Park. "It seemed unusual to just about everyone I've talked to."
The giant cacti typically bloom in late spring and bear fruit in the summer, providing nectar and food for an array of birds and migratory bats that serve as the plant's primary pollinators.
This year, though, there were widespread reports of a second bloom in autumn at numerous locations around Tucson.
Some "get it wrong every year"
Saguaro researcher Bill Peachey has been studying the same patch of desert near Colossal Cave since 1997. His study plot covers just over 2 acres and includes more than 300 saguaros, though only about half of them produce flowers.
Through 2019, he had never recorded a single new blossom after August. This year, five of his saguaros were still trying to reproduce well into September.
"I had blooming and fruiting on Sept. 24," he said.
Strange behavior is not uncommon in the occasional saguaro, Peachey said. There are always one or two that bloom late or bloom twice and or get caught in a feedback loop that causes them to continuously churn out flowers.
"There are some that are just out of phase. They just get it wrong every year," he said. "What's unusual is that there's so much of it this year."
Peachey said fall flowers provide a nice little windfall for wildlife that feed on saguaro nectar and fruit, but it's "wasted effort" for the cacti themselves.
"Any seeds produced won't make it through to the next year. They probably won't even germinate," he said.
"This is flashy, and it's unusual, and it's good for the tourists who get to see the bloom out of season, but it's not doing the greater saguaro population any good."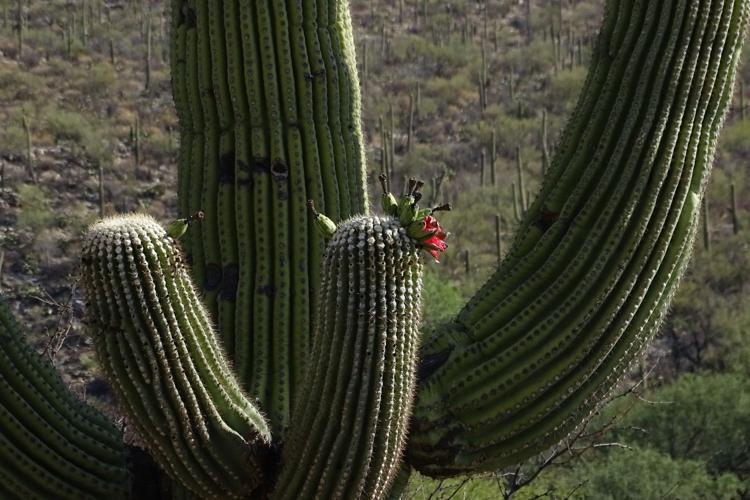 Fall flowers don't always make fruit
The out-of-season flowering was especially noticeable, and especially late, at Sabino Canyon.
Volunteer naturalist Fred Heath said he saw dozens of saguaros — "maybe as many as 50" — sprout flowers along the main tram route and in neighboring Bear Canyon in October and November.
At least some of those saguaros also bloomed at the normal time in late spring, Heath said.
"Nobody remembers so many flowers this late in the year," he said. "It was really different."
It also marked the first time Heath has seen fall flowers turn into fruit.
Usually, he said, the flowering cacti are too few and too scattered for pollination, especially once the birds and bats saguaros rely on to spread their pollen have flown south for the winter.
Apparently this late bloom had enough "critical mass" to attract bees and lead to fruit, Heath said.
The show is over now, but you might still find a few lingering fruit if you know where to look.
Saguaro National Park has actually seen significant fall blooms in each of the past three years, and the unusual sight has also been reported elsewhere in the community by the USA National Phenology Network, a Tucson-based group that collects and shares data about cyclical and seasonal changes in nature.
"Our observers have been picking up fall flowering all across Tucson over the last three years," said Erin Posthumus, outreach coordinator for the network, which includes about 100 local nature spotters.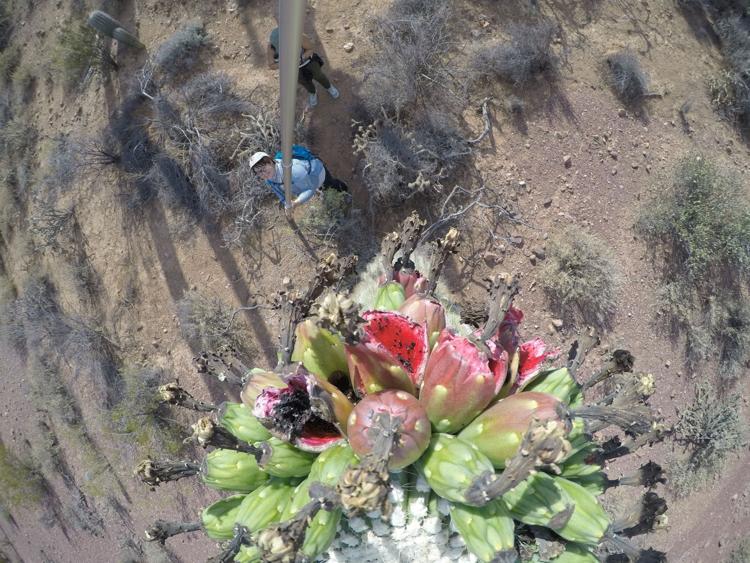 Study underway on big cactus blooms
Swann first heard about the out-of-season bloom from park visitors in the fall of 2018, so he went looking for signs of it himself.
The park decided to study the phenomenon this year. "It's still pretty informal," Swann said.
They will attempt to determine just how many saguaros are blooming in the fall and whether the numbers vary depending on differences in elevation and habitat type. They also want to track the frequency and scale of such events.
It is far too early to speculate on a possible cause, Swann said. They haven't even confirmed that something demonstrably different is happening yet. "We want it to be based on data," he said.
Swann and company were already studying the mechanics of saguaro reproduction before the fluke fall flowers began to emerge.
The park service is in the midst of a multiyear research project aimed at better understanding what makes the cacti bloom.
The study requires a team of volunteers and interns to visit the same 55 saguaros every day of the week except Sundays from April through July to take pictures of their flower and fruit development using what Swann described as "a giant selfie stick."
The research is being done in partnership with the Western National Parks Association and Friends of Saguaro National Park.
The effort is designed to chart when the cacti bloom, how many of their flowers become fruit and how different environmental factors affect the process.
"We're looking at a whole host of questions," Swann said.
He expects to have answers to some of them in a few years, but to truly understand the reproductive process of such a long-lived plant will require both patience and commitment.
"The longer you do studies like this, the more you learn," Swann said.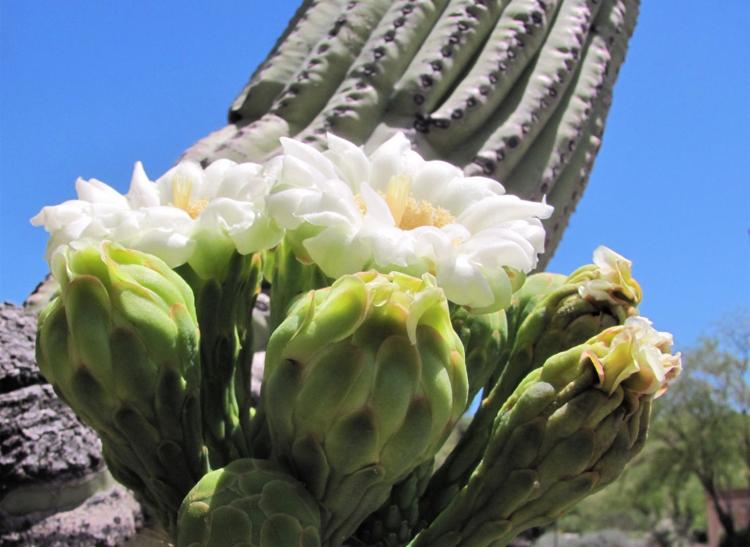 Fall bloom could be a response to stress
After a summer of record heat and little precipitation, Heath thinks the saguaros in Sabino Canyon are simply responding to stress. "There was very little rain there, even less than other parts of Tucson," he said.
He wonders if fall flowering is a sort of "last gasp" by plants that "sense this might be the end of the line, so they try to reproduce as much as they can."
Heath said something similar seemed to happen the year after a particularly long and hard freeze in February 2011.
Some of the saguaros damaged by the cold sprouted flowers the following December and into early 2012, including a few plants that died not long after that.
Peachey suspects this year's late bloom could be the result of unusually hot, dry conditions in September and October, which may have tricked some saguaros into thinking it was May and June all over again.
"But I can't prove that. It's just a hypothesis," he said.
Peachey added that what's happening now "exactly matches the symptomology of climate change" — namely more frequent extreme weather events, including record heat waves and deep freezes.
All that could add up to bad news for the Sonoran Desert's signature cactus.
"Because we're having more of these events, there's less time in between them," Peachey said. "The saguaros have less time to recover."
Contact reporter Henry Brean at hbrean@tucson.com or 520-573 4283. On Twitter: @RefriedBrean.