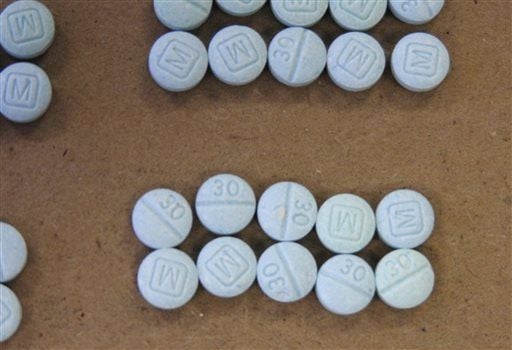 Ingredients to make 30 million deadly doses of fentanyl were seized in Southern Arizona after being mailed from China, two federal investigations show.
Fentanyl entering the United States from Mexico is a known problem, but investigators working in Tucson and Nogales seized on its way to Mexico enough ingredients to make more than $600 million worth of the deadly opioid.
Drug traffickers often mail ingredients for fentanyl to the United States, an they are then taken across the border to be turned into fentanyl, authorities said. The nearly 130 pounds of 4-ANPP, which is a controlled substance that is synthesized through a chemical reaction to make fentanyl, were mailed from China, the largest supplier of fentanyl and its ingredients to the United States.
"The Mexican cartels have started to use that tactic to really just add one more layer to protect them from law enforcement," said Erica Curry, spokeswoman for the Drug Enforcement Administration in Phoenix. "If it's going to a re-mailer, we will never find out who it is going to in Mexico."
Fentanyl abuse is one of the fastest-growing problems in the U.S. opioid crisis. Overdose deaths doubled from 2016 to 2017 nationally, reaching 20,145, according to the Centers for Disease Control and Prevention. Fentanyl killed almost 5,000 more people in 2017 than heroin, the next-deadliest drug. According to the DEA, fentanyl is about 50 times stronger than heroin and 100 times stronger than morphine.
Legal fentanyl, used for pain relief and anesthesia, comes in pills, adhesive patches, nasal sprays or lozenges. Illegal fentanyl is often a powder that can be mixed with heroin or cocaine or pressed into pills.
The chemical seized in the Southern Arizona cases was the direct precursor of fentanyl known as 4-ANPP, or 4-anilino-N-phenethyl-4-piperidine.
The chemical can be synthesized into fentanyl with a simple chemical reaction, according to the DEA.
Shipments went to Nogales apartment
In a local case from January, 4-ANPP was shipped from China to South Korea, before touching down in Los Angeles on its way to Nogales, Arizona. Customs and Border Protection officers caught six packages at Los Angeles International Airport containing 4-ANPP. Court documents do not include the weights of the six packages.
But five more packages made it through Customs and headed to the apartment in Nogales, according to a sworn affidavit filed in February in U.S. District Court in Tucson by a U.S. postal inspector in a search-warrant request.
Three of the packages were intercepted en route to the apartment, including one that was caught the day it was scheduled to be delivered.
Local postal officials told investigators the address didn't receive an unusual amount of packages, but officials found a small box that was to be delivered that day to the address.
Investigators later found the package contained several pounds of 4-ANPP, according to the affidavit. A pound of 4-ANPP can be synthesized into more than 450,000 fentanyl doses.
The investigator asked Nogales postal officials to keep packages that arrived for the address. Later that week, the post office turned over two packages, the postal inspector wrote.
A total of 11 packages shipped to the Nogales address were seized. Three of the packages contained about 4 pounds each of 4-ANPP, and the other six packages were nearly identical, according to the affidavit. Two other packages contained about 4 pounds each of a white powder suspected to be 4-ANPP, but court records do not show whether they tested positive for the chemical.
In a separate case from December 2015, Customs officers at LAX seized 55 pounds of 4-ANPP that were shipped from China. The shipment was addressed to a food company in Tucson, according to an application by a federal prosecutor for a warrant to track an electronic messaging service account used by a man in Mexico suspected of being the final recipient of the packages.
Agents delivered the package to the Tucson food company, where they found another 62 pounds of 4-ANPP. The packages were shipped using a private delivery service and were en route to Mexico, according to the prosecutor's application for a warrant.
No arrests have been made in these investigations, court records show, so the Arizona Daily Star is omitting the names of recipients of the packages.
"Re-mailing is not a new concept in drug trafficking, we saw it a lot in our steroid investigations," Curry said. "It is used across the country and across the world."
In a similar case from Southern California, former Border Patrol agent Cesar Daleo was arrested for trying to drive into Mexico with a 2-pound package of 4-ANPP mailed from China.
The package arrived at Los Angeles International Airport and was shipped to an address in San Ysidro, California. Daleo picked up packages at the same address 13 times that year, according to a news release from the U.S. Attorney's Office in the Southern District of California.
The U.S. Attorney's Office in the District of Arizona would not respond to questions about local prosecutions involving fentanyl precursors.
As fentanyl use grows in the United States, so do fentanyl seizures. In fiscal year 2013, Customs and Border Protection seized about 2 pounds of fentanyl nationwide.
In fiscal year 2017, nearly 1,200 pounds of fentanyl were seized.
Since 2016, fentanyl seizures jumped 159 percent, according to Jaime Ruiz, spokesman for CBP in Los Angeles. Ruiz did not provide statistics regarding seizures of fentanyl ingredients.
Loopholes exploited
Fentanyl, sometimes called "China Girl" or "China Town," and its precursors most often come from China, where production of these chemicals was unmonitored until recently, according to a January 2018 report by the Senate Committee on Homeland Security and Governmental Affairs.
Investigators who posed as buyers found it was easy to purchase fentanyl and its ingredients over the internet, and that sellers preferred to be paid in bitcoin and to ship their product through international mail, according to the Senate report.
Sellers were quoted saying the Postal Service catches fewer fentanyl shipments than private delivery companies like UPS or FedEx, which require senders to enter electronic data about the sender, recipient and contents of their parcels. The companies face large fines if they don't comply.
The Postal Service doesn't require the same data from senders, creating a loophole for unidentified packages to enter the United States, where only a portion are closely inspected upon arrival, according to the Senate report.
The parcels containing precursors are mislabeled, sometimes as other powders like pool chemicals, and sometimes hidden inside items such as coffee cans, Curry said.
"We are looking for suspicious packages, but with the amount of packages coming in, the one package containing precursor chemicals can be missed," she said.
Next steps
Nearly all international mail goes through service centers at airports in New York, Chicago, Los Angeles, San Francisco and Miami, according to the Senate report.
In November 2015, CBP and the Postal Service started a program at John F. Kennedy International Airport in New York to collect data on smaller packages, specifically those under 4.4 pounds that usually are scrutinized less than larger packages. Each of the 11 packages in the Nogales case weighed about 4 pounds.
The program worked, according to the Senate report, but tensions between CBP, which works to stop drugs being mailed, and the Postal Service, which wants to move mail quickly, stopped it from spreading until recently.
The program is now used at all five airports, but adequate data was collected on only 36 percent of international packages in 2017, according to the Senate report. Nearly 319 million international packages made it through the mail with no data in 2017.
Efforts also are being made to detect illegal drugs in the mail.
In January 2018, President Trump signed the Interdict Act, which provided $9 million for portable chemical-screening devices for CBP officers at service centers to check parcels for fentanyl and other synthetic opioids.
Since February, China's Ministry of Public Safety has added 4-ANPP and NPP to its controlled-substances list, meaning only pharmaceutical companies and other professionals can possess it, in a collaboration with the DEA.
And the DEA is planning on opening an office in Guangzhou, China, along with its offices in Beijing and Hong Kong.
Tirion Morris is a journalism student at the University of Arizona and an apprentice at the Arizona Daily Star. Contact her at starapprentice@tucson.com