The U.S. Bureau of Land Management has released its final environmental review for a 550-mile power line that would cut through the Lower San Pedro River Valley east of Tucson on its way from Central New Mexico to Pinal County.
The SunZia Southwest Transmission Project is designed to carry power to markets in Arizona and California from what would be the largest wind farm in the Western Hemisphere, a 3,500-megawatt array of massive turbines set to be built starting next year across three New Mexico counties.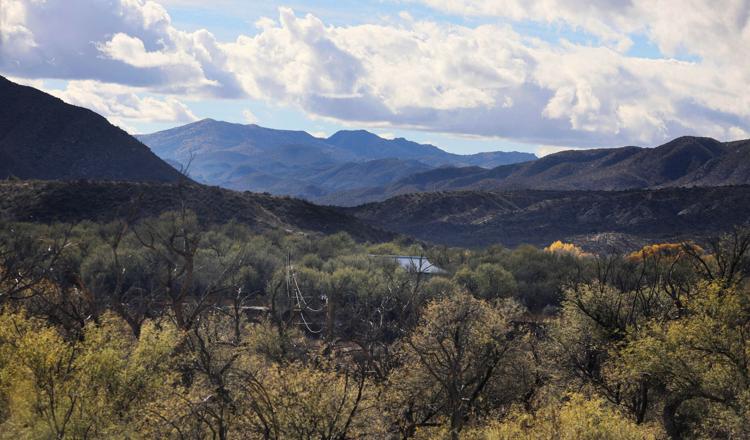 The Final Environmental Impact Statement released by the BLM on Feb. 16 represents one of the last regulatory hurdles for the transmission line, which was first proposed in 2006.
Interested parties have until March 19 to file any protests about the contents of the 1,200-page document. The BLM is expected to issue its final decision on SunZia's right-of-way across federal land this spring.
Several national environmental groups have lined up behind the transmission line and the green energy it will deliver, but SunZia still faces opposition from local conservationists and residents along the San Pedro River north of Benson.
For years, they have tried to block the project or get it moved somewhere besides the mostly undeveloped valley on the eastern slope of the Rincon Mountains, an area widely recognized as a haven for biodiversity and an internationally important corridor for hundreds of bird species.
Conservationist Peter Else, who lives along the San Pedro near Mammoth, called SunZia a "total failure in land-use planning" that will needlessly scar ecologically sensitive lands in Arizona and New Mexico when the project could have been "100% co-located" alongside existing transmission lines.
"We don't have to make a false choice between renewable energy transmission and saving our last remaining wild lands," Else said.
He is planning to protest the BLM's environmental review on the grounds that the stated purpose of the transmission line has changed and federal regulators have failed to properly analyze its potential harm as well as its benefits.
"They're just sort of arbitrarily implying that this project will reduce greenhouse gas emissions overall without doing a full analysis of what those emissions will be," including the pollution generated during construction and the production of the materials from which SunZia will be built, Else said.
The power line and the enormous wind farm that will feed it are owned by the San Francisco-based renewable giant Pattern Energy Group.
Pattern acquired the transmission project earlier this year and hopes to get it built and activated by late 2025, when its SunZia Wind development is also slated to go online.
The company is calling the two projects the largest renewable energy infrastructure investment in U.S. history, with a combined cost of more than $8 billion and enough capacity to serve more than 3 million people.
The Arizona portion of the transmission line would stretch for about 200 miles and include approximately 780 towers ranging from 55 to 195 feet tall. Each structure would carry two 500-kilovolt lines — one owned by Pattern to move energy from SunZia Wind, the other separately owned and expected to carry other renewable power generated in the region.
Arizona power regulators gave their final approval for the transmission project in November, though Else is challenging that, too.
In December, he filed a formal application for a rehearing before the Arizona Corporation Commission. He said power regulators ignored his request, so he and his lawyers filed a complaint that's still pending in Maricopa County Superior Court.
"The narrative that Pattern is putting out is that it's a done deal … but my protests will continue at both the state and federal level," Else said. "I'll continue to make my case through every legal avenue available and after that, no matter what the outcome is."
Federal regulators already reviewed the overall transmission line project and authorized a 400-foot-wide corridor for it across 183 miles of public land in Arizona and New Mexico in 2016.
The BLM's latest Environmental Impact Statement is narrowly focused on changes to the right-of-way Pattern wants to make largely in New Mexico and not on "re-siting the entire path for the transmission line," the agency states.
Pattern can still build SunZia even if the BLM rejects the proposed right-of-way changes, which mostly involve rerouting the power line away from a portion of the White Sands Missile Range, across the Rio Grande River and through the Sevilleta National Wildlife Refuge along an existing transmission corridor.
The only major change to the Arizona side of the project involves the addition of a new power-converter substation on state trust land just east of Red Rock in Pinal County.