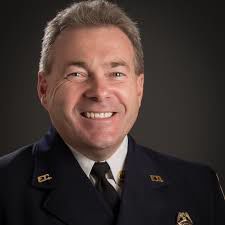 Three fire agencies in Pima County announced a first-ever agreement Thursday that officials said will speed up response times to all emergency calls for more than 770,000 residents starting in 2020.
Dubbed the Southern Arizona Aid Agreement, the partnership between the Tucson Fire Department, Golder Ranch Fire District and Northwest Fire District, creates a shared dispatch system that prioritizes the closest and most appropriate resources to emergencies, regardless of jurisdiction.
Officials estimated they'll be able to reduce call times by 30 seconds per call at a minimum, with an overall goal of reducing response times by about 15%. The service area between the three agencies spans roughly 640 square miles and includes more than 40 fire stations in the Tucson area.
The announcement was made during a news conference in a shopping center near North River and West Orange Grove roads, which is split between two fire agency jurisdictions in Tucson and Marana.
"The boundary lines we are standing on today will be gone tomorrow," said Northwest Fire District chief Brad Bradley.
The Southern Arizona Aid Agreement follows a similar automatic aid partnership between the Golder Ranch, which covers Oro Valley, Catalina, and a portion of southern Pinal County including SaddleBrooke, and northwest fire districts that have been in effect since 1992. It also follows the lines of what fire agencies have done in Maricopa County for more than 40 years.
As it currently stands, the three fire departments can only handle calls within their own jurisdictions, with the chiefs pointing to some instances in the past where multiple agencies responded to a call and had to decide who took the lead at the scene.
With the agreement, calls would be prioritized based on location, but also based on available resources, such as if one department already has multiple trucks dispatched to another call. The chiefs said it will better serve the public.
"It doesn't matter what patch you wear on your arm, we should be delivering the best service to our citizens and populous as quickly as possible without regard for where street lines and county or city boundaries are," said Tucson Fire Chief Chuck Ryan.
Contact reporter Justin Sayers at jsayers1@tucson.com or 573-4192. Twitter: @_JustinSayers. Facebook: JustinSSayers.
Get local news delivered to your inbox!
Subscribe to our Daily Headlines newsletter.