Tucson voters have elected their first Latina to serve as mayor.
Three-term Councilwoman Regina Romero, who takes office next month, is the first woman to hold the city's top elected job and will be the second Hispanic to be elected mayor of Tucson since the Gadsden Purchase. She will succeed Mayor Jonathan Rothschild as the city's leader.
Romero defeated independent Ed Ackerley and Green Party candidate Mike Cease by a comfortable margin with roughly 87,000 ballots cast.
Unofficial results Tuesday night had Romero with 56% of the vote, although city officials estimate there are several thousand ballots that have not been counted.
Romero, the director of Latino engagement for the Center for Biological Diversity, was one of four Democrats elected Tuesday night to the Tucson City Council.
Voters were giving two-term incumbent Paul Cunningham another four years representing Ward 2 and two newcomers — University of Arizona adjunct instructor Lane Santa Cruz in Ward 1, and Raytheon employee Nikki Lee in Ward 4 — were leading their races.
All three council candidates had significant leads over their Republican and Green Party rivals, with an unknown number of ballots still to be counted.
Voter turnout was estimated at about 33% in the all mail-in election.
On Tuesday night, Romero said her victory was a validation of her vision for Tucson.
"At a time when our national politics have been sown with division, Tucsonans remain united by our shared desire to promote a safe, just and sustainable city that provides economic opportunity for our families and future generations. This movement is open to everyone — whatever your background, whatever your party, whoever you voted for — let's work together! We will always be one Tucson — somos uno," Romero said.
Romero said her priority is to put together a bold climate action plan for the city
"If we want to move our economy to a progressive place, if we want to continue investing in our infrastructure, if we want to continue creating high wage, long term jobs we have to tackle climate resiliency in our city," she said on Tuesday night. "We are the second city that is heating up the most right after Phoenix and so we've got to work immediately on it."
The mayor elect said she will also prioritize creating a small-business incentive program.
Romero said she would keep her door open to the proponents of Prop. 205, the sanctuary city initiative that was soundly defeated by city voters, and work with them to tackle the root of the problem – the state's anti-immigration law, SB1070.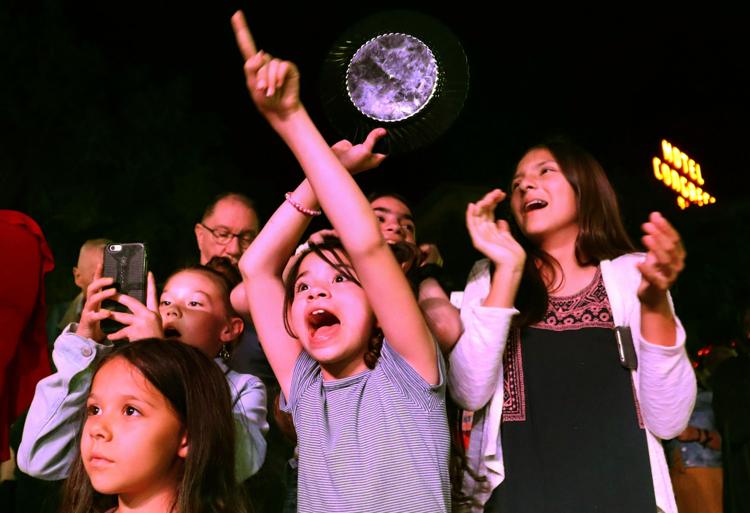 She has always been a proponent of having an inclusive city that protects all residents regardless of their immigration status, she said.
"The root of the problem is SB1070 and we've got to demand in a unified front, with a unified voice, that Gov. Ducey and the state Legislature repeal SB1070," Romero said.
Ackerley, who co-owns a full-service advertising agency his parents started in 1968, attacked Romero late in the campaign by suggesting she was part of a much larger political machine that has hurt the local economy.
Ackerley, a lifelong Democrat who changed his political affiliation in January, attempted to court Republicans, independents and conservative-leaning Democrats with a back-to-basics approach to government, focusing on roads, public safety and economic development.
Romero benefited early in the race from a vast campaign war chest, partially fueled by her participation in the city's program that matches every dollar her campaign received from individuals.
She received nearly $130,000 from the program, in addition to nearly $140,000 in contributions from individuals, according to the last report filed with the City Clerk's Office.
By comparison, Ackerley raised about $83,000 — with nearly $35,000 coming from the city's matching-funds program.
Romero, a political insider in Democratic politics, benefited heavily from outside spending from political groups early in the campaign as she vied for the Democratic nomination this summer.
Mi Familia Vota, Planned Parenthood, the United Food and Commercial Workers Local 99 as well as the Chispa AZ Political Action Committee, which is the Latino outreach arm of the League of Conservation Voters, and other groups indirectly supporting Romero spent more than $500,000 during the mayoral primary.
Her then-political rivals — former state Sen. Steve Farley and political newcomer Randi Dorman — were also able to raise six-figure sums during the Democratic primary, contributing to the glossy mailers that flooded Tucson mailboxes.
While Romero is Tucson's first Latina to be elected mayor, the first Latino mayor was Esteban Ochoa in 1875.
However, before Arizona became a U.S. territory as part of the Gadsen Purchase, Tucson also had several Latino mayors while under Mexican rule, notes former state Rep. Tom Prezelski.
Romero's election makes her the only Latina mayor in the 50 largest cities in the country.
In the race for the three seats on the Tucson City Council, the massive Democratic registration advantage as well as the fact that all registered city voters are allowed to vote for council candidates in each ward — regardless of where they live — helped Cunningham, Lee and Santa Cruz.
An initiative to scrap Tucson's City Council election system and create a system where candidates compete only in the wards in which they live was halted this summer after organizers fell short of the minimum number of signatures needed to place the issue on the ballot.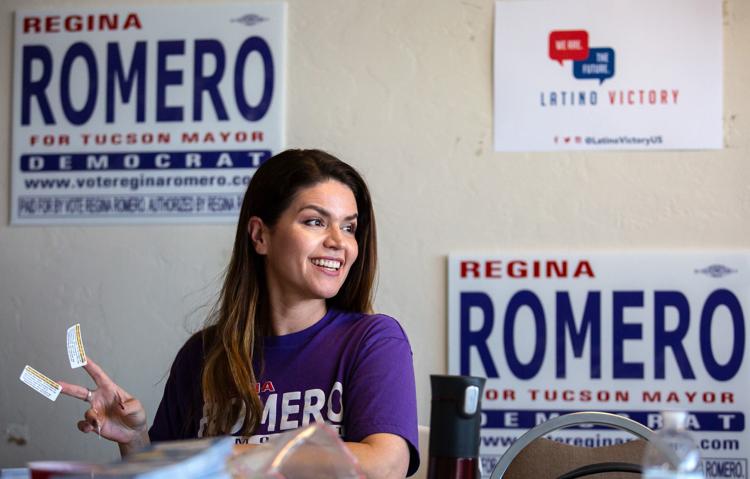 Ward 1
In the race to replace Romero on the council, Santa Cruz easily defeated Republican Sam Nagy and Green Party candidate Matthew Smith.
Santa Cruz, a former staffer in Romero's Ward 1 office, is a political newcomer who raised nearly $130,000 in a mix of private donations and the city's matching funds. Santa Cruz's platform focused on affordable housing, education and job-training programs for young adults.
Nagy, a health-care worker, focused his message on improving core city services by calling for increased staffing in the police and the fire departments, more money for road repair and cleaning up city parks.
Ward 2
Incumbent Cunningham, a teacher in the Tucson Unified School District, easily won re-election.
Cunningham focused on his accomplishments in his east-side ward as well as talking about his vision to make Golf Links a high-speed east-west corridor.
Republican Ewart Williams, an Uber driver, struggled to find his footing in the nearly yearlong campaign to unseat the politically connected Cunningham.
Green candidate William Peterson was also in the race.
Williams largely relied on political signs and fliers paid for by the Pima County Republican Party that touted the slate of GOP candidates running for council — Williams, Nagy and former TUSD school board member Michael Hicks.
Ward 4
Lee had a significant lead over Hicks in unofficial results.
Fundraising also played a role in the race to replace retiring Councilwoman Shirley Scott.
The nearly $80,000 raised by Lee helped to pay for consultants, campaign staff and glossy mailers.
By comparison, Hicks raised $13,445 and nearly half was spent on radio ads.
Green candidate Cara Bissell was also in the race.
Star reporter Stephanie Casanova contributed to this story.