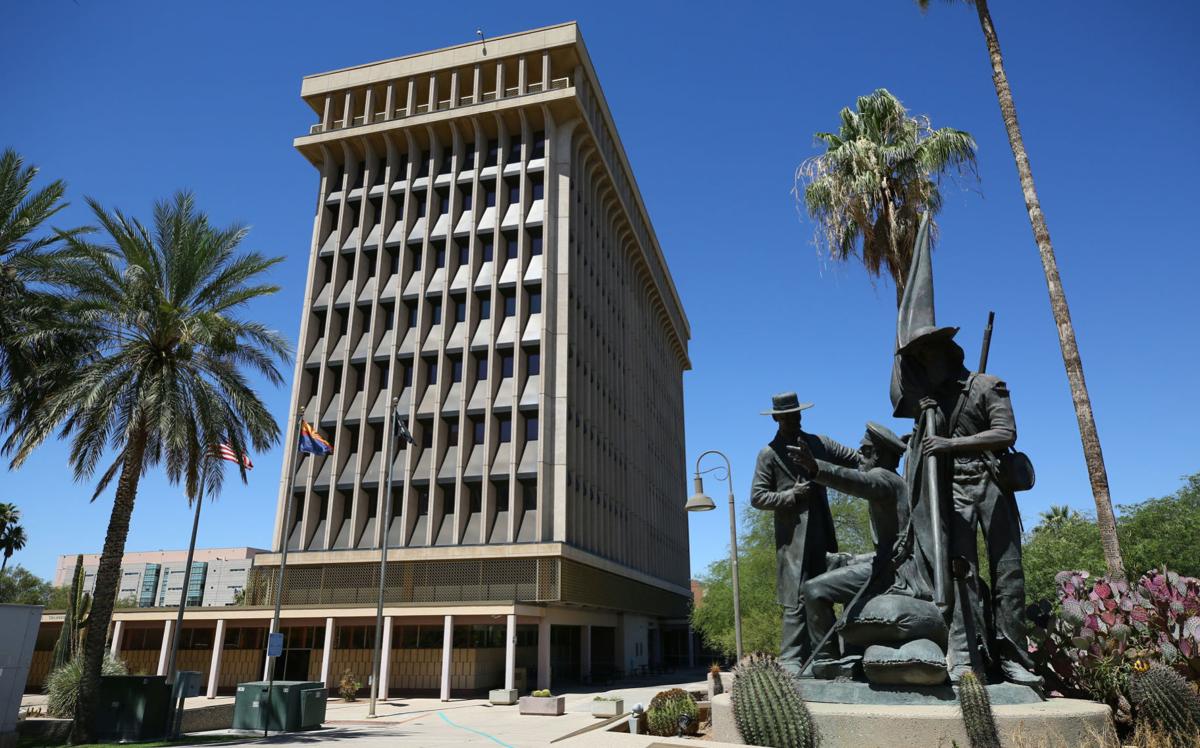 As recommended limits on gatherings continued to tighten in the wake of the coronavirus spread, representatives from the Tucson business community gathered at City Hall Monday to discuss how to limit the economic burden locally — and offered their support to move restaurants to takeout only.
About 30 city and county officials, community leaders and entertainment industry representatives met behind closed doors around lunchtime for a discussion led by Mayor Regina Romero and Vice Mayor Paul Cunningham to start facilitating ways the city could aid businesses as fears of COVID-19 have stirred anxieties for the local economy.
Options discussed included extending policies to suspend Tucson Water shutoffs and late fees for delinquent customers to the local gas and electric companies, asking the court to temporarily halt evictions, and potential sales and property-tax relief packages and tax incentives for local businesses, Romero and Cunningham said following the meeting.
Cunningham added that the business owners "were very concerned about the fate of their workers" and that the city wants to create a uniform policy and initiatives that would help Tucson's economy return, hopefully in June.
"The real question is how are people going to be able to stay in their homes? How are people going to be able to make their paychecks and, quite frankly, it's still open ended," he said. "In this crisis, we found out one thing is a certainty and that's uncertainty."
Those who attended the meeting supported the idea of restaurants closing their dining rooms and going to takeout and delivery only, but came short of mandating it — something that several Tucson restaurant operators would love to see happen.
Cunningham said he supports the idea of takeout only, something that California, New York, New Jersey and Connecticut all imposed on Monday when they ordered bars and restaurants closed.
The goal is to enforce social distancing in the hopes of limiting the spread of the coronavirus, which has four confirmed cases in Pima County.
But that won't happen unless the city steps in and imposes a ban, said Ray Flores, president of Flores Concepts, which operates three El Charro Café locations .
Flores said he is working on a system to go to takeout only at his restaurants, with the exception of the Charro Steak and Charro del Rey; neither concept would translate well to takeout, he said.
Downtown Kitchen + Cocktails chef/owner Janos Wilder said he isn't waiting for the city to order restaurants to act; he's going to takeout only for his South Sixth Avenue restaurant by week's end, serving up a handful of dishes that encompass his long Tucson restaurant career from Downtown Kitchen to his earlier restaurants Janos and J Bar and others.
"If we are serious about stomping out this virus and we want to keep the number of infections down, then we have to act very quickly," Wilder said. "While restaurant food is safe, people aren't safe. So if we can limit the opportunities where we have interface, that would work."
Wilder said he wishes the mayor and city council would just impose a citywide ban.
"I am really looking for the leadership from the city and the council to not only endorse it but require it entirely," he said. "I believe there's a place for government and I want them to do their jobs."
Romero stressed that any decisions would be made in consultation with local, state and federal officials, acknowledging that the city is limited in what actual steps they can take on their own.
That includes enforcement of a recommended 10-person limit on social gatherings announced by President Trump Monday.
Romero also stressed that she would push hard to ensure that any federal stimulus packages passed by Congress would make it to Tucson.
"My commitment to the citizens of Tucson is that I am going to work day and night as a mayor of the city of Tucson to work with the state government, Governor Ducey and the federal government in our congressional delegation to tap into those funds as quickly and immediately as we possibly can, and bring those funds to workers in the city of Tucson and to businesses in the city of Tucson," she said.
Romero's meeting did ruffle some feathers in city government and the local business community, some of whom were frustrated that they weren't included, even though Romero said she'd be working with the city to streamline feedback from other attendees.
Councilman Steve Kozachik, who was excluded from the meeting and whose district includes parts of downtown, said he's spoken to some of the restaurant owners and that he thinks "it's more prudent for individual businesses make decisions on their own."
Fred Ronstadt, executive director of the Fourth Avenue Merchants Association, said he found out about the meeting secondhand and that he would "absolutely" would have loved to attend.
"Certainly all of the businesses on fourth avenue are very concerned about their futures, their livelihoods, their employees and their customers," he said. "I think they're looking for some direction from reputable scientific sources."
Ronstadt, a former councilman, acknowledged that the city might not have the tools to provide economic relief, but acknowledged a to-go only policy "makes sense."
Ultimately, he said there's "a lot of uncertainty."
Councilwoman Nikki Lee, who found out about the meeting and didn't attend, said she thinks "there's a place for supporting the businesses in this chaotic situation" and that she hopes discussions make it to the full council.
"There's no doubt that it's going to hit our businesses and our hourly workers," she said.
Ultimately, officials said it's too early to gauge what actual effect the COVID-19 has had on the local economy and what further limitations could mean for workers.
Amber Smith, Metro Tucson Chamber CEO, said there is no estimate on the number of workers in Tucson that would be affected by a mandatory quarantine.
She urged consumers and businesses to "stay calm," adding that fear and unpredictably has had the largest impact on the local economy.
Brent DeRaad, president and CEO of Visit Tucson, asked Tucsonans to continue supporting local businesses as much as they can.
"Anything that Tucsonans can do to continue to patronize those businesses to keep the economic impact flowing could help us bridge to a point here, hopefully in the not too distant future, where people begin traveling again," he said.
Meanwhile in the restaurant-heavy town of Marana, there are no plans yet to limit restaurant operations, Mayor Ed Honea said Monday.
But on Tuesday, March 17, the town, which is home to dozens of national chain and locally owned restaurants, several breweries, and a few popular taprooms, will declare a state of emergency.
Honea said the plan initially is to stick with the CDC guidelines on what areas of the community will be affected, but that could change.
"We have talked about restaurants and all of that stuff, but it's so fluid," he said, adding that the emergency declaration enables him to immediately act and take advantage of state and federal relief.
Contact reporter Justin Sayers at jsayers1@tucson.com or 573-4192. Twitter: @_JustinSayers. Facebook: JustinSSayers.
Contact reporter Cathalena E. Burch at cburch@tucson.com or 57304642. Twitter @Starbuch