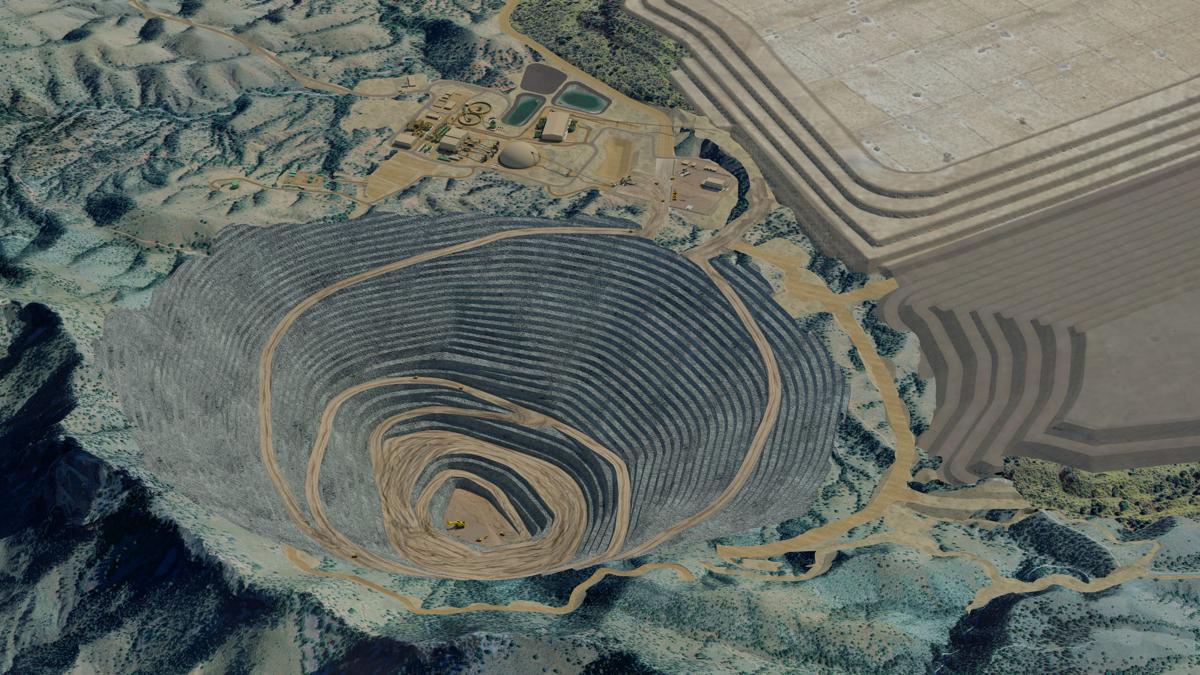 Hudbay Minerals Inc. is considering other options to get Rosemont Mine construction going besides appealing a federal court ruling that stopped the work, the company's top official said Friday.
Hudbay has also suspended plans for what its "early works" program of Rosemont construction activities in light of the July 31 ruling, Hudbay's interim president and CEO Peter Kukielski said in a conference call with the company's analysts.
For the next year, the company now expects to spend only $30 million on Rosemont capital projects, compared to $122 million projected before the court ruling, Kukielski said.
"We are obviously deeply disappointed and frustrated by the decision, which appears to overturn decades of settled mining law in the United States. We're evaluating all of our options including appealing the decision," Kukielski told the analysts.
"We are also encouraged by the support we are receiving from the rest of the mining industry following the decision. However, it may take some time for any appeal to be heard and decided upon. We believe that one to two years is typical in cases like this. In the meantime, we are assessing other options to advance Rosemont."
U.S. District Judge James Soto ruled that the Forest Service's approval of the mine was "arbitrary and capricious." He faulted the service for approving Hudbay's plans to dispose of 1.9 million tons of waste rock and tailings on nearly 2,500 acres of public land on which the company has unpatented mining claims, without determining if the claims were legally valid.
To prove validity would have required showing those lands contain valuable mineral deposits, Soto said, in line with requirements of the federal 1872 Mining Law.
The $1.9 Rosemont construction project would be built in the Santa Rita Mountains, about 30 miles southeast of Tucson.
On Aug. 1, Toronto-based Hudbay said in a news release that it planned to appeal the ruling. But the company is now sending mixed signals.
Friday, Kukielski and other Hudbay officials declined to specify what other options they might be considering. They also didn't say whether the other options would be alternatives to an appeal or options to pursue while their appeal is pending.
However, Kukielski and other officials on Friday's call with analysts did make several references to appeals, along with the interim CEO's prediction that Soto's ruling "will be overturned."
At one point, David Bryson, Hudbay's senior vice president and chief financial officer, said the company's spending plans for 2020 will be "informed by our assessment of the options that are available to us alongside an appeal of the District Court decision."
And in a news release Thursday announcing the company's second quarter earnings, Kukielski reaffirmed plans to appeal the ruling.
For now, company officials are looking at all their options and "developing relationships," Kukielski said.
"It's a little bit difficult to say exactly what the options are that are available to us right now. We think there are serious issues in the court's decision and we believe that decision will be overturned," Kukielski said.
"We believe in the work that the agency did. We'll know more with time but to comment on the options available to us now would be premature," he said.
Hudbay's stock price has dropped by 29.6% since Soto's ruling. It closed at $3.41 a share Friday on the New York Stock Exchange. That's down 4.21% from Thursday's closing share price of $3.56. The July 31 closing price was $4.85 a share.
On Thursday, the company reported that net loss and loss per share in the second quarter of 2019 were $54.1 million total and 21 cents per share. That compared to a net profit and earnings per share of $24.7 million and nine cents, respectively, in the second quarter of 2018.
The planned Rosemont "early works" included archaeological clearance work and construction activity at the site of the mine's planned open pit and along the 12-mile route on which the company hopes to build a water line and an electric transmission line from Sahuarita over the Santa Rita Mountains to the mine site.
They also included engineering and geotechnical work to help with long-term procurement, design and delivery of construction equipment, capital projects and making sure that the mine's design and construction work progress smoothly and on schedule, Hudbay has said.
Now, engineers previously hired to work on the mine project are basically being "demobilized," Kukielski said.
"We're just keeping the core staff on hand to do the work that needs to be done to progress work around tailings management and water management — that sort of thing."
In response to an analyst's question, Kukielski said he thinks it's also premature to say if the company will start looking away from Rosemont to other strategic alternatives for company growth.
"We remain very, very committed to Rosemont. I think that if you look at Rosemont in the holistic context of the company's strategy, we are continuing to prosecute that strategy with vigor," Kukielski said.
"We always look at options that may arise as sort of part of our capital allocation process and we'll continue to do that. But just one week into the period of these decisions, its very difficult to say exactly what that might be."