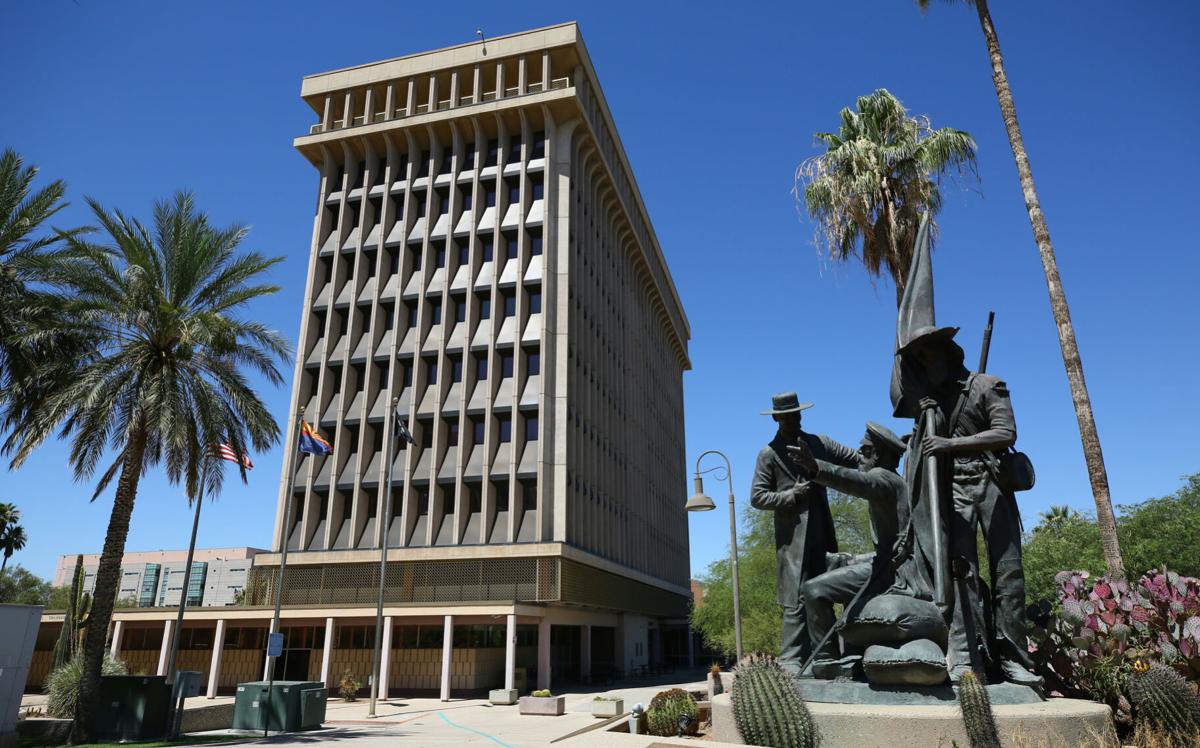 After the deadline for city of Tucson workers to prove they've been vaccinated passed on Tuesday, 354 employees could face a five-day, unpaid suspension for not getting a vaccine, according to the city.
In a 6-1 vote Aug. 13, the City Council decided to make COVID-19 vaccinations mandatory for all city employees. The ordinance required all unvaccinated employees to provide proof of at least their first vaccine dose by Aug. 24 or face a five-day suspension.
The ordinance was approved with the caveat that if 750 unvaccinated employees submitted proof of at least their first vaccination by Aug. 20, the mandate wouldn't go into effect. That didn't happen, and now the city's human resources department is working out the logistics of imposing suspensions while verifying requests for exemptions.
The city's employee vaccination data shows 830 full-time and 70 part-time employees are unvaccinated — about 21% of the total workforce. The city said 96 full-time and 124 part-time employees did not submit attestation forms to prove their vaccination status.
According to the city, 12%, or 546 employees, of the city's 4,390-member workforce submitted exemption requests for medical or religious reasons the mandate allows for.
City Manager Michael Ortega said suspensions will start being issued after the city analyzes each individual exemption request. He said that process involves "validating the spirit and intent (of the request) and making sure that we can have the employee answer whatever questions might be necessary."
While he hopes to have the exemptions vetted early next week, Ortega made clear the five-day suspensions will be spread out throughout the rest of the year so the workload from suspended employees doesn't fall to vaccinated employees or those with valid exemptions.
"We've got approximately 80% of the staff that's been vaccinated and has been in compliance, so I want to make sure we keep shoring them up to be able to provide the services that the community relies upon," he said.
Once the suspensions start being issued, Ortega said there's a "due process" for each employee to identify if a mistake was made. If employees remain unvaccinated or it's determined they filed faulty exemption requests, it's up to their department manager to issue the suspension that will remain in their employee file.
As for those who didn't submit their vaccination status, Ortega said the city will "go down a similar path for discipline if necessary," but the exact consequences have yet to be determined.
The Tucson Fire Department had the lowest percentage of fully vaccinated full-time employees at 66%, with 421 members vaccinated, followed by the Tucson Police Department at 72%, with 718 members vaccinated. Tucson Fire doesn't have part-time employees, but 10 of 13 part-time employees in the police department are vaccinated.
However, 15 fire employees and 31 full-time police employees have been partially vaccinated, meaning they've received at least one shot of the two-dose Pfizer or Moderna vaccine.
The unions representing Tucson fire and police employees, the Tucson Police Officers Association and Tucson Fire Fighters Association, sued the city last week in an attempt to overturn the vaccine mandate but were unsuccessful. The unions' presidents testified in the hearing that employees needed more time to make a decision or fill out an exemption form.
Fire Department employees submitted 103 medical-based exemptions and 86 religious exemption forms while Police Department employees submitted 115 medical and 83 religious exemption requests. However, 86 employees across the entire city workforce submitted both types of requests, and it's not clear how many fire and police employees submitted both to determine the number of individual employees in those departments seeking exemption.
With the overlap of exemption requests unknown, at most 18 of the 207 unvaccinated Tucson Fire Department employees and 58 of the 256 unvaccinated full and part-time Tucson Police Department employees could face suspension.
Employees of the Tucson mayor and council's office had the highest vaccination rate, with 97%, or 37 employees, of the 40-member office fully vaccinated. The Cty Manager's Office, the city Public Defender's Office and Planning & Development Services tied for the second-highest vaccination rate at 96%.
Overall, Ortega feels conversations with employees about the vaccine mandate have been "difficult discussions, but very respectful."
"This pandemic caused us a lot of challenges. I know this particular issue has caused some discomfort in people, I understand that," he said. "But we've handled these challenges in the past because our culture is strong, our commitment to providing the services to the public are strong, and we're going to continue down that path."