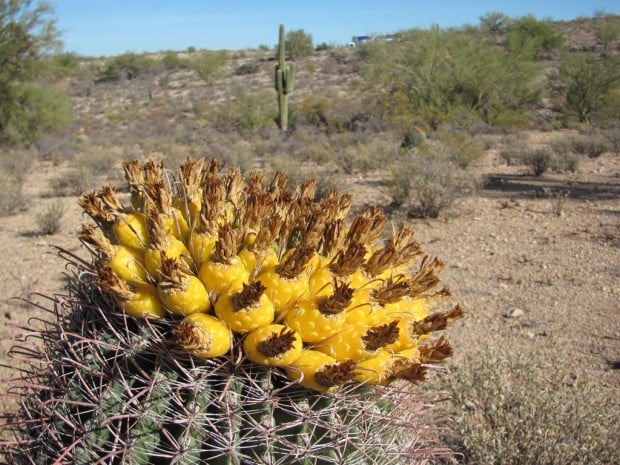 Here's one more wonder of life in the Sonoran Desert: Wild-growing fruit is just now coming into its edible prime - never mind that it's almost winter.
The fruit of the barrel cactus thrives - and offers a tangy taste - even as wintry weather spells adios for berries and other wild fruits in many climes.
"In winter, there isn't too much to gather in the desert, but barrel cactus fruits are ripe and ready," said Carolyn Niethammer, author of "Cooking the Wild Southwest: Delicious Recipes for Desert Plants" and other books about the food, people and places of the region.
The yellow fruits of the barrel seem to fare well in cold weather, possibly due to their relatively low moisture content, Niethammer said.
They show up reliably - even in times of drought - and they've got a great "shelf life" in the wild.
"In dry summers, barrel cacti flower later than usual, but they have plenty of stored water to flower and fruit in droughts," said Mark Dimmitt, retired director of natural history at the Arizona-Sonora Desert Museum. "The fruit remains until something eats it, usually squirrels or woodpeckers. In gardens where there are no critters, I've seen fruit still present the next summer when the plants are flowering again."
"They're perfectly edible raw," Niethammer said. "The fruit tastes light and lemony, and the shiny black seeds are easily dislodged."
But to be honest, she said, a description of "delicious" might be overstating it.
"They're not as prime as prickly pear or saguaro fruits," Niethammer said. "Nobody will use them as a major part of their diet."
"Just a twist will remove them from the plant," Niethammer said. "You just very carefully take that dried flower (that's attached to the fruit) and wiggle."
She adds this necessary warning: "Watch out for the spines."
Niethammer's "Cooking the Wild Southwest" book offers ways of "fancying up" barrel cactus fruit. Recipes in the book include:
• Barrel cactus and pineapple cake
• Barrel cactus mango salsa
• Desert sun marmalade made with barrel cactus and lemon
• Crispy barrel cactus seed chips
Get local news delivered to your inbox!
Subscribe to our Daily Headlines newsletter.