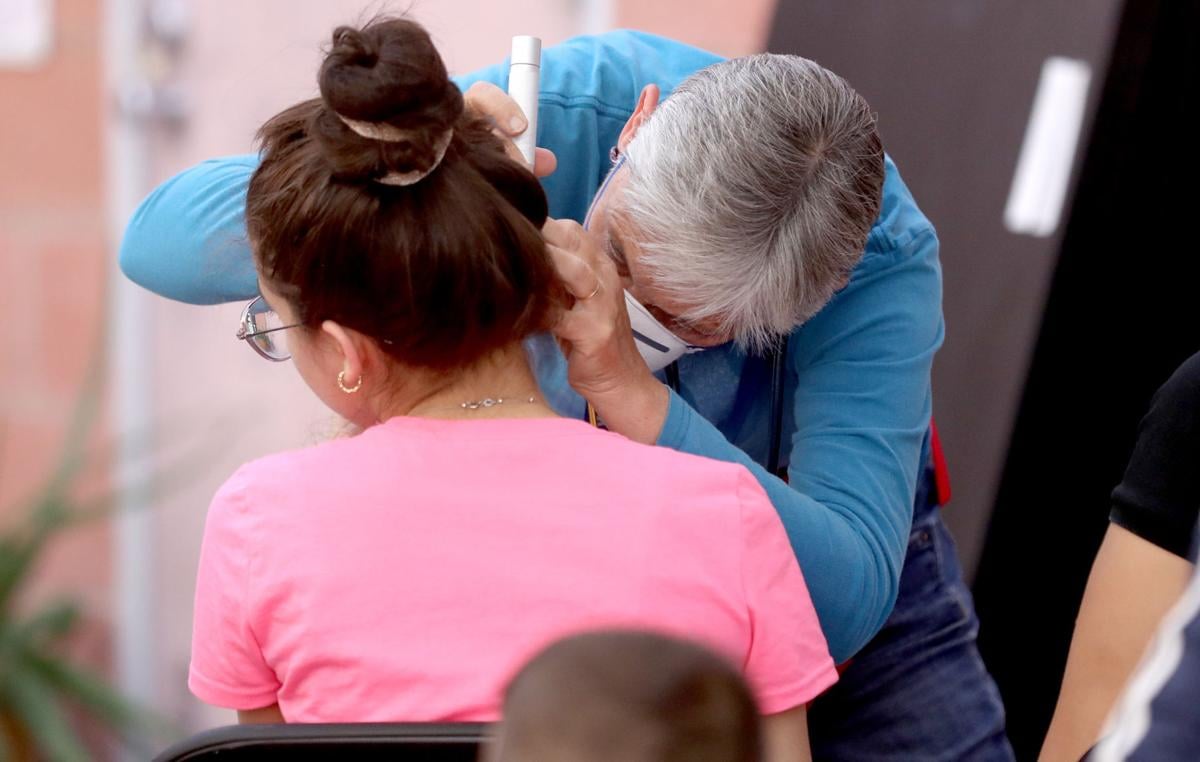 Pima County officials want to streamline the pick-up of asylum seekers released by the Border Patrol in Ajo.
The Border Patrol started releasing asylum-seeking families in Ajo on March 19 as the agency's Tucson Sector saw an increase in families and unaccompanied children at the border, many of whom ask for asylum as they flee violence, corruption and poverty in their home countries.
By March 31, the Border Patrol had released 315 asylum seekers, which presented a transportation challenge for local nonprofits and county officials who take the families to a shelter in Tucson, according to a memo Pima County Administrator Chuck Huckelberry sent to the Board of Supervisors on Friday.
Under the current system, the Border Patrol transports families from the agency's station in Why, a small community about 10 miles south of Ajo, to a plaza in Ajo. A local nonprofit, the International Sonoran Desert Alliance, set up a temporary transport hub in the plaza staffed by volunteers to receive the families.
From there, the families are transported to the Casa Alitas Welcome Center in Tucson or the International Rescue Committee shelter in Phoenix, said Aaron Cooper, executive director of the International Sonoran Desert Alliance.
In the last few days, volunteers in Ajo received between 40 and 60 asylum seekers each day from the Border Patrol, Cooper said. The majority of the families are from Venezuela, alongside some from Cuba, Ecuador and other countries.
In his memo Friday, Huckelberry said county officials asked the Border Patrol to release families at the Why station rather than drive them to the plaza in Ajo.
"Due to the time consumed and complexity of the transfer from the Border Patrol facility in Why to Ajo and then picked up and transferred to Casa Alitas and the extremely low positivity rate [of coronavirus cases] as well as to relieve the increasing burden on Ajo, we have asked the Border Patrol to directly release individuals to awaiting transport at their Why facility," Huckelberry wrote.
Ajo is a town of about 3,700 year-round residents and does not have many resources, which means migrants released there on their own recognizance "don't have a lot of ways they can get to a major transportation hub," Cooper said.
Huckelberry's request sounded like "taking out the middle person, which has been us, for lack of a better response organization," Cooper said.
"I think if they can figure out a way to do it and have it be a smooth, direct handoff, absolutely, I think it makes more sense," Cooper said.
Customs and Border Protection officials declined to comment until the agency receives official communication from Pima County.
With regard to the pandemic, two asylum seekers out of the 315 released in Ajo have tested positive for COVID-19, Huckelberry wrote in the memo. The two who tested positive were taken to another facility for isolation.
In the scenario suggested by Huckelberry, the Border Patrol would take back individuals whose temperature is higher than 100.4 degrees, along with their families.
During the pandemic, Border Patrol officials have tried to avoid spreading the coronavirus at detention centers by quickly expelling hundreds of thousands of migrants to Mexico under a health order known as Title 42, which was put in place by the Trump administration and maintained by the Biden administration.
Each asylum seeker will be provided with an N95 mask, which they are required to wear during transport, Huckelberry said. Drivers and those assisting with transport must be fully vaccinated and wear an N95 mask. When asylum seekers arrive at Casa Alitas in Tucson, they will take a rapid test for COVID-19.
Huckelberry's memo came a week after a March 24 emergency meeting of the Pima County Board of Supervisors in which the supervisors voted 4-1 to contract with a transportation company to bring asylum seekers released by the Border Patrol in Pima County to shelters in Tucson.
The county spent about $2,000 to transport 21 migrants to the Casa Alitas shelter in Tucson after the Border Patrol released them in Ajo the week before the supervisors' meeting, Huckelberry wrote. He said he expects the Federal Emergency Management Agency to reimburse the county for transportation costs.
The county is in the process of receiving proposals from transportation companies that can pick up asylum seekers in Ajo or Why and take them to Casa Alitas, Huckelberry said in his Friday memo.
Asylum seekers generally spend a few days at the Casa Alitas shelter while they and their sponsors arrange transportation to cities throughout the United States, where they live while their immigration proceedings unfold.