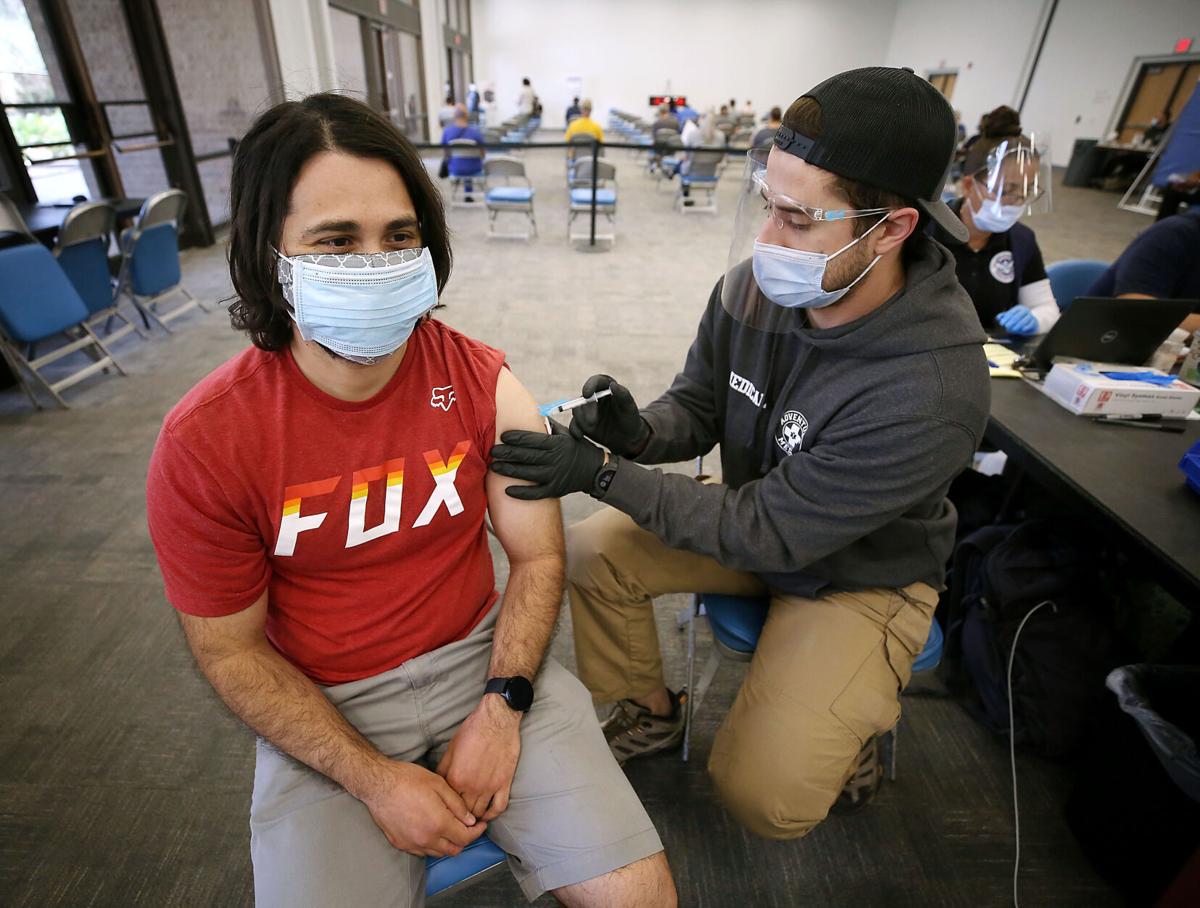 The Pima County Board of Supervisors voted 3-2 Tuesday to rescind the county's emergency declaration for COVID-19 while the state's declaration of emergency remains in place.
The board declared an emergency on March 19, 2020, during the onset of the pandemic. That declaration gave the board's chair the authority to rule by proclamation, which means Chair Sharon Bronson didn't have to take an action to the board to have it ratified.
County Administrator Chuck Huckelberry said most COVID-19 measures were still taken to the board for approval, as the emergency declaration allowed supervisors to meet with only 24 hours' notice.
Mandatory masking and social distancing protocols are no longer enforced by the county Health Department.
"We've done everything we can. We can't require people to get vaccinated, so the health emergency was really not effective anyway," Huckelberry said.
At the time of its passing, the emergency order came with the closing of restaurants, bars, gyms and theaters. While those initial restrictions have been lifted over the past year and a half, "We are entering into a different phase of the pandemic," said Francisco Garcia, the county's chief medical officer.
"We have treatments, vaccines and a robust education campaign. There's no emergency. We can handle this, and this proclamation should be rescinded and lifted," said Supervisor Steve Christy, who introduced the motion to rescind the declaration.
During the first week of January, Pima County saw more than 9,000 COVID-19 cases and 153 deaths, according to county Health Department data. From June 26 to July 3 of this year, Pima County has seen 348 COVID-19 cases and 10 deaths, according to the U.S. Centers for Disease Control and Prevention.
The board cited a rising vaccination rate, the efficacy of the vaccines and an increased availability of medical services as its reasons for rescinding the emergency declaration.
As of Tuesday, 59% of Pima County's population eligible to receive a shot has been fully vaccinated, according to CDC data. Pima County's numbers are slightly higher than the national average, with 55.5% of people 12 and up fully vaccinated.
While breakthrough cases are possible among vaccinated individuals, the county says COVID-19 infections among fully vaccinated individuals are estimated to occur in about 0.07% of cases.
State declaration remains in place
Gov. Doug Ducey issued a statewide declaration of emergency on March 11, 2020. While the governor has rescinded many COVID-related executive orders, the emergency declaration remains in place.
Board Vice Chair Adelita Grijalva, who voted against lifting the countywide declaration, said Tuesday's action seemed "premature."
"I don't want to come out before the state does," she said. "I would rather wait to see how the state moves forward and then we can follow suit."
Supervisor Matt Heinz, who also voted against rescinding the emergency declaration, said his job as a physician at Tucson Medical Center reminds him nearly every day that the pandemic isn't over yet.
"I'm seeing patients multiple times per week who are critically ill, who are fighting for their lives. And yes, mostly they're not vaccinated yet and they're still getting really bad COVID," he said. "I had a gentleman, not even a month ago, in his early 20s come in to the hospital, who almost immediately had to be transferred to the intensive care unit ... he's still fighting for his life and may not survive."
Heinz said the move could be a public messaging failure giving residents a false perception that the county is further along in COVID-19 recovery than it is.
"From a (public relations) standpoint, this is a catastrophe," he said. "The most important thing we can do is keep up the messaging about the importance of getting vaccinated and that we still have a pandemic. And I don't see how we're supposed to do that when we declare 'mission accomplished' like we just did."
Delta variant is worrisome
Dr. Theresa Cullen, director of the county Health Department, said the county is focused on fully vaccinating as many of its approximately 1 million residents as possible, which means ensuring people get both shots of either the Moderna or the Pfizer vaccines or the one-dose Johnson & Johnson vaccine.
Rescinding the emergency orders, she said, is the county's way of saying "we're doing everything we can do at this point," and that "we're comfortable with the acceleration we continue to see in our immunizations."
But Cullen said her team is also keeping an eye on the highly contagious delta variant.
"We do remain concerned about that and we continue to educate the community that vaccination is the way to protect yourself," she told the board. "We have no indication that we are going to have an increase in breakthroughs or failure, if the delta variant increases, with the current immunization plan."
Right before the meeting adjourned, Huckelberry said lifting the emergency orders is intended to send a message to Pima County residents: "If you're not vaccinated, get vaccinated."
If there is any resurgence, he said, the board can issue a new emergency proclamation. But in the meantime, "the state of the rate of infection is in the hands of those who are unvaccinated."