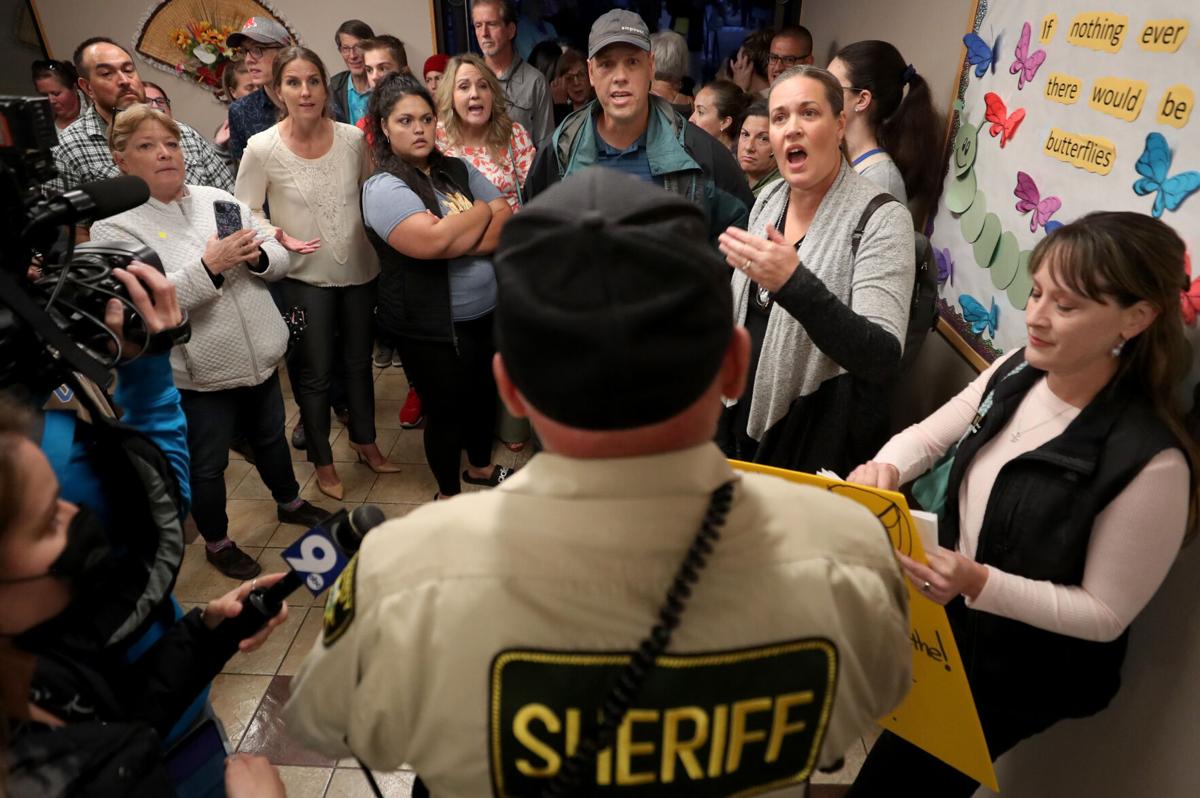 They came from around Arizona, stormed a school board meeting, then pretended to elect a completely new board, convincing many residents on social media that it had actually happened.
It was a weird night in Vail.
At least one school board member, Chris King, heard that members from groups out of Maricopa County, like Purple for Parents, would be in attendance.
"This meeting was actually distributed via social media statewide," he said.
The crowd of about 200 that gathered outside the Vail school board meeting Tuesday evening wanted Vail to rescind its mask mandate for district students.
When some protesters refused to obey the mask requirement to attend the meeting and pushed past security, the board called off the meeting.
Some protesters told the Star they were Vail parents and others said they lived in the community but their children, if they had any, attended private schools or were home-schooled. Others were from elsewhere in Arizona.
---
One leading protester, Steven Tyler Daniels, lives in Maricopa County, and in his Facebook profile identifies himself as "Chairman Pro Tem at Patriot Party of Arizona."
The owner of local business Viva Coffee House, Kelly Walker, had already made a name for himself around Tucson when, before the meeting, he used his business Facebook page to call for people to attend.
"Come out tonight and support our children. The mental trauma and suicide caused by failed, unscientific policies must end now," one post read.
Walker said he planned to speak to the board before the meeting was canceled, although his children are home-schooled and do not attend Vail schools.
Hours after the meeting ended and sheriff's deputies had arrived, about 200 people still hung around inside and outside the building. Crowded and unmasked in the entryway of the Vail Education Center, where the board meetings are held, an excited group proceeded to pretend to appoint new board members.
Daniels called for volunteers from the crowd to nominate new board members. Once five people had stepped forward and were "elected" by less than 100 people yelling "aye," this impostor board voted to remove the Vail School District's mask mandate.
Several Vail protestors, seeming to believe that they had just elected new board members for the 13,600-student district, tried to push past sheriff's deputies into the board room.
Michelle Dillard, a member of Purple for Parents who lives in Maricopa County and has a banner for the "Patriot Party of Arizona" on her Facebook page, repeatedly told a sheriff's deputy that the new board needed to get past him into the board room because of Robert's Rules, referring to the most widely used manual of procedure in the United States.
The crowd had been yelling "Robert Rules" earlier, implying that something in the rules allowed them to spontaneously overthrow the November 2020 Vail school board election, in which more than 74,000 residents voted.
"Meet the NEW Vail School District Board, elected by the PEOPLE!" one Viva Coffee House post said later. "What an amazing choice—these people CARE about YOU, not power, not politics...YOU! We don't know if this will ultimately be legitimized, but we understand the sentiment."
Daniels attempted to stage a similar takeover the following night at the Dysart School Board meeting in Maricopa County. He was disappointed by the small turnout, but nonetheless live streamed himself calling the police who asked him to leave "Nazis" and "fascists."
Protesters said they would take similar actions in districts like Tanque Verde, Sahuarita and Marana. The Tanque Verde School District canceled its scheduled board meeting Wednesday night in anticipation of similar protests.
Tucsonan gets Senate run boost
Tucsonan Blake Masters has received a boost in his possible challenge to U.S. Sen. Mark Kelly.
A Republican, Masters considered running against then-Sen. Martha McSally for the GOP nomination in 2020 but decided against it. Now his employer and professional associate, billionaire Peter Thiel, has made a big investment in supporting Masters' candidacy in 2022, Politico reports.
Thiel has donated $10 million to bankroll a new super PAC called Saving Arizona that will support Masters' candidacy. It is Thiel's second such donation — he also donated $10 million to a super PAC supporting author and fellow tech executive J.D. Vance, in Ohio's next U.S. Senate race.
Masters is chief operating officer of Thiel Capital, president of the Thiel Foundation and co-authored a book with Thiel, called "Zero to One: Notes on Startups, or How to Build the Future." Thiel is a Silicon Valley billionaire who co-founded PayPal, also founded Palantir Technologies and has supported Donald Trump and other Republican candidates.
Masters grew up in Tucson and graduated from Green Fields Country Day School. He attended Stanford University, where he earned a bachelor's degree and a law degree. He and his family moved back to Tucson in 2018.
Trump takes slap at Gov. Ducey
It appears Gov. Doug Ducey is still in Donald Trump's doghouse for not finding some way to reverse the results of last year's presidential election, which saw a Democrat win Arizona for just the second time since Harry Truman.
Though Ducey campaigned extensively for Trump in Arizona, the former president declared him "one of the worst governors in America, and the second worst Republican governor in America" in a statement issued Monday.
It marked the third time in four days that Trump, through his Save America PAC, has taken aim at Ducey over the on-going election audit launched by Republicans in the state Senate.
Predictably, Trump is a big fan of the audit and the "incredible Patriots" who are conducting it, despite there being no evidence of widespread fraud or inaccuracies with the election count after several post-election audits.
"The governor of Arizona, Doug Ducey, has been shockingly of zero help to the state Senate," the former president said in a statement on April 23. "He wants to 'pretend' the election was free and fair."
Both that statement and Monday's short tirade against the governor would have fit nicely in a Twitter post, so perhaps we can count Ducey among those happy for now about Trump's permanent ban from the social network.