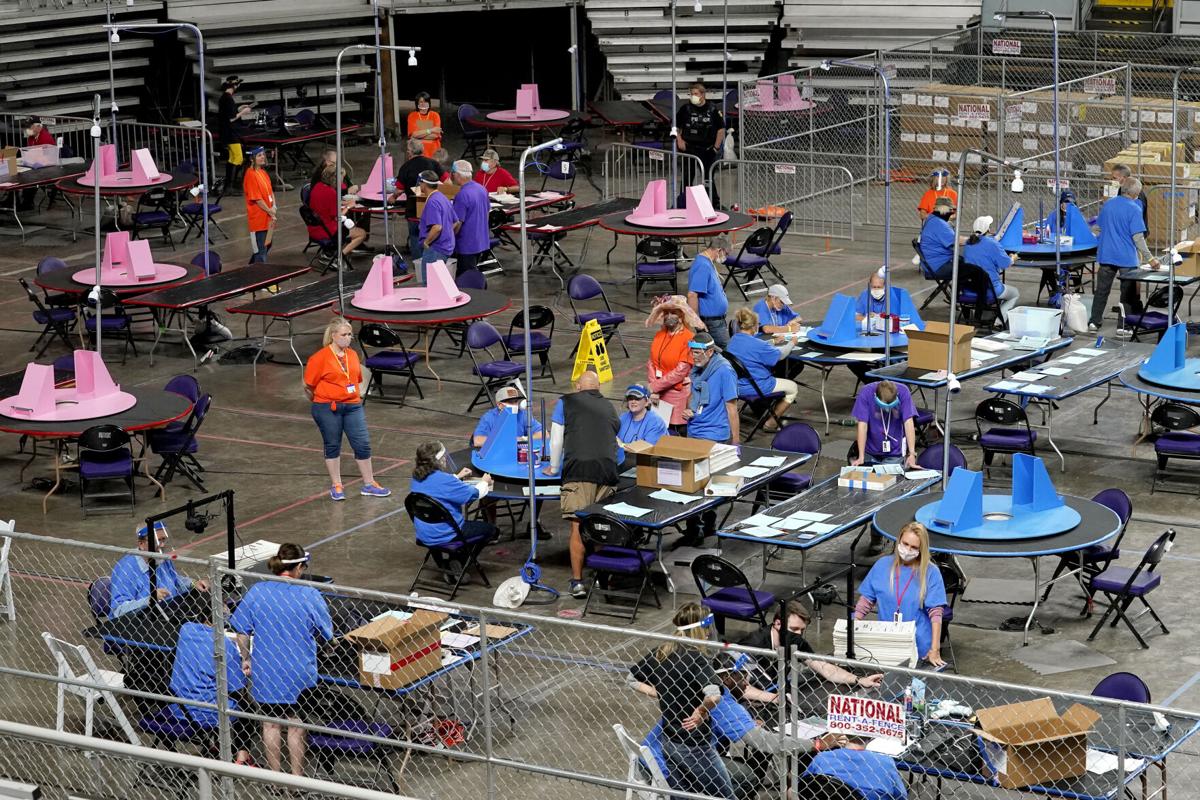 A Republican election researcher from Tucson is challenging the Arizona Senate to a test of the post-election hand count going on in Maricopa County.
Benny White, who was the GOP candidate for Pima County recorder in 2020, made the challenge in a Tuesday letter to Senate President Karen Fann.
The offer: Pick any box of ballots from Maricopa County's 2020 election, and he will provide a count of all votes in all races in that box, by querying the digital record of votes cast. Then they can compare White's computerized count with a hand count carried out by the people conducting the so-called "audit" at Veterans Memorial Coliseum in Phoenix.
"We want them to take any box they want, either unopened or opened," White said in an interview. "Just tell us what that box number is, and we'll tell you how many votes each candidate in every race on the ballot, how many votes they got."
White is convinced that querying the "cast vote record," a massive database of all the votes in the county, will provide an accurate count. White obtained the cast votes record through a public records request in May.
He has been analyzing the 2020 election with Larry Moore, the founder and retired CEO of Clear Ballot Group, and Tim Halvorsen, the retired chief technology officer of that voting-technology company.
They say in the letter to Fann: "Our objective here is to show there was and continues to be sufficient official public record information available to assure the public that our elections are conducted legally and fairly. This 'forensic audit' you have authorized is unnecessary because it creates voter confusion and delays the finality of the election that the certified winners, including you and your colleagues, deserve."
White has experience with hand counts. After the 2016 election, he volunteered at the recount in Oshkosh, Wisconsin, caused by a Green Party challenge to the presidential election results in that state.
"We required 100% accuracy in that recount," White recalled. "We would be counting a batch of 3,000 ballots using 10 people, and we were doing just one race. There were times it would take eight hours for those people to get that number right," he said.
White doesn't see the same dedication to accuracy in the current operation at the coliseum, overseen by contractor Cyber Ninjas, to count 2.1 million ballots. The procedure uses a sort of turntable, or lazy Susan, placed on a table, which a worker uses to display ballots, turning them quickly past three counters, who mark the votes they see for president and U.S. Senate. Only two of the three resulting counts must agree, if the third count is less than four votes off from those two.
White, Moore and Halvorsen have checked the cast vote record against the official canvass and found the canvass accurate, with no signs of the manipulation alleged by some conspiracy theorists.
They also think they've found a key explanation for Donald Trump's loss in Arizona — disaffected Republicans voting against him.
By querying the cast vote record, which includes each vote cast and other identifying features of every ballot, they found that 59,800 people voted for eight or more Republicans on the Maricopa County ballot, but not for Trump. By comparison, 38,851 people voted for eight or more Democrats but not for Joe Biden.
That 20,949-vote difference was likely a significant part of Biden's 45,000-vote margin in Maricopa County, White concludes. And Maricopa County, of course, was key to Biden's 10,000-vote victory margin in Arizona.
Dems, except 2, make Sinema plea
More than three dozen Democratic legislators asked U.S. Sen. Kyrsten Sinema to do what it takes, even if it means changing the filibuster rule, to pass the "For The People Act" that establishes new federal law on elections.
Of the 14 Democratic legislators from the Tucson area, only two did not sign on — siblings and state Reps. Alma Hernandez and Daniel Hernandez Jr. Republican legislators were not part of the Democrat-led effort.
In the letter, the 37 legislators tell Sinema she should "do everything necessary, up to and including reforming the filibuster, to pass the 'For the People Act.' Our democracy is too important to be sacrificed at the altar of archaic and anti-democratic Senate procedures such as the filibuster."
Sinema, a Democrat, has controversially stood by the filibuster rule, which requires 60 votes to pass most legislation in the Senate, arguing that it helps compel compromise. However, it has been used for years by the minority party to kill popular legislation, rather than compromise.
Grandpa Kelly still deciding
Sen. Mark Kelly hasn't yet decided where he stands on filibuster reform in the Senate, but he is all-in on being a grandpa.
Kelly's daughter, Claudia, gave birth to a son, Sage, in Tucson on May 29. In a written statement May 30, Kelly said he and his wife, former Congresswoman Gabrielle Giffords, were "ready to spoil and love the newest member of our family."
"Gabby and I couldn't be happier to be welcoming our first grandchild to the family," Kelly said. "The most important roles I have ever had in my life have been husband and father. Today, I get to be a proud parent of my daughter Claudia, who is going to be a wonderful mother, and her sister Claire, who is excited to be an aunt, and Gabby and I also get to be proud grandparents."
CNN reported Tuesday that the Arizona Democrat, who is up for reelection next year, remains undecided when it comes to lowering the Senate's 60-vote requirement for most legislation.
According to CNN, Kelly said he is "generally a believer in change" but would "evaluate any change to our rules, regardless of what they are, based on what's in the best interest of Arizona, and the best interest of our country."
---
Contact columnist Tim Steller at tsteller@tucson.com or 520-807-7789. On Twitter: @senyorreporter