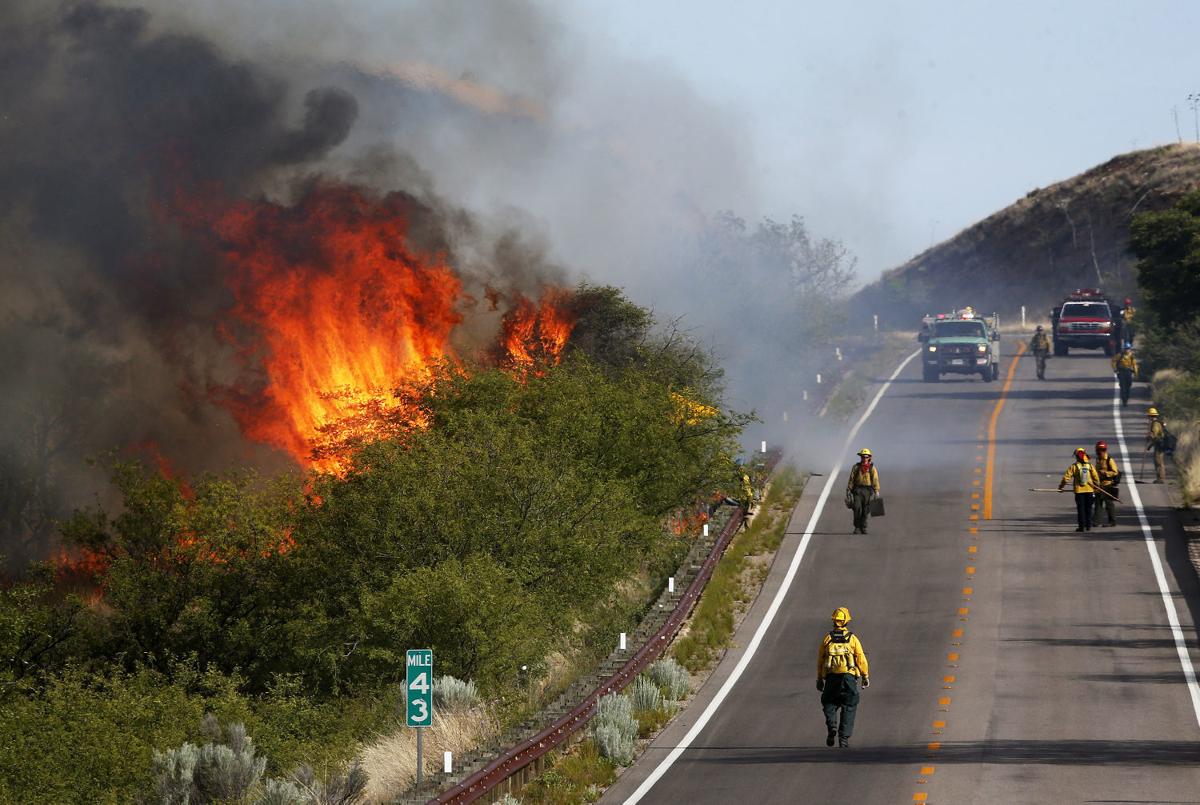 With summer fast approaching and Arizona's stay-home orders expiring weeks ago, officials are reminding motorists to ensure their vehicles are ready to help prevent wildfires as they hit the road.
Unsecured tow chains, improperly inflated tires and worn brakes can all contribute to igniting wildfires each year across Arizona, according to the state Department of Transportation.
Here are the latest updates related to COVID-19 from Tucson and Southern Arizona. 
Metal dragging from an improperly secured trailer in 2018, ignited a blaze that burned about 5,000 acres and led to evacuations in the Heber-Overgaard and Holbrook areas.
"That's one of the top five causes of wildfires in Arizona. It's not campfires; it's going to be vehicles," said Dolores Garcia, a Bureau of Land Management spokeswoman.
Garcia said wildfires in Arizona have even been started from lawn mower use.
"Usually the prevention factor is going to be maintenance on your vehicle, just understanding how roadworthy your vehicle and equipment is," Garcia said, "whether you're taking a road trip or riding an ATV, it's going to be any piece of equipment even a tractor or lawn mower."
Motorists parking in tall grass when the undercarriage of the vehicle is hot can also be enough to start a fire, she said.
"This year alone, we've had close to 500 fires that were human caused, and not all of those were campfires. A good majority of them were on Arizona roadways," Garcia said.
Some of the fires are determined to be drivers tossing cigarettes out of vehicles while others are directly attributed to the vehicles, according to Garcia, who has worked as a fire investigator.
"We know it's a vehicle and not smoking because we get called to reports of multiple fires over multiple miles sometimes. That's where we know it's something bouncing and dragging causing sparks that are going into the grass on the sides of the road," she said.
Wildfires can cause wrecks and prompt road closures during an emergency response.
"Interstate 17 is a perfect example. We have to close that road multiple times a year for car accidents as well as fires. You can come across a fire and immediately you stop, but the person behind you doesn't stop, you're traveling 75 to 80 miles an hour. It becomes a tragic situation," Garcia said.
Down the Road
Tucson transit officials encourage riders to wear masks: Riders using Tucson's public transit are strongly encouraged to use masks to protect themselves and others from the coronavirus.
Those coverings, whether a mask, cloth, bandana or scarf should cover the nose and mouth.
Riders under 2 years old and those medically unable should not wear a covering, officials said.
Other safety measures include covering coughs and sneezes, washing hands regularly and practicing 6 feet physical distancing from others.
Riding public transit remains free to reduce contact between drivers and passengers.
Travel restrictions in area of the Broadway project: On Monday, June 1, from 3:30 a.m. to 5:30 a.m., Broadway will be closed at Highland Avenue, which is five blocks west of Campbell Avenue.
The closure will allow crews to install a sewer bypass system across Broadway.
Highland Avenue north of Broadway to 10th Street will be closed to travel until June 8 due to the work.
Access to Highland south of Broadway will not be affected. Motorists can use Cherry Avenue, Fremont Avenue and Ninth Street as alternate routes.
Contact Star reporter Shaq Davis at 573-4218 or sdavis@tucson.com
On Twitter: @ShaqDavis1
Get local news delivered to your inbox!
Subscribe to our Daily Headlines newsletter.