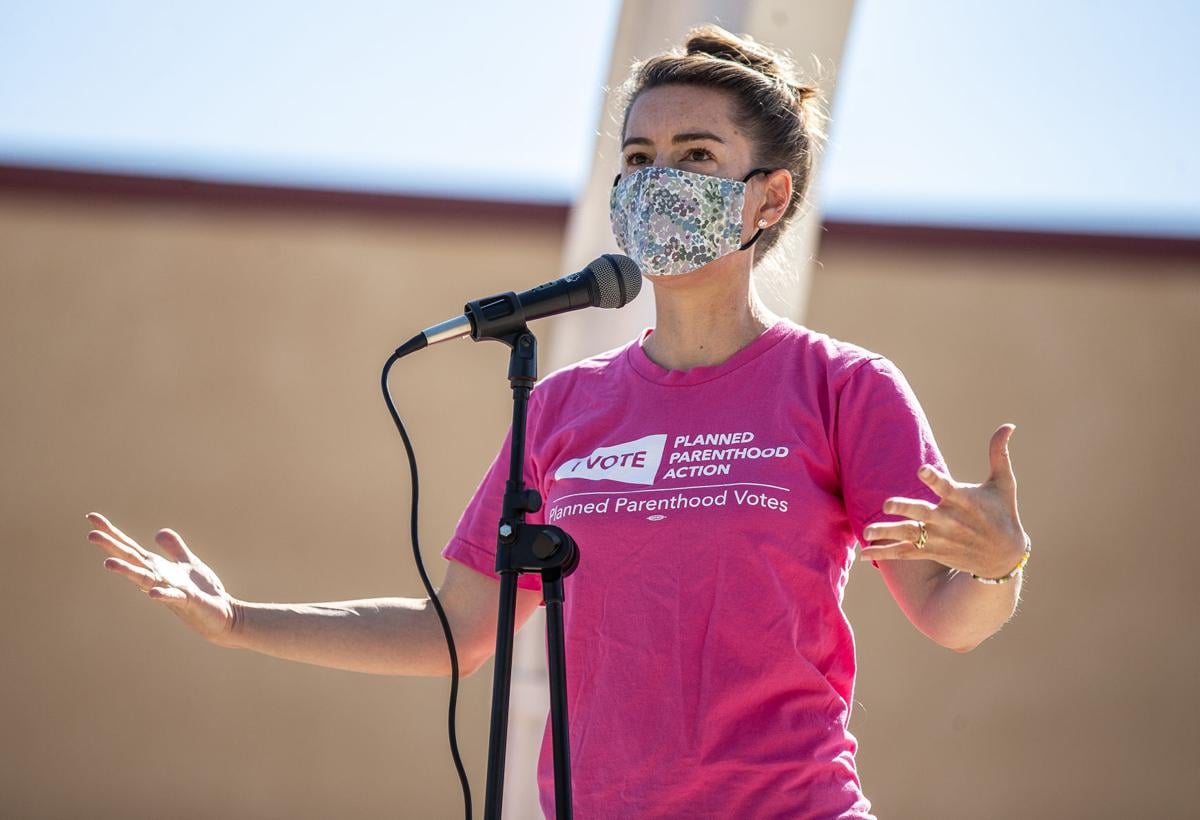 About two months ago, I was poised to write a column questioning the performance of the new Pima County Attorney, Laura Conover.
That Friday, May 7, her spokesman, Joe Watson, asked me to come downtown to the office and meet. I did and was surprised to find Conover and her whole leadership team waiting for me around a conference table.
What they told me that day convinced me my understanding was not complete and that Conover appeared to have been undermined by people loyal to former Pima County Attorney Barbara LaWall. I backed off and wrote a different column.
Among the alarming things they said: Staffers still connected to LaWall had access to Conover's email and calendar, as well as that of chief of staff Tamara Mulembo, and used it surreptitiously until caught.
"If they can distract and derail me, they've decided that that's their win," Conover said that day. "If I fail, then they win. Which is shocking because it also means public safety in the community is at risk, and I cannot understand why they are continuing to play that game."
I still think there's something to what they told me that day, but I've started to wonder if a persecution complex didn't play a role, too. Maybe call it a prosecution complex.
Since Conover took over, at the end of LaWall's 24-year run, about 60 people have left, in an office where 327 now work.
Conover and her defenders say many in the office were not on board with her criminal-justice-reform approach to prosecution, as my colleague Caitlin Schmidt noted in a story last week. They also say that some employees have simply left for better opportunities than at the relatively low-paid county attorney's office.
But it's not just that. Employees watched the campaign for county attorney, and they saw Conover position herself as the most progressive candidate, opposed to cash bonds and drug-war policies. They knew what she stood for before she took office, and the vast majority stayed anyway.
They gave her a shot. Then dozens and dozens left.
Dissatisfaction not new
The column I was planning to write at the beginning of May was not my first on Conover's office. Back in March, I wrote about how members of LaWall's office had determined last year that Conover had a conflict of interest in a key case.
That case was a civil suit by Louis Taylor against Pima County and the city of Tucson, claiming that his conviction in the 1970 Pioneer Hotel fire resulted from racism and poor police training. Soon after Conover won the Democratic primary in August, a panel of attorneys in the office decided Conover had a conflict of interest in the Taylor case because she had done a little work related to his criminal case when she was in law school, and because she had spoken out about it during the campaign.
Before informing Conover of the decision, in August, they sent the case to an outside firm in Phoenix.
I asked former Arizona Attorney General Terry Goddard and former Maricopa County Attorney Rick Romley about this, then I wrote that their decision amounted to an effort to pre-emptively rob Conover of the authority over the case that she had won in the election. I still think that.
But many attorneys and staff members disagree and think Conover had an ethical obligation to recuse herself. Three high-ranking civil attorneys had already resigned in protest before my column: Andy Flagg, Regina Nassen and Nancy Davis. My column angered more of them, perpetuating the exodus.
In it, Conover said this about the LaWall administration's decision: "It's a huge legal analysis, and as it turns out, the previous administration made that decision for us and didn't tell us."
After publication, employees sent me a September email from Nassen to Conover mentioning the "Taylor" case as one where Conover had a conflict of interest. It seemed to show Conover knew about the conflict decision before taking office in January, contrary to what she had told me.
Conover acknowledged in that May meeting that the name "Taylor" had been mentioned to her, in an email and phone call. But she said she did not understand it was the Louis Taylor case, thinking initially it might have been a reference to a juvenile victim with a first name of "Taylor."
And she noted that they only contacted her about the possible conflict after they had already sent the case out to another attorney.
Still, some employees thought Conover lied when she told me the previous administration had not alerted her to the decision. Some of them, like Nassen and Flagg, told me they not only were open to Conover when she took office but had supported her in the election.
'Things blew up'
Another incident left a similar unease.
Rick Unklesbay was the most prominent and perhaps most respected prosecutor left from the LaWall era when Conover took over in January. He also supported Conover and told me he had a sign for her campaign in his yard.
He told me he had committed to staying six months and helping with the transition before retiring for good, after 40 years in the office.
"I stayed because I wanted them to succeed. I wanted them to have a smooth transition," he said. "It was clear to me by the end of January that even though their message was they wanted me to help in transition, they had no interest in what I had to say."
He told them he would retire in March. Things blew up at the end of February.
Unklesbay had been reviewing the Jan. 20 killing by Pima County Sheriff's Deputy Gilbert Caudillo of 19-year-old Bradley Lewis. On Feb. 24, Unklesbay concluded criminal charges were not warranted and sent the sheriff's department a letter saying so. He didn't run it past Conover or alert Lewis' family.
"The way this particular case was handled just undercut everything we are trying to achieve here," she said.
The next day, Conover called an all-staff Zoom meeting about the decision and news story coming out prematurely. Some viewed it as an uncalled-for effort to shame Unklesbay, who was on the call, before the whole office.
Later, Conover reviewed the decision and agreed with Unklesbay's conclusion that charges should not be filed but said he had included extraneous information and inappropriately used office space in the sheriff's department to conduct his review.
After reading Conover's letter about his work, Unklesbay said in a note to her: "The letter is one of the most unprofessional documents to come out of the Pima County Attorney's Office."
Whatever the merits of Conover's critique, she had lost an influential former supporter, in part through public upbraiding.
And the conflict continues. Mulembo, Conover's chief of staff, filed what she termed a "mandatory report" with the State Bar of Arizona on April 2 against Unklesbay. It stemmed from him forwarding an email containing work product to another staffer in the office, who then forwarded it outside the office to LaWall's personal email account.
'Didn't feel valued'
There have been other questionable incidents. Malena Acosta, a longtime supervisory prosecutor, was demoted during a video call attended by her replacement.
She may not have been a great fit with the new office anyway. In a goodbye email to fellow members of the office, she described a prosecutor's job duty in good-vs.-evil terms that do not exactly match Conover's approach:
"When the predator arrives at our doorstep, slithering along the walkway, then our work begins. He comes only to steal, kill, and destroy — our trust, our dignity, our life. We stand in the gap between the helpless and the vicious."
But after 18 years in the office, she did not deserve to be suddenly demoted in front of her replacement.
Nicol Green, who was chief trial counsel since February 2020 and a veteran homicide prosecutor, was among those who left. She acknowledged being a political conservative but said she was open to Conover. It was only inevitable that a half-dozen or so people at the top of the office hierarchy would leave when Conover arrived, Green said.
Instead, many felt out the new boss and fled. So maybe there is a better explanation for the exodus than a conspiracy of LaWall loyalists to undermine Conover. Or of employees who really don't like criminal justice reform.
"I have talked to many, many attorneys who have left the office," Unklesbay said. "Almost to a person, they told me they didn't feel respected. They didn't feel valued."
If Conover's remaking of the office is to succeed, that would be a great problem to work on.
Contact columnist Tim Steller at tsteller@tucson.com or 520-807-7789. On Twitter: @senyorreporter