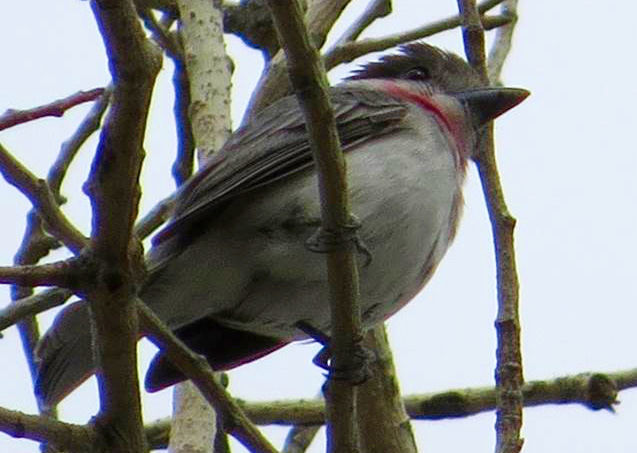 TUBAC — The reddish patch on the male's throat flares brightly amidst the greenery in which this bird dwells, in a sighting almost unheard of elsewhere in the United States.
After virtually vanishing from Southern Arizona for a decade, the lovely rose-throated becard has established a nesting foothold along the Upper Santa Cruz River between Tubac and Rio Rico, just north of Nogales. Up to six nests have been seen there each year since 2017, birders and ornithologists say.
It's the only place where the 6- to 7-inch-long bird is known to nest in the United States today, although the species has recently been seen away from the nest in south Texas.
The becard, a common bird in Mexico and Central America, has been only a sporadic U.S. visitor, although it regularly nested at a Patagonia-area roadside rest stop for many years until vanishing after 2006.
Its return is providing a major treat for bird-watchers, who are flocking to the Tubac area to see the becards fly into and out of their nests.
Made of long cottonwood bark strips, the nests have been compared to dome-shaped footballs or pendulums. They typically dangle from a cottonwood's stray branch, 30 to 60 feet above the ground.
Two of this year's nests lie barely a couple hundred yards apart, east of the river and about a quarter-mile north of the Tubac bridge.
The rose-throated becard's renewed presence is a tribute to the health of the Upper Santa Cruz's riparian area, a collection of cottonwoods and willows whose branches hang directly over the river, says Jennie MacFarland, a Tucson Audubon Society bird conservation biologist.
The bird is so popular that bird-watchers have carved out their own "social trail" east of the Santa Cruz, near the known nest sites.
"Only ones in the country"
One couple who has enjoyed the becard for three years running is Bob and Beth Acton of Oro Valley, who on Friday hauled a huge camera and a 500 mm lens to the nests.
"We're still looking for a great photo," Bob Acton said. They watched the female — which lacks the male's reddish throat patch — fly into and out of its nest over a two-hour period.
"They're hard to get," said Beth Acton.
The first becard nest seen in Southern Arizona for a decade was spotted in May 2017, hanging above the river in Tumacacori. The nest was believed to have been built the previous year.
Until then, only three males and two females — none nesting — had been reported along the Upper Santa Cruz from 2004 to 2011.
Four new becard nests were seen in the Tubac-Tumacacori area in 2017. Six more turned up last year.
This year, three becard nests have been spotted along the river, said Bill Lisowsky, a birder who closely monitors and photographs the becards. This year's nest count is running ahead of last year's, he said.
"They start nesting in early May or late May. There's obviously going to be more birds that we just don't know about that are on private property," Lisowsky said.
"They can disappear in a hurry. It's really hard to pick them up. You get movement. You get lucky."
Considering all the young becards that fledged last year, "I think we had 15 different birds," Lisowsky said.
Also, more birds today are being seen in late fall into December and again in January and February, when they used to appear mainly in late spring and summer, he said.
That could be a sign that this region's warmer weather is drawing the birds for longer periods than before, said several birding experts.
Richard Fray, who runs a Tucson-based bird-watching business, takes clients to the Tubac area twice a week to see these and other birds, and estimates the becards have brought him 100 or more paying clients over the years.
"Quite a lot of people I take, it's the main thing they want to see, because these are the only ones in the country," Fray said. "It absolutely helps my business."
When the birds are nesting, as long as people give it enough time, they see becards virtually every time, he said.
"The birds come and go frequently, coming in every 30 seconds to a minute," he said. "When they're sitting on eggs, you might wait an hour, till they change over and one flies off. When they're feeding young, you see them more frequently."
First spotted in U.S. in Huachucas in 1888
Until the 1940s, the only documented becard record in this country was a male collected —killed for study — in June 1888 in the Ramsey Canyon area of the Huachuca Mountains in Cochise County, said a paper written in the 1940s by longtime Southwestern bird researcher Allan Phillips.
In 1948, Phillips reported finding four becard nests in one mile along the Upper Santa Cruz.
Phillips described the becard as quiet-mannered and hard to find unless its nest is seen. But once seen, it's difficult to mistake for any other U.S. bird, Phillips wrote.
"The large head and bill, short neck, and chunky body give it some resemblance to a small tanager; but the dark head, whitish throat, and shorter narrower tail are markedly different, and it perches in the erect attitude of a flycatcher," Phillips wrote.
The next documented U.S. becard nest was found in Chiricahua National Monument in 1954 by biologists Robert Gibbs Jr. and Sarah Preble Gibbs of Cornell University.
The becard became best known in Arizona, however, in its annual visits to the Patagonia rest stop.
Bird guide Fray said he was the last person known to see the becards there, in early July 2006.
"I was there one evening, and a big monsoon storm came in," he recalled. "Someone came in to look the next morning, and the big monsoon had blown the nest down."
Fray and Tucson birding guide Dave Stejskal, who discovered one of this year's becard nests, say the bird's erratic presence here is typical for a species living at the northern edge of its range.
"They probably have some success some years and retreat other years," said Stejskal. "They could be gone next year."
Get local news delivered to your inbox!
Subscribe to our Daily Headlines newsletter.