The powerful pre-monsoon summer heat of midday was imminent, so Señor Barceló's Garden Brigade came to volunteer before it could set in.
From 8 to 10 a.m. parents, students and faculty helped prepare the space that functions as an outdoor classroom for Davis Bilingual Magnet School on West St. Mary's Road just east of Interstate 10.
Before the work began they met in the shade of a large mesquite tree that emerges from the garden's chicken coop. As an ice-breaker, each individual was asked to introduce themselves and tell the group what animal they would be, given the choice. Several unicorns, multiple turtles and one beluga whale later, it was time to disperse and begin the tasks at hand.
Spreading mulch, placing ocotillo fencing, removing pesky bermuda grass and planting a big lemon tree were all on the agenda. Children sat at a table of paints and brushes for rock decoration, and while many rocks were beautifully painted, the kids didn't shy away from shoveling and other more strenuous activities.
This day's effort was a way to show support for Julian Barceló and Lupita Valencia, married TUSD teachers. Barceló teaches at Davis and has been a guiding influence on the garden for many years.
In May the family suddenly lost their son, 22-year-old Julian Barceló Jr. The former student at Davis and standout football player at Tucson High was pursuing a degree at Snow College in Utah after transferring from Mesa Community College in 2019. A GoFundMe set up by a family friend to raise money for memorial and funeral expenses said he died in his sleep.
A lemon tree is being placed near the garden entrance alongside a bench that will be inscribed with his name. Other planned beautifications include replacing the chain link with a new welded gate to match an archway already in place.
Principal Jose Olivas says Señor Barceló has made the garden an extension of the classroom.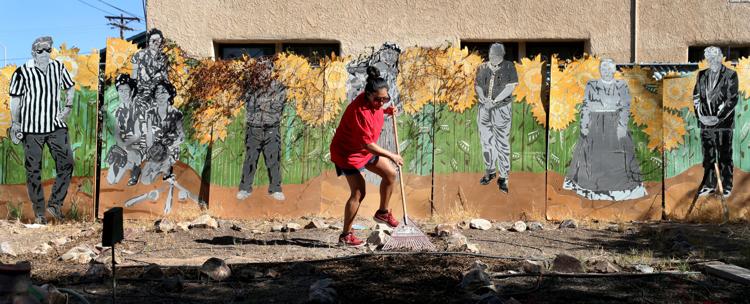 "At the beginning of the school year they start planting pumpkins, for example," he says. "So in late October or November they have their own pumpkin patch."
The hands-on experiential approach to learning keeps students more interested. Olivas says it's "better that reading from a book or watching a video. You get an appreciation for the outdoors, for life."
Marisol Gutierrez was a student of Julian Barceló two years ago.
"Every day we would go to the garden," she says, "and every Friday we would cook something from it."
Students also get experience with a wide array of cultural food and drink like menudo, pozole, tortillas, horchata and champurrado.
Barceló's teaching style inspires confidence in his students, says second-grade teacher Stephanie Alvarez, who was a student teacher under Barceló. They gain an appreciation for where food comes from in an environment where there are no mistakes only lessons learned.
She remembers when Barceló Jr. came to visit the classroom to read his favorite children's book to the students.
"He was this huge man reading this tiny book," she recalls and smiled.
Eric Flewelling has a child attending Davis, and he is a teacher at Roskruge Bilingual Middle School. He runs the school garden at Roskruge, and from that experience he knows the time and commitment involved to get it ready for the next school year.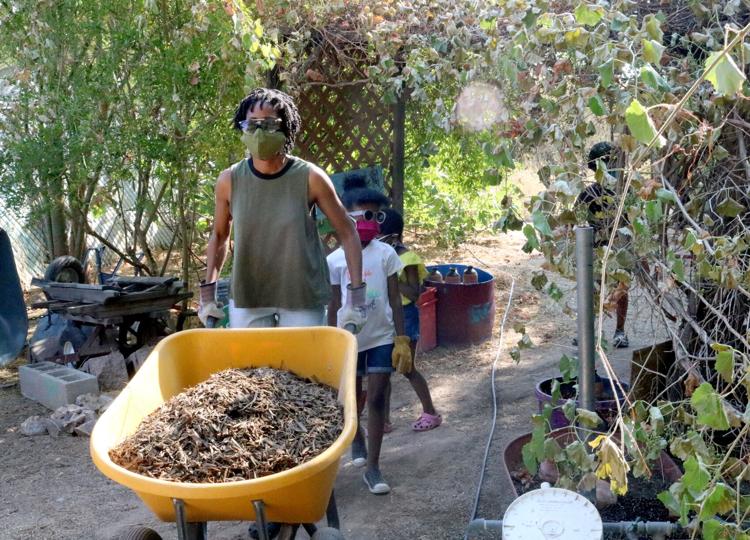 "We're supporting Julian Barceló," Flewelling says. "The main goal is just to keep the awesome stuff he has going here going, but him able to take a break from it. We're just improving and maintaining and prepping for the school year."
Garden maintenance and improvement will continue after the rains come and when the ground has soaked up some moisture. Chickens will once again occupy the coop in July, the herb garden will be replanted and updates to the irrigation system made.
In August a new crop of students will benefit and grow from experience in the garden.
Donations for the garden can be made at give.uafoundation.org/sbs through the University of Arizona Foundation. Choose "other" next to the dropdown menu on what you'd like to support, then next to "If you chose 'Other,' tell us more" write "CSGP, Davis Garden."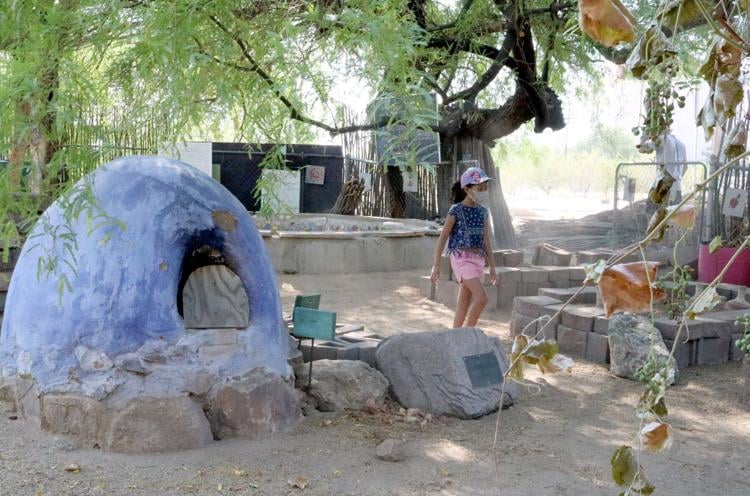 Karl Yares is a University of Arizona journalism student and an apprentice for the Arizona Daily Star.