The University of Arizona will begin the fall semester Monday, Aug. 24, and with it the biggest test of the plans in place to keep students, faculty and staff safe during the pandemic.
Initially for about 5,000 students, it means a return to classrooms for certain in-person study in areas such as laboratories, veterinary medicine and performing arts courses. Others will start online.
It's part of the UA's three-stage approach to ramping up to more in-person activities. The UA administration sees the phasing as an opportunity to deal with any problems in its procedures and allow for isolation spaces for those who test positive for coronavirus while on campus.
The following week the administration hopes to allow smaller in-person or flex courses, where students can attend in person and remotely, with 30 or fewer students in each class. About 14,000 students would be in classrooms at this point.
On Sept. 8, larger in-person classes would meet after any changes to the processes are made. The campus would see between 25,000 and 30,000 students on campus during the peak time of the week, much less than the number of students during a regular semester.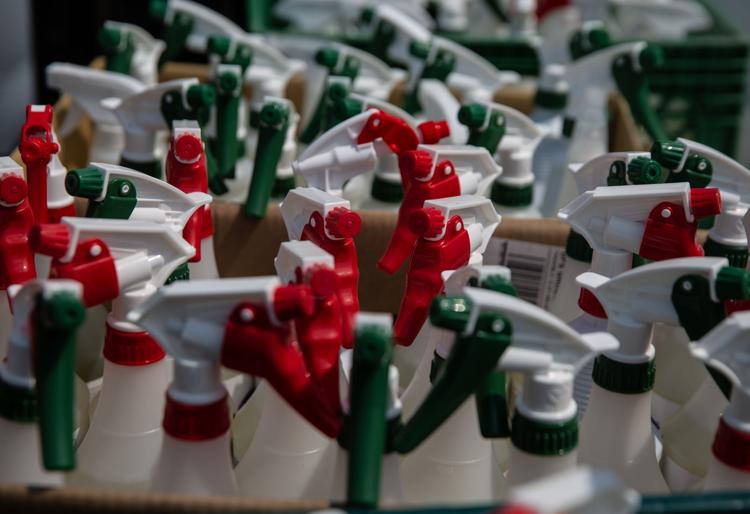 In addition to in-person instruction and flex classes, students' courses fall into two other modes: live online courses and ICourses, also completed online but at a student's pace. About half of all classes have some form of in-person instruction this semester.
Readying for a new normal
For Jessica Andrews-Hanna, an assistant professor in the Department of Psychology and others like her, they have geared up to teach students in more creative and flexible ways.
Andrews-Hanna has 140 students enrolled in a flex, in-person course, and they will be split into three groups to give students who desire a classroom setting a chance to go on Mondays, Wednesdays or Fridays.
"I think the overall principle I've been trying to take this semester is to be as flexible as possible for the sake of the students," said Andrews-Hanna. "I know a lot of our students have additional responsibilities given the COVID situation and many of our students are taking on additional care-giving opportunities. I'm here for them, and I'm going to try to be as flexible as possible to give them the best possible learning experience."
For students more at ease attending remotely, they will have live and recorded lectures to learn from. It's a method of teaching Andrews-Hanna had to adapt to once the UA shut down in mid-March. She plans on using Zoom, a teleconferencing platform, and other technology to encourage student participation.
There is also the health and safety of not only herself but her students that will need to be addressed.
Andrews-Hanna noted that, "Certainly, safety is the most important issue here.
"I'll be basically using all of the (health) guidance and PPE (protective equipment) and cleaning supplies the university is providing. I think it definitely requires not only the instructors but the students to be vigilant and to be responsible and to take things seriously," she said.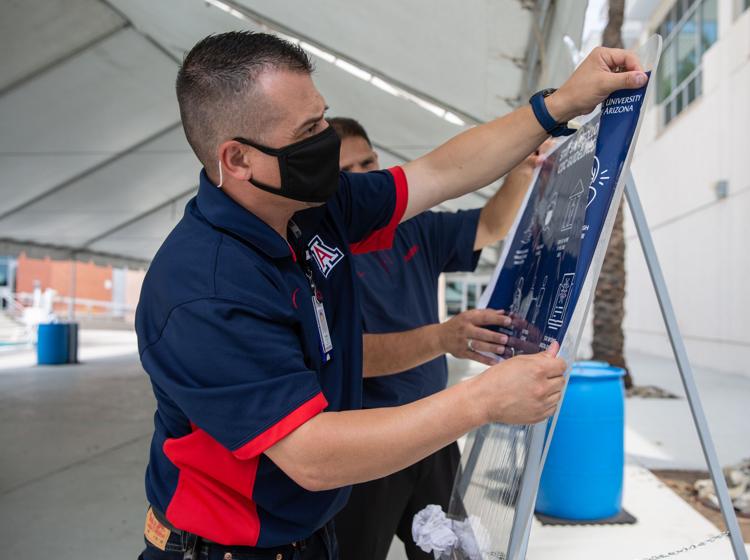 Within classrooms and campus buildings, one should see some of the 1,329 sneeze guards installed; more than 3,000 touch-free paper towel dispensers in restrooms; more than 3,000 hand-sanitizer dispensers in 500 auditoriums and classrooms; and 5,000 refillable spray bottles of disinfectant issued to faculty, staff and researchers, the UA said.
Inside the campus buildings will be areas with modified traffic flows and one-way paths to prevent too much person-to-person contact.
Unseen in buildings but also important are air filters rated MERV-13 that have been installed by UA's Facilities Management staff. The filters are efficient at capturing airborne viruses, according to the Centers for Disease Control and Prevention.
KEEPING COVID-19 AWAY
The facilities staff has been assigned to 10 areas of the campus. The dedicated staff will be able to quickly respond to an area to sanitize it if a coronavirus case is identified in its zone.
This will be done in addition to frequent, daily cleanings of campus buildings.
To prevent an outbreak, those on campus will have to adhere to wearing masks inside buildings unless in a single occupancy room as well as outdoors when physical distancing of at least 6 feet cannot be maintained.
"It's a hard, tough situation," said Alex Hedglen, a graduate optical sciences student, about the influx of students beginning or continuing their college careers during a health crisis.
Hedglen, who has adhered to health guidelines while continuing his studies during the summer, said the safety measures are not a problem for him.
"I don't feel too worried about it, but I guess it's just a tough situation for incoming students that want to get an education," Hedglen said. "I can't speak for them … but I think as long as they're able to practice social distancing, there's testing for the coronavirus and they try to maintain some organization then it should be OK."
Students may see their peers from the UA's Emergency Medical Services and the Mel and Enid Zuckerman College of Public Health helping educate others about the health precautions.
If the student health ambassadors don't work and a student causes further disruption regarding health protocols, these violations could potentially lead to suspension, the administration says. Employees' repeated violations of rules could end in termination.
When a student does test positive, they will be monitored in one of the 600 isolation spaces the school has set up before being allowed back into the general campus population.
To alert those of potential exposure, the UA administration is pushing its community to download a free exposure notification phone app called COVID Watch.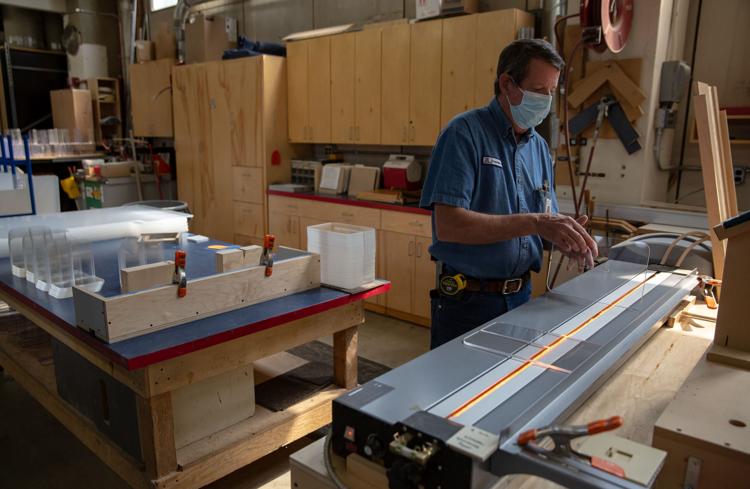 The app anonymously shares information through Bluetooth to identify other nearby devices, then allows an infected person to send an anonymous alert to other app users whom they may have exposed to the virus. The administration believes this will assist in contact tracing efforts.
It's part of the UA's "Test, Trace and Treat" program. The initiative is set up to test students for the virus and antibodies, conduct proper contact tracing and appropriately care and monitor those in isolation. All students moving into campus dorms have to test negative for COVID-19 before being allowed in. Students living off campus are also being advised to get tested before returning to school.
"Many parents have reached out and said how confident they are that we've done everything we possibly can to assure that the protections in place, all that we've done with the 'Test Trace and Treat' program that we've put in place," said President Robert Robbins.
"But even after doing all of that, that may be not enough. Even if most people follow the rules of washing your hands, covering your face, staying as far away from as many people as possible, it still may not be enough. That's why we're going to watch very, very carefully and, if we have to, make adjustments in what we've got planned."
IF SURGES OCCUR
Robbins has repeatedly said a campus shutdown is a possibility at any time.
A shutdown will be determined with a series of internal and external metrics, including coronavirus trends within and outside the campus, dormitory isolation space, the use of ICU beds and contract tracing efforts, UA said.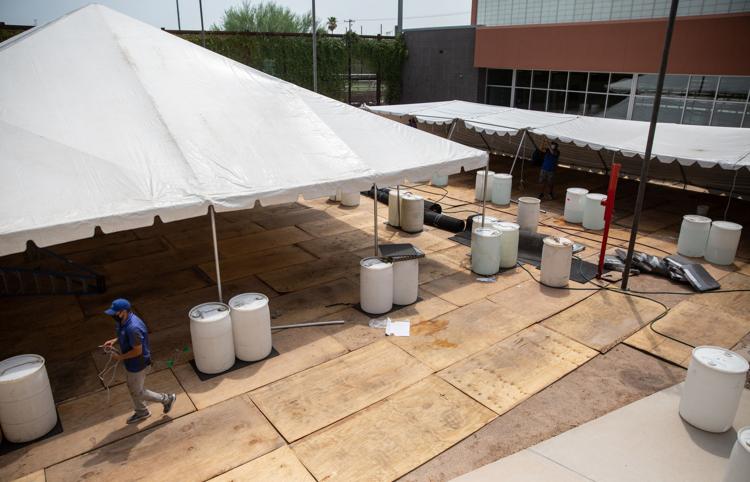 "There will be spikes; we will see cases," said Robbins. "The question is can we care for those cases, can we adequately contact trace, can we isolate and get our students, our faculty and staff through these invariable waves that we will face over the coming weeks and months."
If a shutdown does happen, one shouldn't expect a refund on tuition or room and board due to in-person classes moving solely online, according to Robbins.
"In terms of refunds, we're not anticipating refunding any tuition. We plan to keep our dorms open even through surges. Now if it got so bad that we had to do what North Carolina (at Chapel Hill) did and close our dorms, then I think we would have to take that under advisement. I don't anticipate that would be necessary this time," Robbins said.
Robbins said the reasoning for keeping the dorms open is due to the approximately 600 students who needed to live on campus to finish the spring semester.
Contact Star reporter Shaq Davis at 573-4218 or sdavis@tucson.com
On Twitter: @ShaqDavis1
Get local news delivered to your inbox!
Subscribe to our Daily Headlines newsletter.