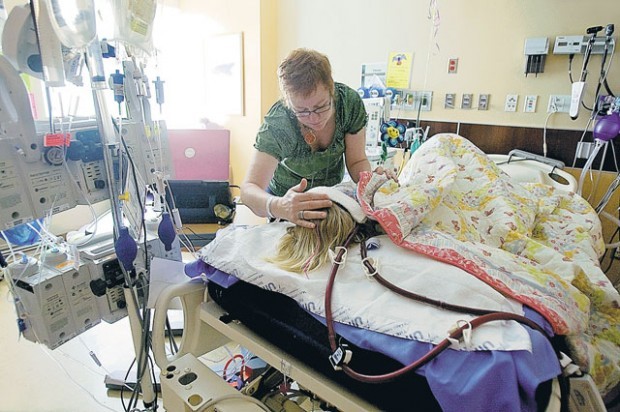 I am sitting next to her as I write this, and she is sleeping peacefully and comfortably for the first time since last Sunday morning. She has plenty of pain medication now. She is no longer afraid of more needles and procedures. She can finally rest and heal.
I will update this page in the morning, and will keep up as best I can as Addie continues her journey to get well.
Thank you all for keeping us in your prayers.
Tonya, May 20 at 11:34 p.m.
So began Tonya Rerecich's Facebook journey with her 11-year-old daughter, Addison, one day after the previously healthy little girl was admitted to the hospital with an unusual and sudden bacterial infection.
Tonya had no idea then, when she began posting factual information about her daughter's condition, that more than two months later Addison would still be in the pediatric intensive care unit at Tucson's Diamond Children's Medical Center, fighting for her life.
And since that first day when she began a Facebook page titled "Addison Hospital Information and Updates," Tonya's postings have become increasingly candid and emotional. She's taken readers through multiple surgeries and moments of deep anguish. As of Friday, the page had attracted nearly 600 followers.
Social media like Facebook, Twitter and blogs have been criticized for carrying users into a virtual place that's removed from reality, where we interact with others but never look them in the eyes or even speak to them. The American Academy of Pediatrics has even warned of "Facebook depression," a condition that puts some teens at risk for social isolation. But for many hospital patients and their families, social media is a powerful vehicle. Rather than disconnecting them from reality, it brings them closer to life beyond their illness.
not wanting to answer phone
When Tucson resident Shauna Quintero's 11-month-old son, Christian nearly drowned on July 8, 2009, she began blogging as a way of communicating with the dozens of people who were calling and texting, wanting to know whether he'd be OK. Christian suffered brain damage that will affect him for the rest of his life.
"It was borne out of not wanting to answer the phone when I was in the hospital," said Quintero, 30. "I was constantly having to retell the same scenario, and his condition wasn't improving," she said. "It's become the story of a near-drowning journey - a family trying to adjust, trying to find their way after something so tragic happens."
I've mentioned in this blog previously, but to those who are unaware, we no longer live at the residence where the accident took place. In fact, Christian has never returned to the house since he was taken from there in an ambulance. Kind of on purpose, kind of just by circumstance. But because I didn't have to take him back there, I didn't. Plain and simple. We now live somewhere that has no pool. Although, there are pools in the neighborhood and at relatives' homes.
His mother's blog has turned into an information source for other parents of children with brain injuries. Her connections led her to meet a group called the Hugs Foundation - all parents of children who survived near-drownings. The group will meet in person in Seattle this fall.
University of Arizona senior William Werner, 24, was at a student conference in Denver on Feb. 28 when he lost his balance while sitting on a balcony railing. The mining engineering student fell backward and down 20 feet, breaking both his wrists and fracturing his skull. He remained in a Denver-area hospital until May 13. His wife, Marion, kept their friends and family updated on his progress through CaringBridge.org, a 14-year-old nonprofit that has a program for patients and their families to set up medical condition websites for free.
Werner's friends were able to set up alerts on their phones for every time Marion posted news.
"I was in a chemically induced coma for two weeks, and they'd periodically bring me out," Werner said. "My sinus cavity was rebuilt. I had four surgeries. With the website my friends and family felt in the loop, and for my wife it was a platform to express her concern and share the troubles she was going through herself."
When his therapists ask Will if he knows where he's been, he doesn't always know. Other times, he says prison. Hearing "rehabilitation" and not being allowed to do anything may have brought him to this conclusion. Will also realizes that he's been injured, and so his brain pieced together the story that he was in a prison rehab center for criminals because he had gotten in a fight. We assured him that this was not the case, told him what had happened, and explained that as time goes on and he improves, he'll be able and allowed to do more and more.
While Werner himself never posted on the site, Marion began showing it to him in April.
"I really feel valued by all my friends and family. There were so many comments on there that I will always treasure dearly," he said. "I realized how my friends see me - and they see me the way I would like to be seen. It was wonderful to know that."
CaringBridge's popularity has increased in recent years - there were nearly 250,000 new CaringBridge sites set up last year. Most users are cancer patients facing long illnesses, but the uses range from people hospitalized for less than a week to people who maintain their sites for years, spokeswoman Melissa Maggio said. Since 2007, 3,600 CaringBridge sites were created in Arizona, she said.
The family of Ron Barber, one of the congressional staff members shot alongside U.S. Rep. Gabrielle Giffords on Jan. 8, started a CaringBridge website for him while he was in intensive care at University Medical Center. Barber says it was responses he received from readers of the CaringBridge site that fueled the creation of the nonprofit local Fund for Civility, Respect and Understanding, which has already begun an anti-bullying program in schools.
Barber's son-in-law, Gawain Douglas, began putting up Barber's progress reports on CaringBridge Jan. 9, and the site generated more than 14,000 page visits. Barber, who was shot in the leg and neck and continues to struggle with nerve damage, has since written some postings himself.
Sunday, May 22, 1:50 p.m.
I want to thank each of you for your prayers, support, compassion and kindness as our family has been going through this difficult time. You are definitely helping with our healing. I only wish I could send each of you a personal response to your wonderful messages. Please know that I am very appreciative and deeply moved by what you have said to me on CaringBridge. Love is the answer to all our problems and you have certainly sent an abundance of love our way.
Peace and love to you ... Ron
Barber heard from other victims of shootings, including some high-profile incidents. One of the women injured in the 2006 Seattle Jewish Federation shooting contacted him and offered support and camaraderie. "It was very helpful and contributed to the healing process," Barber said.
Now that he's recovered, Werner said his wife has no plans to continue his CaringBridge site. But Barber expects to put up occasional postings. He continues to struggle with post-traumatic stress disorder, or PTSD, and says the website is a way of sharing the ongoing effect that Jan. 8 has on mental health. He finds it's a good place for raising awareness about PTSD.
Tonya Rerecich, 46, often refers to Addie as "Our Girl" when she posts on Facebook because she believes everyone in the virtual community she created is watching over her daughter.
"It's beautiful to see all the people on Facebook being so positive," Tonya said. "Once in a while I'll miss a day and I'll get a lot of messages asking me if everything is OK. You do feel a responsibility, but most of the time it's an outlet. It helps me focus and think - What are the real issues here? What kind of progress did we make? I can't wait to see the inbox fill up. ... Addie doesn't tolerate a lot of noise and fuss, but because of Facebook I am never alone. People manage to come up with the right thing at the right time to say."
Addie's vicious infection chewed through her young lungs. They would not hold any air she breathed in. She had surgery to repair some of the holes last week, but the tall, blond, athletic girl is still extremely sick.
As a registered nurse herself, Tonya has never sugarcoated her daughter's medical condition. While her postings started out mostly clinical in nature, she quickly realized that sharing her feelings in an honest way has been the most gratifying part of the process.
She's had emails from strangers who say Addie has affected their lives, reminded them to love their children, to have faith and to pray.
Addie was an avid swimmer, and Tonya has heard from swimmers grateful now to have healthy lungs that allow them to hold their breath underwater.
On the "wall" of the Facebook page, Addie's classmates post encouraging words. Church friends write prayers and post links to inspiring songs. The page includes dozens of followers in Kuwait, where Tonya's husband, Lawrence, had been working on a contract.
I want you all to know that I read every word, and hear every song, and see every photo you post. ... Sometimes I read the prayers to Addie, when she can tolerate it. ...Addie will be amazed one day at the outpouring of love and show of faith that flows from this Facebook event. I can't believe how God is making use of Facebook, of all things??????? I love it!
Tonya frequently shows the page she created to her daughter, who remains bedridden, connected to an external lung, and to feeding and breathing tubes.
On more than one occasion, her mother said, Addie has cried with joy.
Tonya and Lawrence Rerecich are not working while they hold vigil by their daughter's side. Donations to help them with household expenses may be made to the Addison Rerecich Donation Account at any U.S. Wells Fargo or Wachovia bank. The account number is 9894037671.
Be the first to know
Get local news delivered to your inbox!