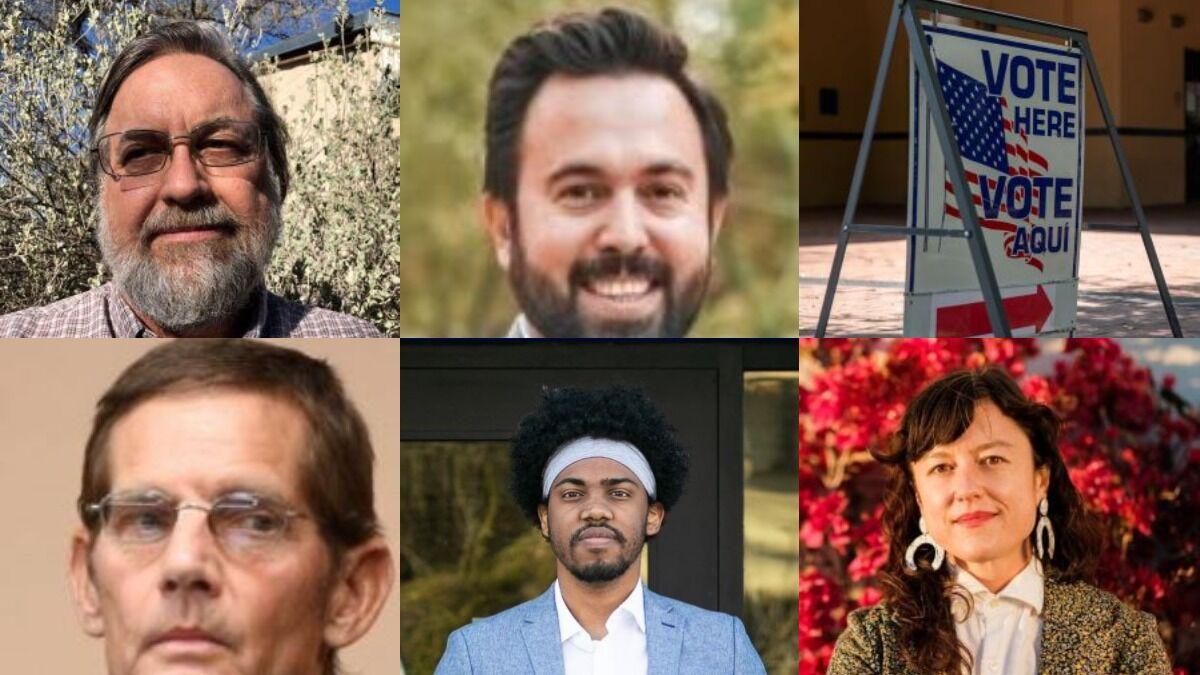 Book-burning on the horizon
It appears that Republican legislators will soon be organizing book-burning rallies. They have proven unable to successfully defend their own arguments concerning social problems and have returned to their time-honored (dare I say "conservative") ideology of willful ignorance and denial. First, they censor the teaching of a scientific method of inquiry and then they claim there's not even a reason to question the status quo as if they say "Sexuality? Racism? Political disenfranchisement? We don't have any of that around here! Besides, it's a mystery! Must be God's will! Now, let's just move along and get back to the business of me having power over you."
It's starting to look a lot like "Fahrenheit 451" in Arizona.
Arizona rife with tampering
Open Letter to Gov. Doug Ducey and AG Mark Brnovich,
"Try not to become a person of success but rather try to become a person of value." — Albert Einstein
What is your value to the great state of Arizona? Are you to lead or follow moral bankruptcy. Please enforce our laws to make our state successful. I think Donald Trump, Reps. Paul Gosar and Andy Biggs, Arizona Republican Party Chairwoman Kelli Ward and Sen. Karen Fann should be charged with election tampering.
Do what is right, because it is the right thing to do. Stop the lie and grow a spine or face the consequences of being complicit to an insurrection. This is bigger than you and your selfish pursuit of success. It is about your office and your oath to uphold the law to public service and our values. The world is watching and history is not kind to despots.
CRT outrage isn't genuine
While it comes as no surprise that Gov. Doug Ducey banned the teaching of critical race theory (CRT), I hope that Arizonans will come to realize that all the brouhaha over CRT is nothing more than the first of many experiments being conducted by right-wing media and politicians to gauge how easily they can duplicitously manufacture "outrage" against an imaginary problem, and then turn this "outrage" into ratings, profits, and votes.
Former Donald Trump adviser Steve Bannon confirmed as much in a recent interview when he revealed that he believed if Republican politicians continue to demonize CRT it will inevitably result in them gaining up to 50 House seats in the 2022 elections.
Regardless of whether parents support or oppose the teaching of CRT, there is something extremely abhorrent about politicians who feign concern about something as sacrosanct and essential for America's future as a child's education, when their true goal is nothing more than crass, demagogic and self-serving political gain.
Need to replace LD 11 legislators
I have the misfortune of living in LD 11. My legislators, Sen. Vince Leach, Reps. Bret Roberts and Mark Finchem, helped pass a budget that gives huge tax breaks to the rich and less than $100 to the rest of us. They also passed laws forbidding schools and colleges from implementing CDC COVID guidelines or from teaching anything about race that might offend white people.
What they have not done is pass laws that improve broadband coverage or address the woeful condition of roads and other infrastructure in LD 11. They have not passed laws that address the water crisis caused by our 20-year drought and overallocation of our water resources.
They have not passed laws to fully fund education or address the growing problems of homelessness and hunger in LD 11. Giving money to rich people and stoking cultural conflict is not the same as governing. We can and should elect better legislators in 2022.
Conover lives up to her promises
The Star has published several negative comments about the Pima County Attorney Laura Conover and her new 6-month-old administration. The outgoing administration of Barbara LaWall attempted to put a stranglehold from the beginning of the Conover administration and impeded the functionality of the office to the detriment of the citizens of Pima County.
It not surprising that there has been an exodus by LaWall loyalists given the changing reform direction of the office. This was expected. Replacements will be selected and the office will move on in better shape then it is today.
Laura Conover ran as a true reform candidate. These efforts will increase productivity and reduce unnecessary costs.
School board battle zones
The current disruption in local school boards nationally over issues such as wearing masks and if or how to teach subjects such as slavery, racism, Marxism etc. negatively impacts the ultimate education of our children. The COVID-19 pandemic has already resulted in a serious drop in grades (especially math and reading) due to remote learning. Only the highly motivated have maintained an acceptable learning level. Naturally, students need to be in the classroom and the debate over mask wearing is reasonable given that it is based on medical science and not partisan politics resulting from the "Big Lie."
Slavery, racism, Marxism, and Nazism (white supremacy) represent factual history and cannot nor should not be ignored or minimized. The U.S. has had four years of a significant disregard for its democracy, we cannot allow the brainwashing of too many adults on school boards adversely impact the safety and education of our youth.
Conover isn't up for the job
Re: the July 4 article "Employee exodus falls to Conover."
Tim Steller's recent report disclosing the mass exodus of experienced attorneys from the Pima County Attorneys Office is not only shocking but alarming. I doubt many voters grasped Laura Conover's plans for this critical office and her apparent lack of experience in running a large organization when they voted for her.
These departures indicate that Conover lacks the management skills necessary to run such an essential office. Experience is invaluable to a county attorney's office, and we've lost that with the capable attorneys who have left. Who will fill that void? Will inexperienced attorneys fail to get the convictions they should for child molesters, rapists and murderers? Yes, compassion in law enforcement is appropriate, but so is enforcing the law and protecting the public from predators. Ms. Conover has apparently failed at effectively managing the personnel in the office, and that is a failure to all Pima County residents. If she truly believes in public service, she'll resign.
Bring streetcar to Campbell Ave.
I'm sure I'm not the first to consider this but, wouldn't extending a single streetcar rail out Campbell Avenue serve several purposes? It would provide access to the UA for visitors and students, promote commercial growth, and complete the Rillito/Santa Cruz loop. While any use of infrastructure money becomes a lighting rod for controversy, there is no doubt that extending the successful development of downtown is a good thing.