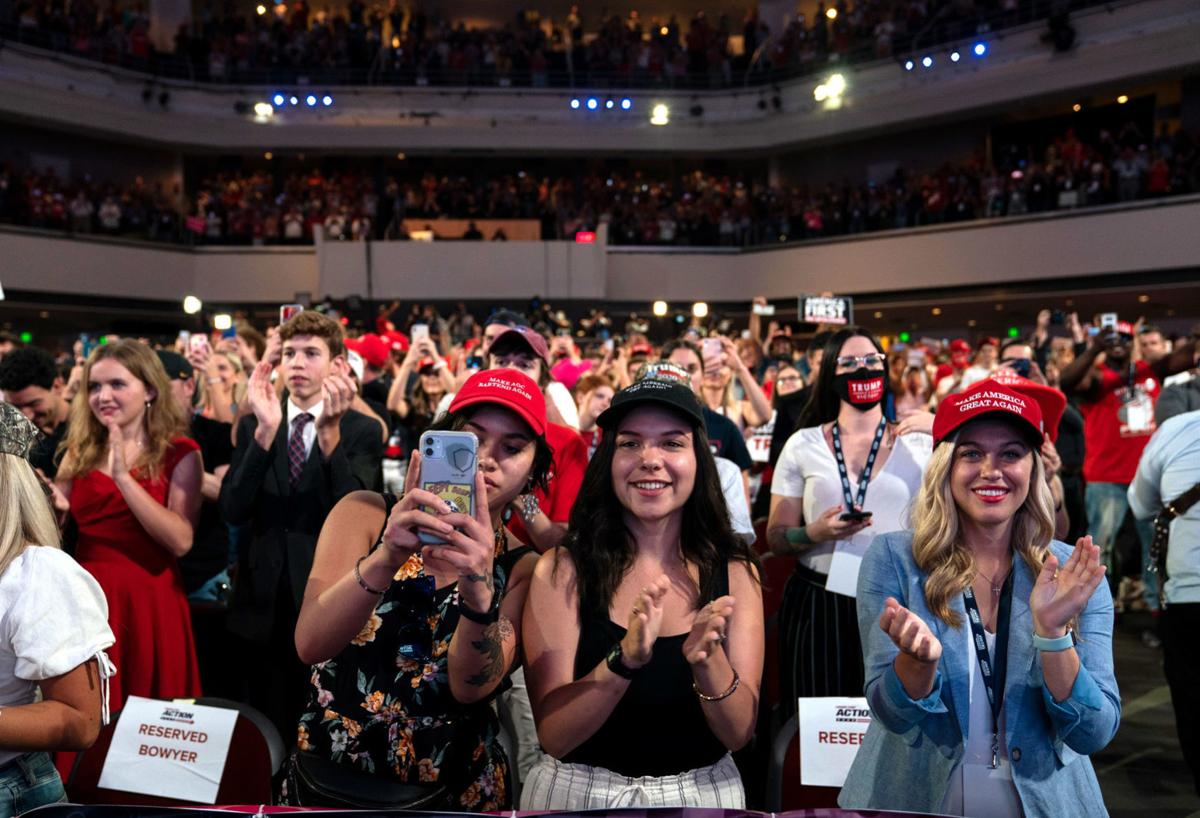 The following column is the opinion and analysis of the writer.
Since the beginning of the COVID-19 pandemic spread in the United States in March, some politicians, commentators and citizens have equated wearing a mask with a loss of liberty — and even slavery.
This is a false and outrageous equivalency.
As the U.S. has over 3 million of the nearly 12 million confirmed COVID-19 cases worldwide, President Trump has turned wearing a mask into a political issue, retweeting an article that mask ordinances create a "culture of silence, slavery and social death."
As new COVID-19 cases reached a daily high of 57,497, the president held a July 4 event at Mount Rushmore where folding chairs were zip-tied together, preventing social distancing. Few masks were in sight.
He also recently held large rallies in Phoenix and Tulsa — current coronavirus hot spots — without wearing a mask or requiring attendees to do so. When Vice President Mike Pence was asked about the president's behavior, he deflected by claiming that everyone has a First Amendment right to freedom of expression.
Pence, recently switched messaging, imploring Americans to wear masks, though he held large mask-optional campaign events in Wisconsin and Texas earlier despite being the head of the COVID-19 task force.
House Speaker Nancy Pelosi argued that a nationwide order to wear a mask was "long overdue," but that the Centers For Disease Control and Prevention had not required facemasks due to objections from the president.
In a report released recently, Goldman Sachs advised that wearing masks could speed economic recovery. Jan Hatzius, chief economist at Goldman Sachs, writes, "Our analysis suggests that the economic benefit from a face mask mandate and increased face mask usage could be sizable."
Numerous studies have demonstrated that universal mask-wearing is one of the most effective tools for controlling the spread of COVID-19. Yet strange political machinations on masks demonstrate a mortal void between a desire to control the spread of COVID-19 and a partisan insistence that face masks are an infringement upon individual liberties.
Gov. Doug Ducey did not allow local governments to impose face mask rules until mid-June. Nearly 2,000 have died in Arizona from COVID-19, where there have been close to 109,000 cases.
In Texas, COVID-19 cases and hospitalization rates have climbed steadily. Recently a record 8,258 tested positive in one day and Houston area hospitals reached 100% intensive care capacity. Despite these alarming indicators, Texas Gov. Greg Abbott waited until July 2 to mandate the statewide use of face masks, arguing that such a move would threaten individual liberty.
"Freedom" is a nebulous political concept—the exact definition of which political philosophers have debated for centuries. At its most basic level, freedom or liberty is often taken to mean that a person is not subject to violence, coercion or interference by the government.
The anti-mask crowd appeals to this same basic definition of freedom. The logic is: I live in a "free" country, therefore the government cannot force me to do anything — including wearing a mask.
Yet a more expansive definition of freedom focuses on whether or not people effectively have meaningful opportunities in their lives. A person may be theoretically free to do whatever they want, but if that same person suffers from extreme poverty or ill health, the meaningful choices in their lives will be restricted.
Many low-wage workers with health problems or vulnerable family members must choose between returning to work under unsafe conditions or quitting their jobs during a global recession. COVID-19 has claimed the lives of more than 134,000 Americans, and may leave untold thousands more with severe life-long health complications
The concept of freedom is historically associated with the ability to vote, participate in politics and exact some control over the government. Ironically, both Ducey's and Abbott's executive orders regarding COVID-19 have constrained the actions of local governments — where citizens may have the best chance of influencing policy.
Instead of painting face mask policy as a false choice between individual freedom and public safety, politicians can reclaim the language of freedom and liberty.
Democrats and Republicans need to make the case that no one will truly be free to create the future they desire until their basic economic and health needs are met and their ability to participate in politics is secure.
Katie Scofield has a Ph.D. in Political Science from Indiana University, with a focus on comparative constitutional law. She was awarded a Fulbright grant to study the Ecuadorian constitution and its treatment of human rights. She teaches government at Blinn College in Texas.
Catch the latest in Opinion
Get opinion pieces, letters and editorials sent directly to your inbox weekly!