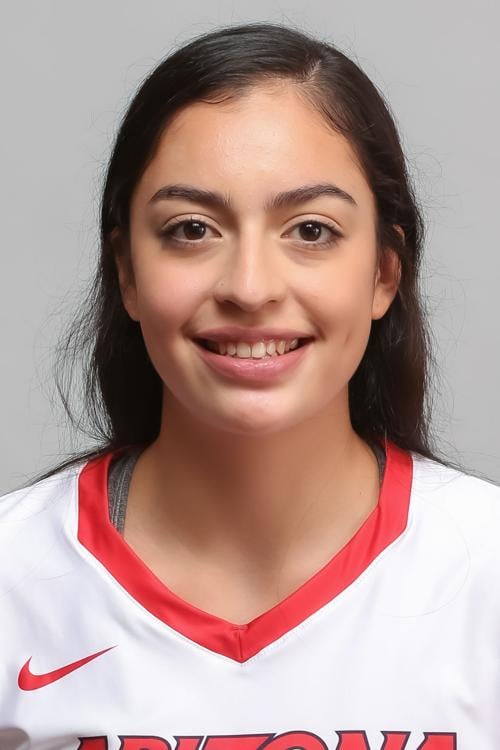 Sofia Maldonado Diaz didn't expect her freshman season to get off to such a rocky start.
She went home to Guadalajara for UA volleyball's extended break in November, then had difficulty getting back into the United States. Once back in Tucson, Maldonado Diaz faced her next hurdle — COVID-19. The UA outside hitter tested positive just days into training camp and had to quarantine.
Neither obstacle could keep Maldonado Diaz from showing up for her McKale Center debut. In a smashing performance against No. 11 Washington on Saturday, she posted 25 kills on 41 swings, hitting .439, and added 11 digs, three blocks and an ace. She was named Pac-12 Freshman of the Week.
"I thought I would get to that level, but at that pace it was surprising in a good way," Maldonado Diaz said through an interpreter Wednesday. "The team has been working really hard together, and the question now is, 'Can we maintain that?'"
The Wildcats will find out soon enough. Arizona (0-4) hosts No. 7 Stanford on Friday at 6 p.m. and Sunday at 11 a.m.
Stanford has not played in a match this season because of Santa Clara County's COVID-19 regulations that until recently did not allow teams to practice indoors.
The 6-foot Maldonado Diaz is adjusting to a new style of play, a new position — she played middle blocker in the past — and a new language. She said she's used all three challenges to her advantage.
"It was frustrating having those complications in the beginning," Maldonado Diaz said. "It was hard. However, when I got the negative test back it made me want to do better — it motivated me, and I was playing with a lot of desire."
Just how big were her numbers Saturday?
It's been 14 years since a UA outside hitter had 25 kills. Maldonado Diaz became the first Wildcat to have 25 or more kills while hitting .400 in 11 years and the first freshman to have a 20-plus-kill double-double in 10 years.
Maldonado Diaz grew up playing soccer, then volleyball. Her older sister, Daniela, introduced her to volleyball when Maldonado Diaz was 12 years old. It wasn't long before she turned into one of the top players in Mexico, starting for both U18 and U20 Mexican National Teams. She also led Cervantes Loma Bonita to a national championship her senior year.
Dave Rubio saw her play a few times before offering her a scholarship. And while he knew Maldonado Diaz was capable of performing like this, he didn't expect it so early in her UA career.
"As a coaching staff, we knew that she had the potential to be a full-time player, and the potential to be a terrific attacker. We just didn't know when that was going to happen," Rubio said. "You could just tell that just by how she applied herself in practice — (a) really diligent, attention-to-detail type of player. …
"I am surprised it's happened so quickly. Now remember, it only happened one weekend; that's the thing. I'm not ready to anoint her as the second coming yet — until she can do it back-to-back and do it over a couple of different weekends — but certainly the potential is there. And certainly, how she applies herself in practice every single day allows her to kind of be in a learning curve that she's on and improve so quickly."
Notable
Despite losing to UW on Saturday in five sets, Rubio was happy with his team's progress. He said that the setting and blocking were better than Arizona's season-opening series at Utah. Still, he said the Wildcats still have some things to work out on defense.
Rubio was quick to mention that two other freshmen besides Maldonado Diaz — middle blocker China Rai Crouch and setter Emery Herman — had big nights Saturday. Herman was two kills shy of putting up a triple-double with 53 assists, 13 digs and 8 kills on .538 hitting. Crouch had five kills on eight swings and six blocks.