Jason Terry made $108 million over 19 years in the NBA, which means he'll be taking a little pay cut as Arizona's newest assistant men's basketball coach.
Terry signed on to make $280,000 for each of the next two seasons, according to a contract written on June 12, signed July 14 and obtained Thursday by the Star under a public-records request.
While Terry's salary is far from that of his NBA playing days, it is roughly in line with his fellow UA staffers.
Associate head coach Jack Murphy is under contract to earn $335,000 next season, and assistant Danny Peters was renewed in April for the next two seasons at $275,000, the same amount he made the last two seasons. Terry will be replacing Justin Gainey, who made $290,000 as an assistant coach before he left in April to become Marquette's associate head coach.
All three assistants are under contract for two seasons each, but they must pay the school if they leave voluntarily before their terms are up. Terry and Peters would owe the UA $50,000, while Murphy's buyout is for $25,000.
In what are formally termed "notices of appointment," the contracts also say the assistants will be paid their full salaries through the end of their contracts if fired without cause — although the payment would be reduced by any amount earned over that time from a subsequent job elsewhere in college basketball.
If fired for cause, they will be paid only to the date of termination. Murphy is under contract through April 8, 2021, while Terry and Peters are now under contract through April 8, 2022.
Meanwhile, head coach Sean Miller is scheduled to make a guaranteed $2.9 million plus incentives in 2020-21 and 2021-22, including $700,000 in UA peripheral duties compensation and $200,000 each from Nike and IMG. Miller's contract expires on May 31, 2022.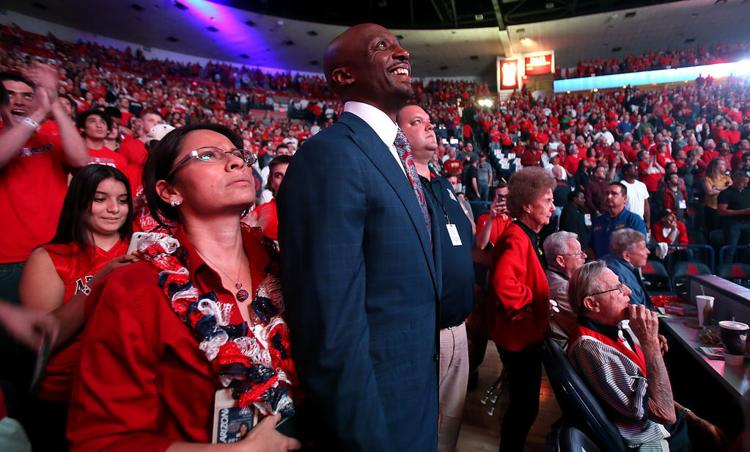 However, all UA coaches earning more than $203,500 are expected to take pandemic-related 20% pay cuts in 2020-21 — meaning Terry will likely take home $224,000 next season.
While UA coaches' contracts do not say their salaries can be cut for a pandemic or other force of nature, the school said in May that its five highest-paid head coaches all volunteered to take a 20% cut of their base salaries, the same as all university employees who make more than $203,500 per year. Miller's base salary is $1.8 million, so his guaranteed package will drop $360,000 to $2.54 million.
Other UA coaches are taking cuts according to the tiers announced in a campuswide plan, ranging from 15% to 20%.
Terry, who has no previous college coaching experience, expressed appreciation for getting an opportunity to coach at his alma mater during a Zoom interview last month with Arizona media. He last played for the Milwaukee Bucks in 2017-18, then served as assistant general manager for the Dallas Mavericks' G League team last season. Terry coached girls club basketball for 12 years during NBA offseasons, giving him a familiarity with NCAA compliance rules.
Already, Terry's imprint on the UA's recruiting has been visible, with the Wildcats making inroads with several top high school prospects in the Seattle and Dallas areas, where Terry is well-connected. One of the Wildcats' incoming players, Seattle U grad transfer Terrell Brown, is Terry's godson.
Terry said he also has a passion for impacting players' lives through coaching and mentoring.
"That is my purpose, and it's something I've prepared for," Terry said. "I've worked extremely hard for in preparation for this."
Be the first to know
Get local news delivered to your inbox!