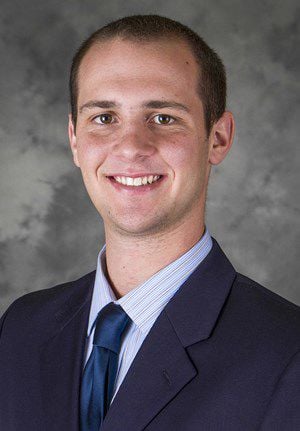 The Arizona Wildcats' first director of on-campus recruiting and basketball analytics is a familiar face. 
David Miller, who served as a student manager and graduate manager at the UA from 2010-15, was announced Thursday as the newest addition to coach Sean Miller's staff. The younger Miller, no relation to the head coach, most recently worked with former Wildcats assistant coach Joe Pasternack at UC Santa Barbara as the Gauchos' director of basketball operations. Before that, Miller was the video coordinator at Alabama. Miller, a Southern California native, initially came to the UA after playing two seasons of basketball at El Camino College. 
The creation of the recruiting and analytics director position — and David Miller's subsequent hiring — continues a whirlwind offseason for the Wildcats. On June 2, Jack Murphy left his position as Northern Arizona's head coach to become Sean Miller's new top assistant, joining aides Justin Gainey and Danny Peters. (Basketball operations director Ryan Reynolds and assistant operations director Austin Carroll hold off-court jobs). 
Then there's the team's roster turnover. Since their season ended on March 13, the Wildcats have had one player leave early for pro ball, lost a conventional ("sit-out") transfer, gained another sit-out transfer, regained a would-be transfer, added two grad transfers, and had one of their fall signees take off for pro ball. One player, Devonaire Doutrive, announced that he would transfer — and then, following the departure of Alex Barcello, said he was returning. 
The Wildcats' first scheduled event of the 2019-2020 season, the Red-Blue Game, will be played Sept. 27. 
Be the first to know
Get local news delivered to your inbox!