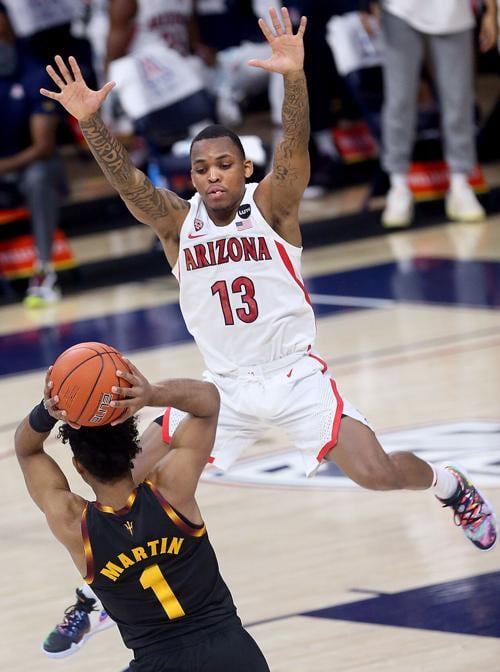 After Arizona edged ASU by two points on Thursday in an ending that featured a controversial no-call, ASU coach Bobby Hurley said the Sun Devils "deserved" to beat the Wildcats.
He had no such argument Monday. The Wildcats scored the first 12 points of the rematch and didn't face a serious challenge until the final minutes of their 80-67 win, while they were playing without starting wing Bennedict Mathurin because of a sprained right ankle he suffered late in the first half.
Arizona announced during the second half that immediate X-rays taken on Mathurin were negative but confirmed that he sprained the ankle. Mathurin had landed awkwardly after defending ASU's Remy Martin next to the basket with 1:51 left in the first half, and grabbed his ankle after he fell to the floor.
UA coach Sean Miller said he didn't think Mathurin's sprain was on the significant range, indicating he might be able to play Thursday against Stanford, but said since it appeared to be Mathurin's first ankle sprain, it "kind of scares you more than anything."
Certainly, the rest of the Wildcats felt that way initially.
"I was scared because he didn't answer my questions," forward Azuolas Tubelis said. "But then J-Rock (trainer Justin Kokoskie) said that he will be OK so we hope him to get back soon."
Miller said he believed Mathurin was X-rayed during halftime and Mathurin returned to run some sprints during the Wildcats' warmups before the second half began. But Mathurin left the floor when it was apparent he would not be able to play and did not return to the bench.
"We're not going to put him at risk," Miller said. "I didn't think it would be in his best interests to go. The fact that he was not able to play will help him recover tomorrow and then Wednesday will be a big day for him. … There's not a lot of swelling, which is good. I think he should be able to get his range of motion and mobility back."
Wednesday is big because the Wildcats on Thursday will host Stanford, one of three teams to beat them so far this season, and it was already clear Monday that not having Mathurin makes a significant difference.
Without Mathurin in the second half, Arizona started Dalen Terry at small forward and continued to hold leads in the 20s but the Sun Devils gradually turned it into a game over the final 10 minutes.
Brown said losing Mathurin did not affect the Wildcats, but Miller said the cumulative effect of having lost Jemarl Baker and now Mathurin to his perimeter is showing.
"Frankly, we're running out of players," Miller said, but added that freshman guard Kerr Kriisa is making progress after breaking his nose and suffering a concussion in practice on Jan. 13.
Kriisa might be able to play immediately when he becomes eligible during UA's trip to Utah and Colorado next week after an NCAA clearinghouse issue has made him unable to play so far.
But while the Wildcats' perimeter was shorthanded, Tubelis continued to lead the frontcourt after becoming the late hero with a blocked shot and game-winning tip-in over the final eight seconds of UA's 84-82 win over ASU on Thursday.
On Monday, Tubelis posted his first double-double of the season with 16 points and 12 rebounds.
"I felt that I can be better in the second game (against ASU) so I tried to show it," Tubelis said. "I think it worked and my confidence (rose), yeah."
While guard Terrell Brown eventually fouled out, he managed to play 35 minutes, collecting 18 points, four rebounds and three assists, while James Akinjo had 16 points and six assists.
For ASU, Martin scored 21 of his 24 points in the second half while trying to engineer a comeback, while Jalen Graham had 14 points and 11 rebounds.
Arizona shot 53.5% overall and outrebounded ASU 40-30 overall, allowing the Sun Devils to score only two second-chance points from their 10 offensive rebounds.
The win moved Arizona to 12-3 overall and 6-3 in the Pac-12, heading into another 9 p.m. game on Thursday against Stanford. ASU dropped to 4-8 and 1-5 in the Pac-12, despite being picked to finish second in the league's preseason poll.
After UA led 40-18 at halftime and cruised early in the second half, Jaelen House scored for ASU after an offensive foul by Tubelis with 9:09 left to cut UA's lead under 20 for the first time in the second half, and ASU kept going.
With 7:21 left, freshman wing Josh Christopher, who had been 0 for 7 from the field before that point, celebrated notably after dunking over UA's Ira Lee for his first made basket even as ASU still trailed 62-43.
ASU went on to cut it all the way to single digits, 71-62 after Martin hit 3s on two straight ASU possessions but after Terry hit 1 of 2 free throws to give UA a 10-point lead, Akinjo stole the ball from Martin and then was fouled o a shot four seconds later, hitting both free throws.
UA led 76-62 at that point with 1:59 left and stayed ahead by double digits the rest of the way.
"Sometimes that's how the games goes," Terrell Brown said. "We kind of let off the gas on defense a little bit and they went on a little run."
In the first half, Martin and the Sun Devils had a miserable time of it in the first half, with Arizona keeping the Sun Devils scoreless for nearly seven minutes and taking a 40-18 halftime lead.
The Wildcats shot 56.0% from the field in the first half and held ASU to just 22.9% while the Sun Devils missed all but one of their 13 3-pointers. UA also outrebounded ASU 23-16 before halftime.
Tubelis had eight points and eight rebounds in the half to lead UA while Mathurin added eight points and seven rebounds. Terrell Brown added nine points and two assists.
The Sun Devils opened the game by going 0 for 12 from the field before Marcus Bagley finally drove inside for a layup with 13:16 left in the half. 
Meanwhile, Martin's bid for individual revenge also fell flat initially. Martin, who was denied a foul call on his would-be game winner on Thursday at ASU, went 0 for 4 from the field and missed all three threes he took over the first 12 minutes.
During UA's initial 12-0 outburst at the beginning of the game, Martin had a layup attempt blocked by Christian Koloko, leading to a lauyup by Mathurin while he also missed a 3 that turned into a fast-break layup by Tubelis.
Martin did not score until hitting a 3 with 4:41 left in the half, but he led the Sun Devils' comeback in the second half, when ASU shot 50.0% and made 7 of 18 3s.
Not surprisingly, Miller wasn't happy about the Wildcats' slippage.
But the bottom line was that UA just swept the season series against its intrastate rivals, and in a weird back-to-back fashion, forced to play the return game Monday in order to clear up the final week of the regular season for make up games.
"Anytime you play a team like them twice in five days, it's just really challenging," Miller said. "You're kind of on that same scouting report for 10 straight days and especially the way that game was in Tempe, right on the heels of that to come back and play again, it was a difficult task. I'm really, really proud of our guys for being ready."
Photos: Arizona Wildcats defeat Arizona State University... Again, in Tucson
Arizona vs Arizona State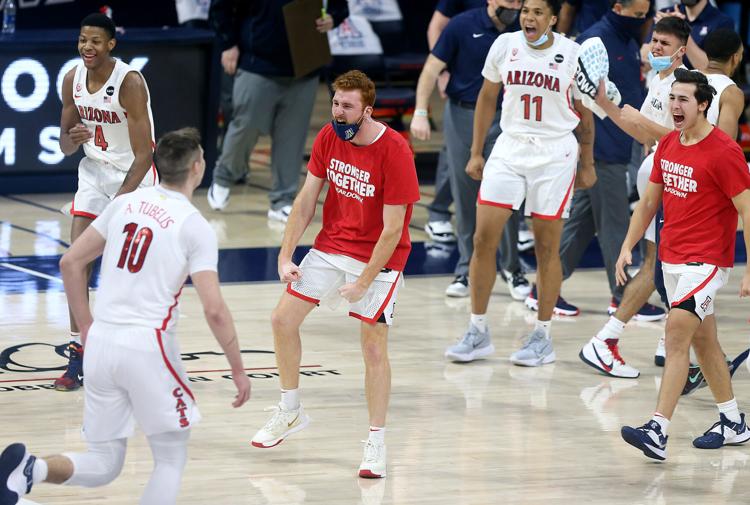 Arizona vs Arizona State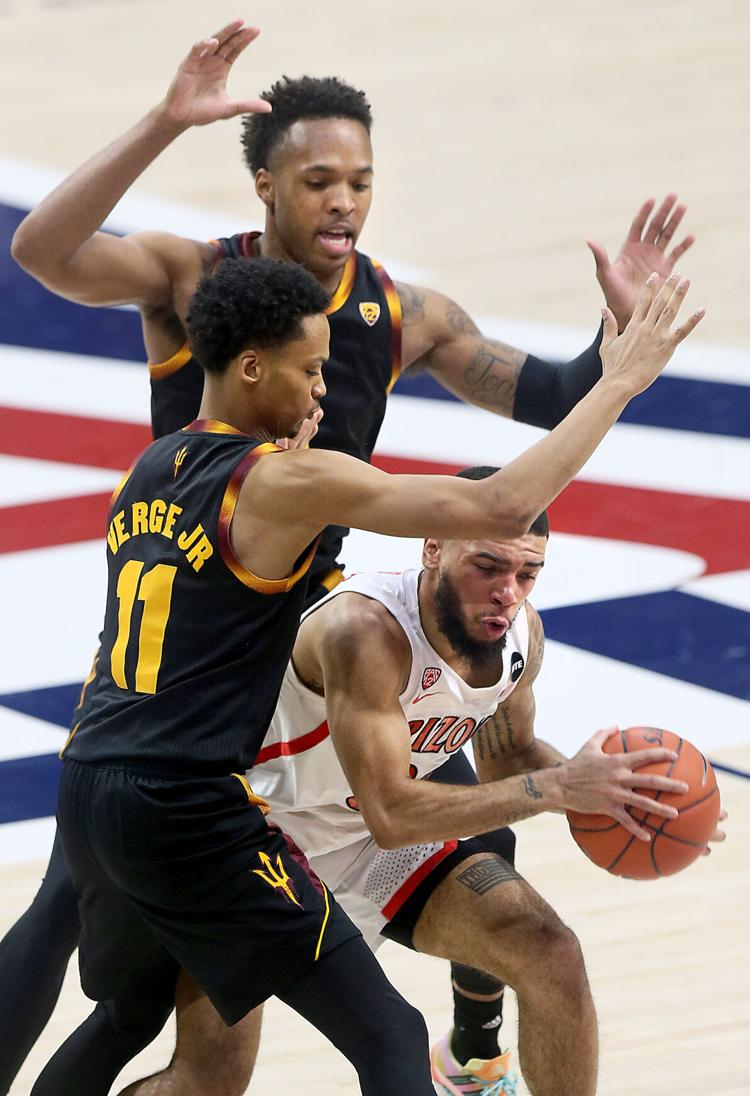 Arizona vs Arizona State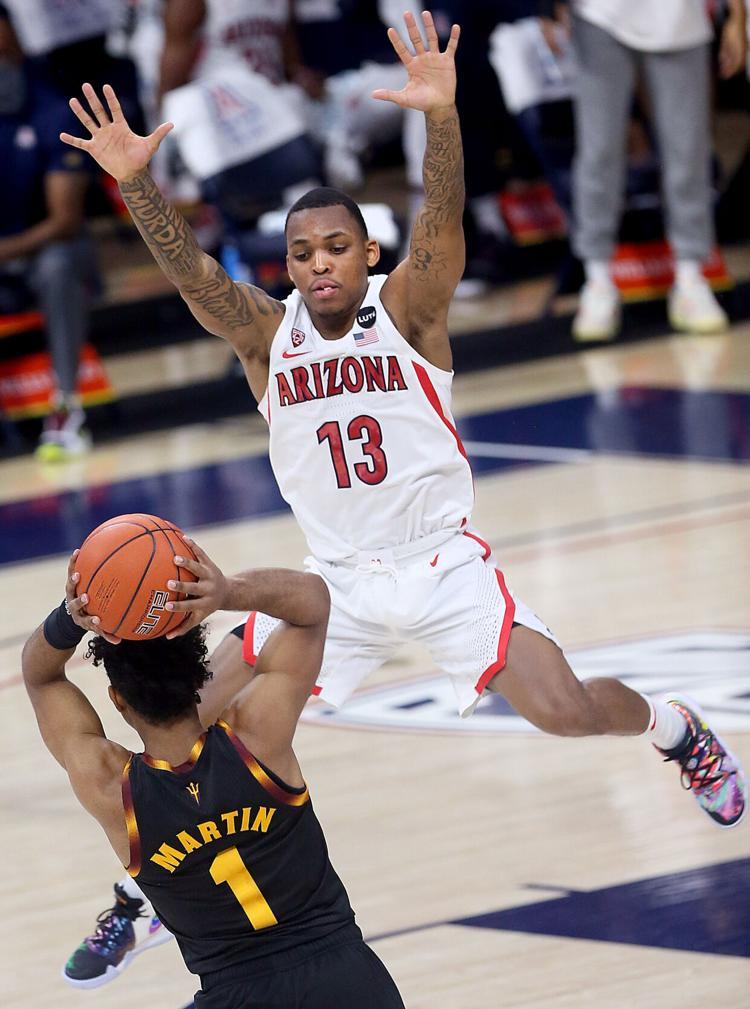 Arizona vs Arizona State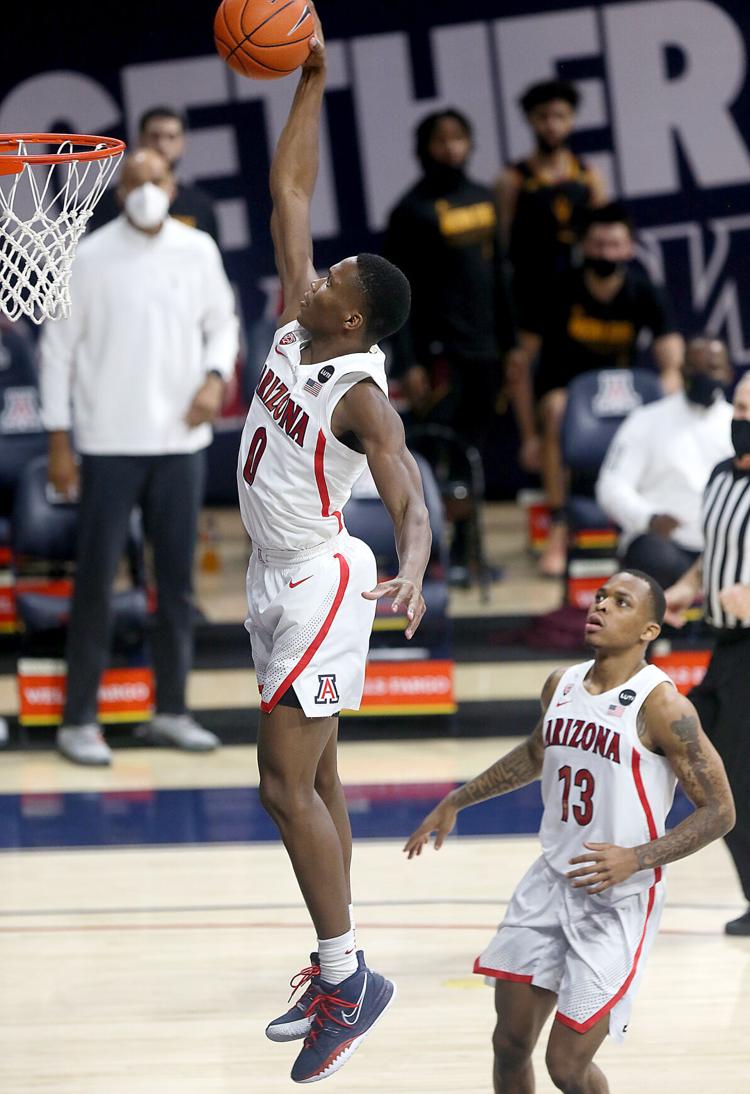 Arizona vs Arizona State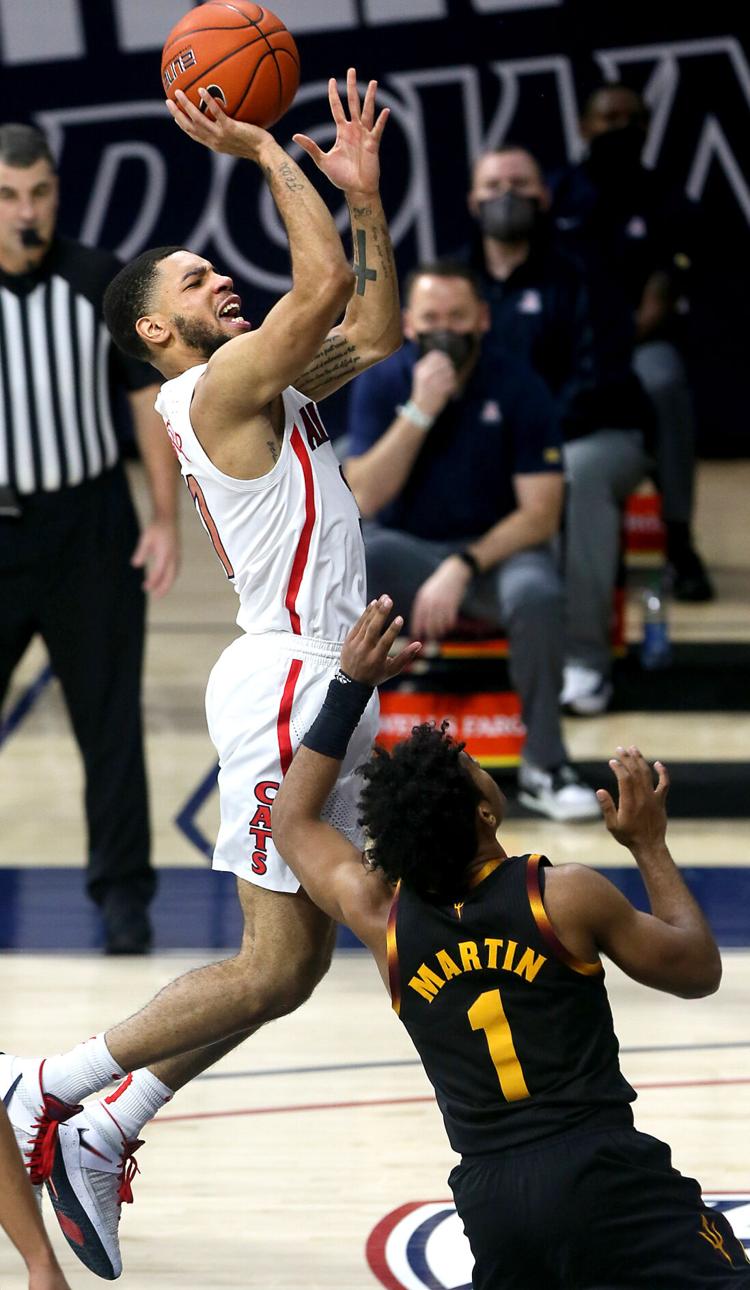 Arizona vs Arizona State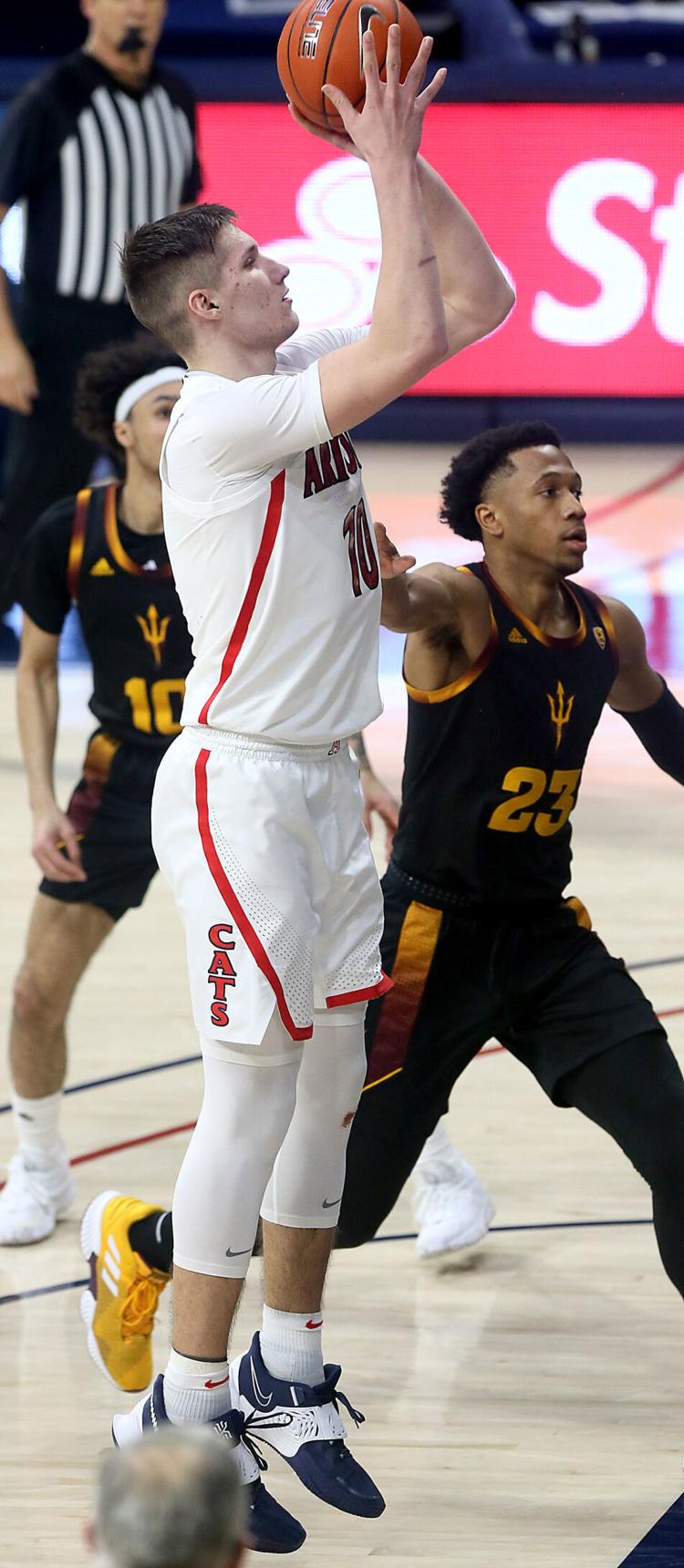 Arizona vs Arizona State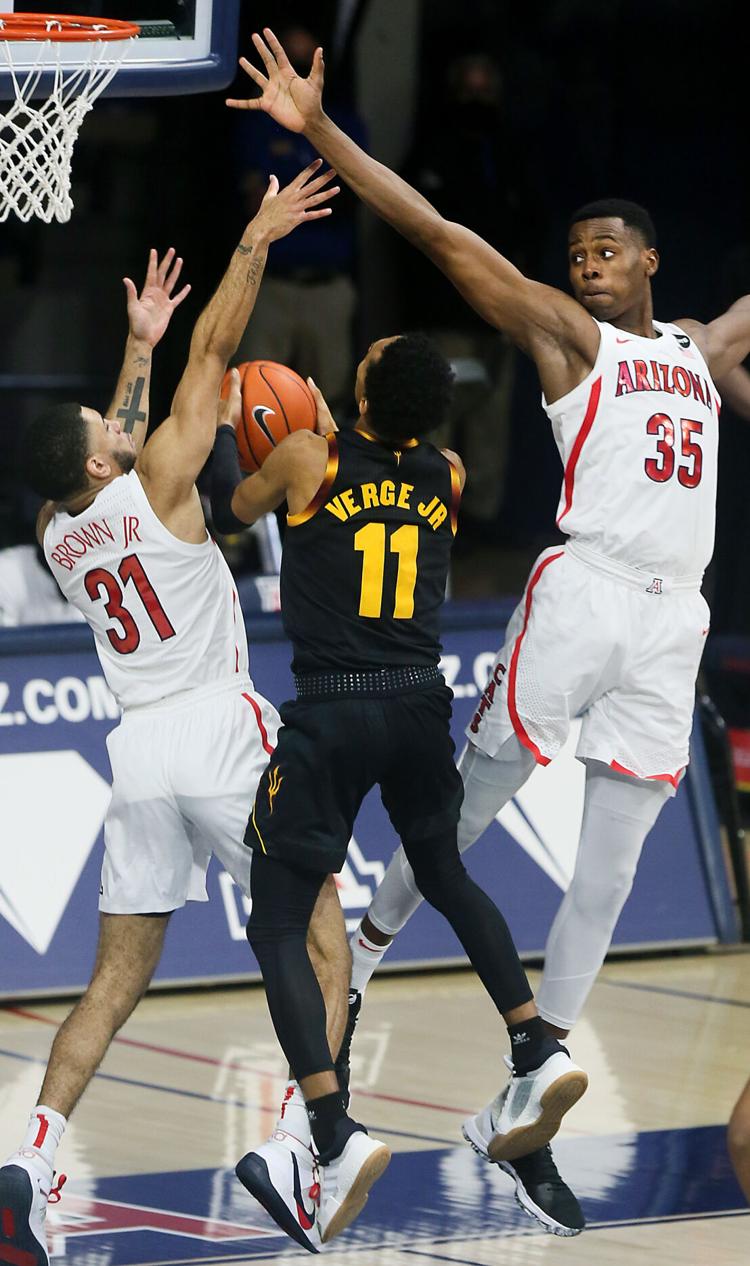 Arizona vs Arizona State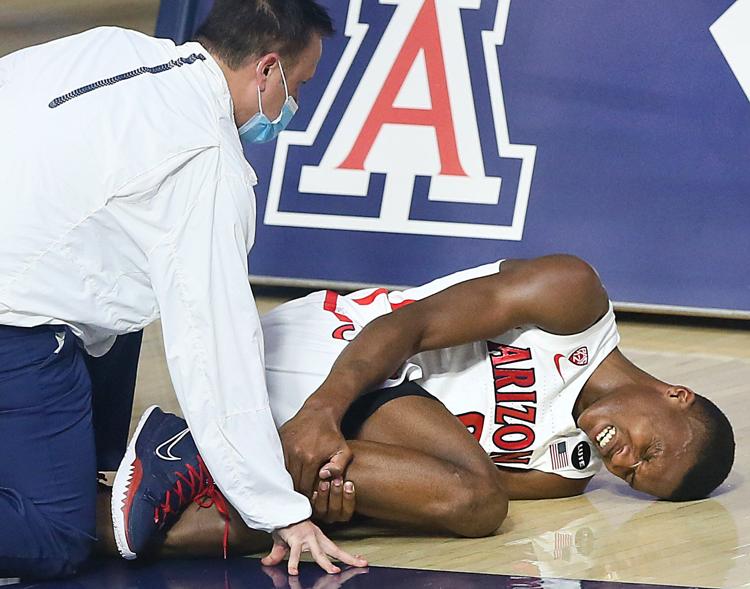 Arizona vs Arizona State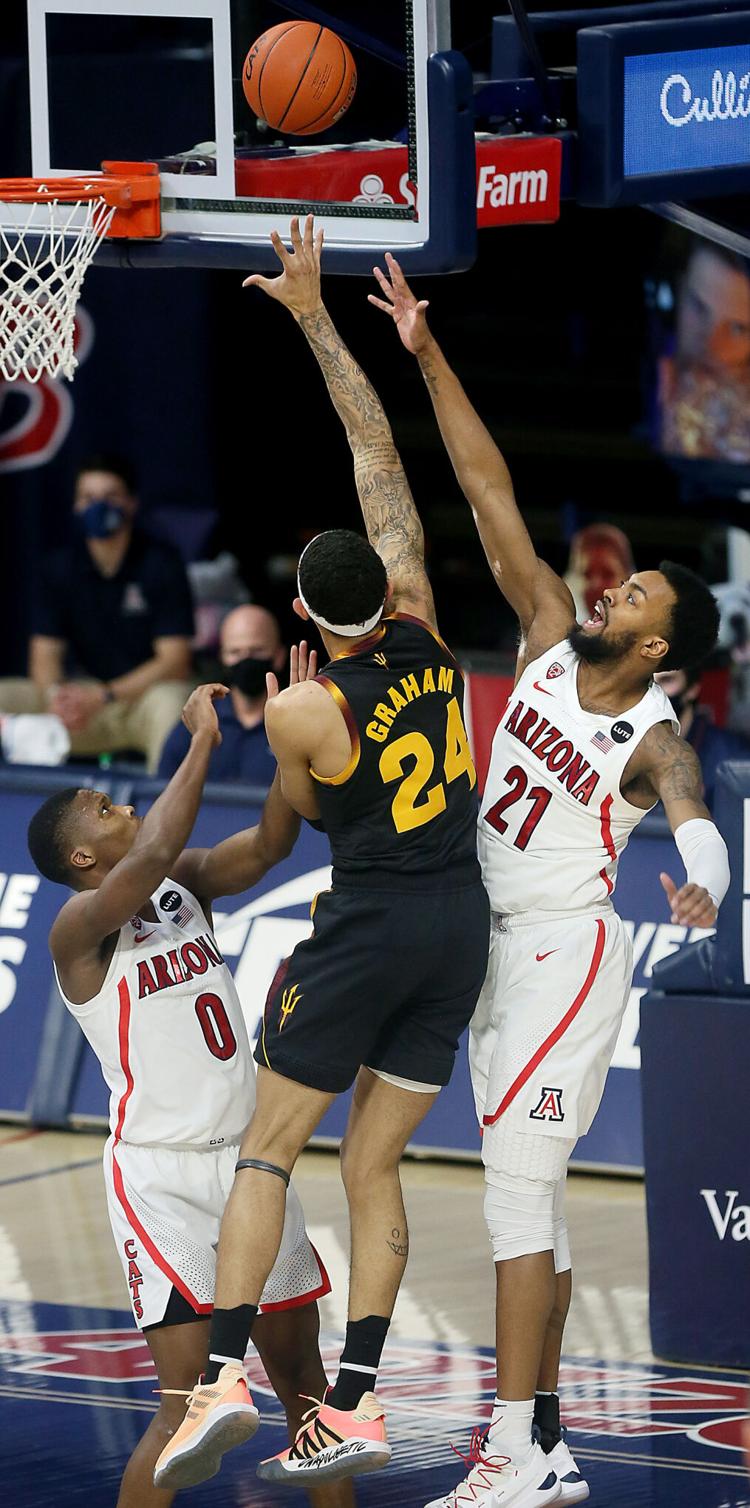 Arizona vs Arizona State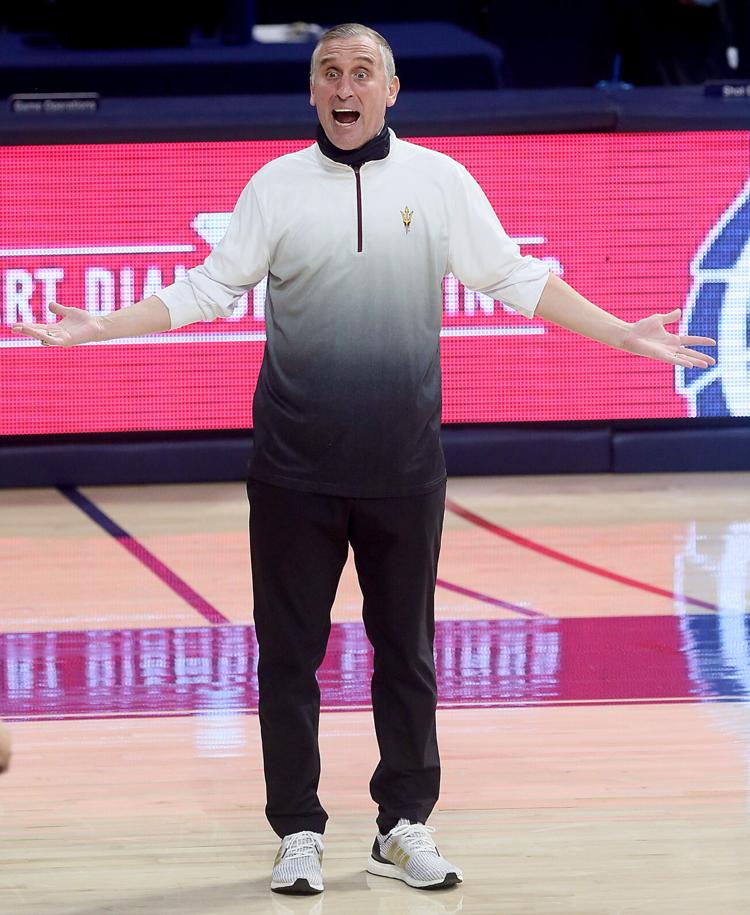 Arizona vs Arizona State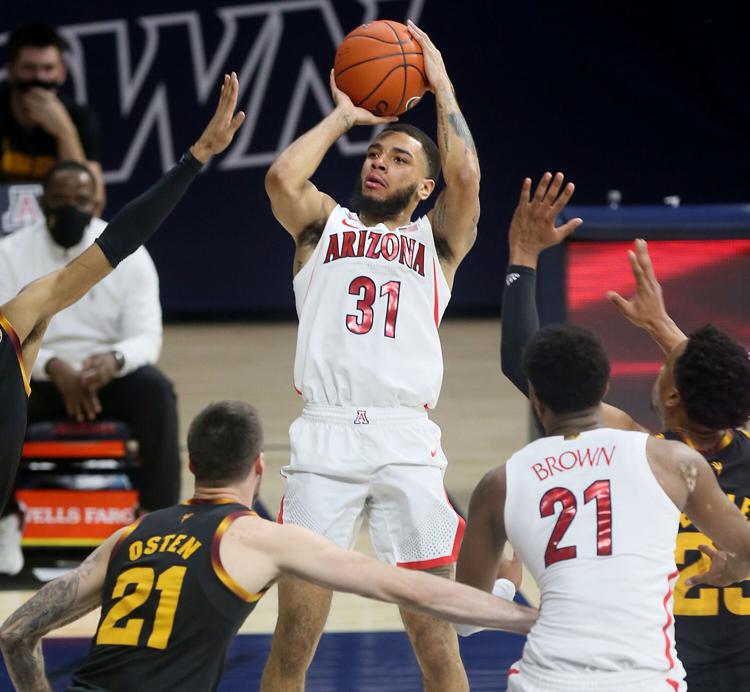 Arizona vs Arizona State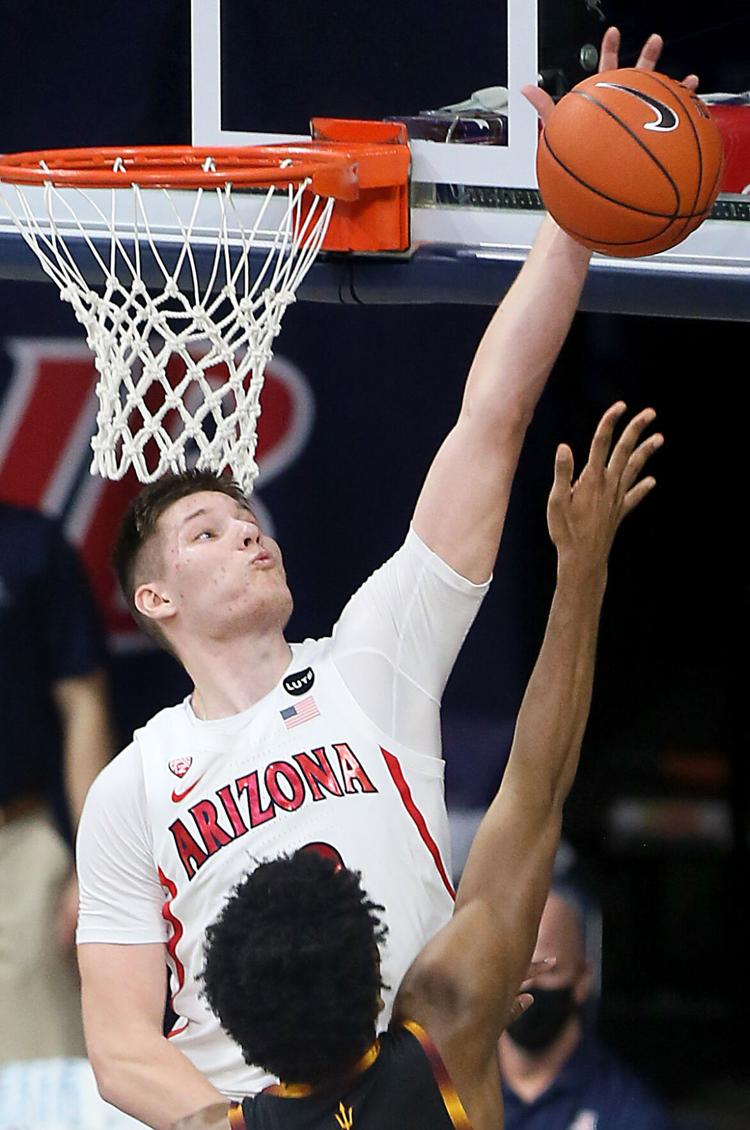 Arizona vs Arizona State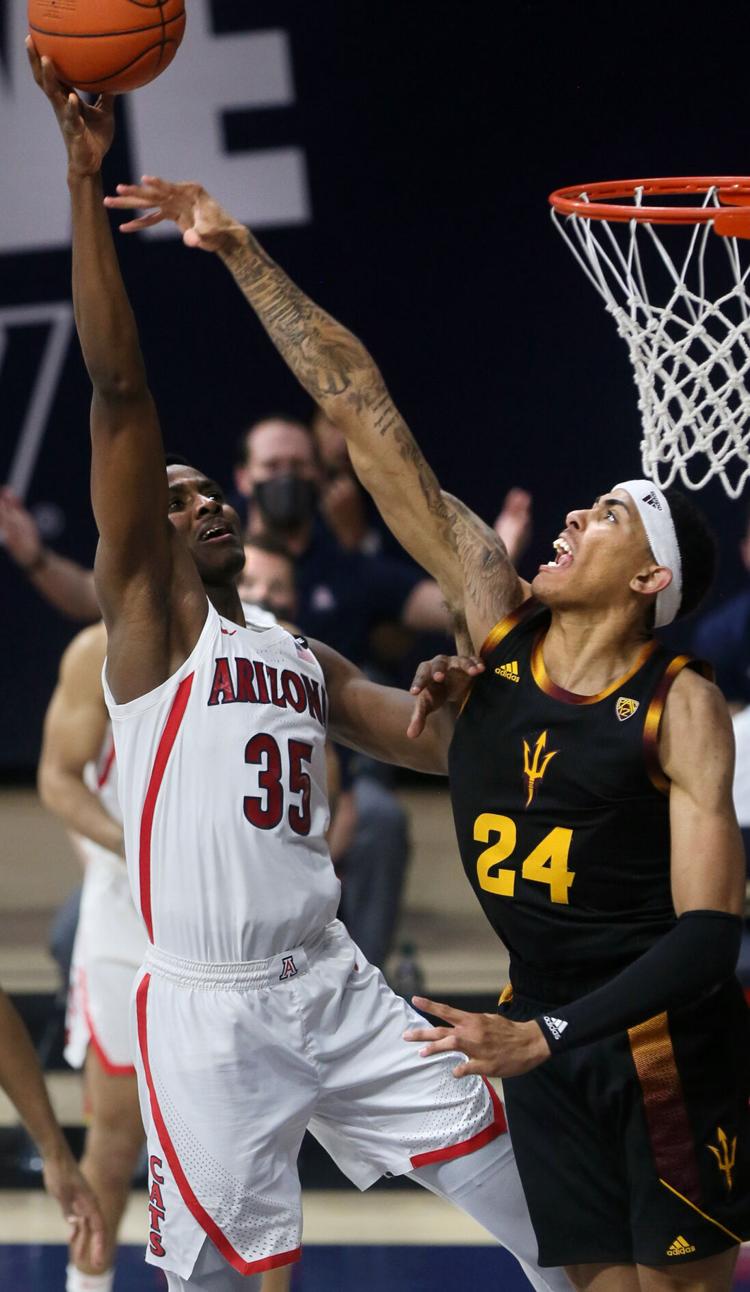 Arizona vs Arizona State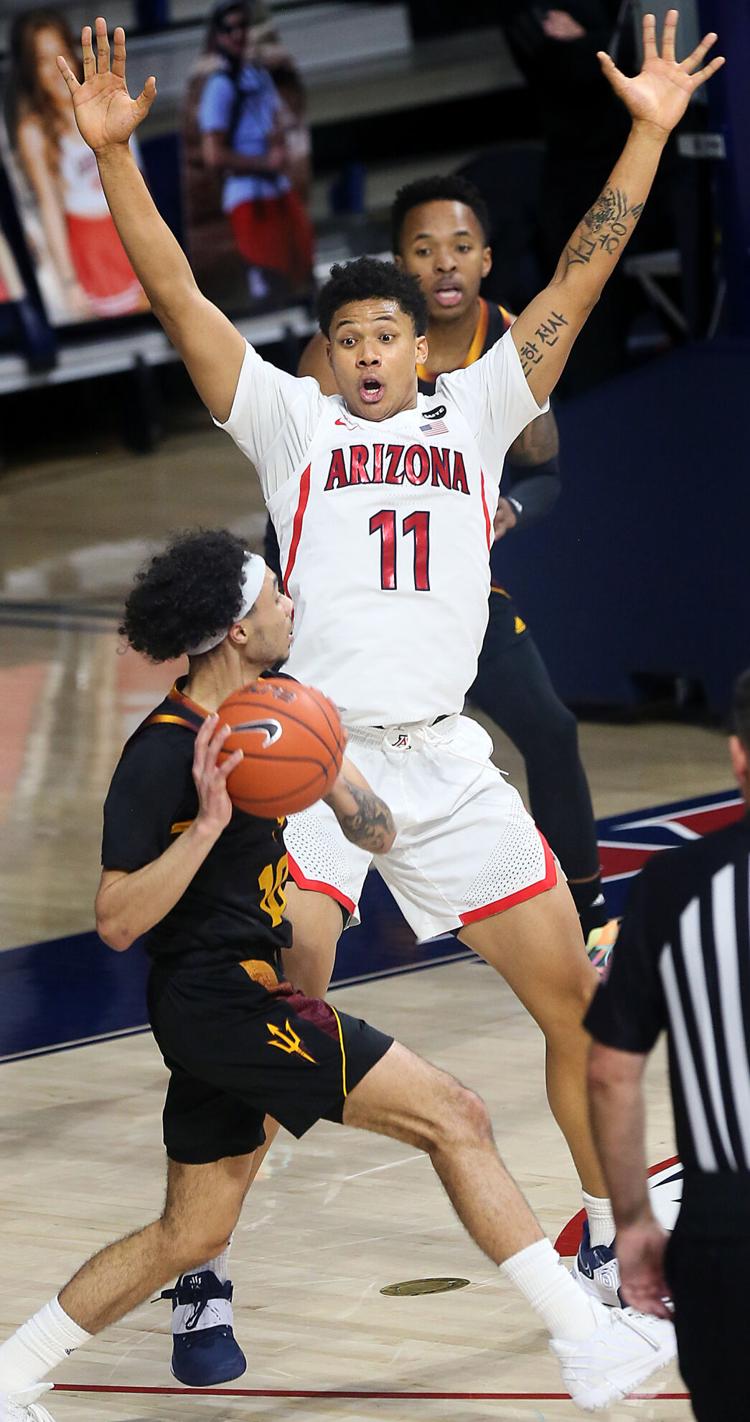 Arizona vs Arizona State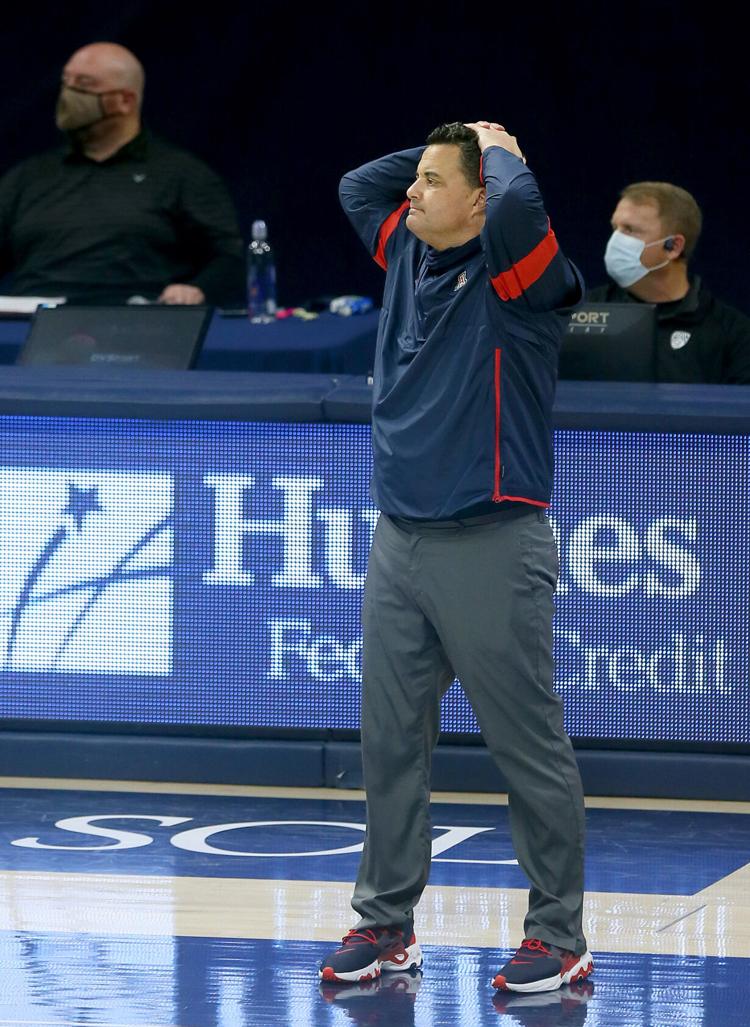 Contact sports reporter Bruce Pascoe at 573-4146 or bpascoe@tucson.com. On Twitter @brucepascoe