J.J. Taylor has thought about playing in the NFL since he was 5 years old.
"It's been a dream of mine," the Arizona Wildcats tailback said Tuesday.
He's planning to pursue that dream sooner than later.
Taylor, listed as a redshirt junior on the roster, said Tuesday that he plans to enter the NFL draft after this season.
Arizona has two regular-season games remaining and needs to win both to secure a bowl bid. The Wildcats' home finale is Saturday against Utah.
Taylor will be among those participating in senior-night festivities at Arizona Stadium.
Taylor is in the midst of another standout season, rushing for a team-best 640 yards and five touchdowns despite missing about 2½ games because of a sprained ankle. Taylor also has notched career highs with 26 catches for 260 yards.
Taylor earned third-team All-America honors last season when he rushed for 1,434 yards and averaged 175.6 all-purpose yards per game, second-most among FBS players.
Taylor is undersized at 5-feet-6-inches and 185 pounds, but is elusive in the open field and tougher to tackle than his size would suggest. Taylor also is Arizona's primary kickoff returner.
"He plays his tail off every week," UA coach Kevin Sumlin said. "I have to tell him to fair-catch kickoffs, because he'll bring every one of them out if he can get his hands on it.
"We're working to try to get him the ball. I'd get him 35-40 (touches), but he's human."
Taylor is in his fourth year at the UA. He missed the final eight games of his freshman year in 2016 because of a broken ankle.
Taylor hasn't applied for an additional year of eligibility. Given the circumstances, he likely would be granted a waiver.
Instead, Taylor will pursue a pro career.
"It's not really a hard decision," he said. "If I have my opportunity, I'm gonna take it. That's where I stand."
Taylor wouldn't stand to gain much by returning for another season or playing elsewhere as a graduate transfer. No position has a shorter shelf life than running back. The fact that Josh Jacobs never was a workhorse back at Alabama actually boosted his draft stock. (He ended up being a first-round pick.)
Taylor is on track to graduate in May. Well before then, he'll walk with his classmates on the football field.
"It's gonna be pretty emotional, just like it was for me in high school," Taylor said. "I expect the same."
Masking his frustration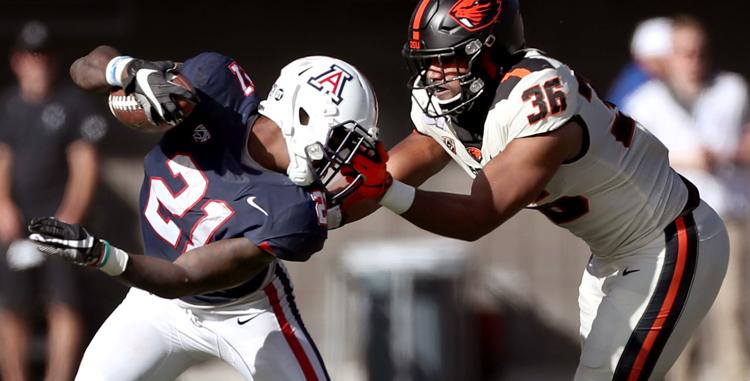 It's unlikely that any player in the nation has been the victim of more missed facemask calls than Taylor.
On several occasions this year, opponents have yanked or at least grasped Taylor's facemask without any repercussions. One instance against USC on Oct. 19 was particularly egregious.
The missed calls have infuriated Sumlin, to the point that his mother told him she'd never seen him yelling so much at the officials. But Sumlin, who's mainly trying to protect Taylor, has an idea of why it keeps happening.
"He changes directions a lot," Sumlin said. "He is low to the ground, (and) he runs lower to the ground. You've got guys reaching and grabbing and getting what they can from him, because there's not a lot. It happens at least a couple times every weekend."
It happened at least once last week at Oregon, resulting in a familiar scene: Taylor tugging on his facemask to let the officials know he had been fouled.
Does it frustrate him that he can't seem to get a call?
"In the moment it does, because the ref is literally right there," Taylor said. "But it happens."
It frustrates his teammates, too.
"It makes me mad," sophomore tackle Donovan Laie said. "But you've got to keep your composure because we don't have that many linemen. You can't get kicked out."
Missing their 'glue' guy
Cody Creason is expected to participate in the senior-night ceremony, but he isn't expected to play in Saturday's game.
The fifth-year guard has missed the past four games after suffering what he described as a "pretty serious ankle injury" against Washington on Oct. 12.
Creason said he wasn't sure if he'd be able to play against Utah, but he didn't sound optimistic.
Sumlin said Creason and Arizona's other injured linemen were "doubtful" to play this week.
Creason had played in 43 consecutive games, including 25 starts, before getting hurt. Laie described him as "the glue that stuck us together."
Creason hasn't found sitting out to be a particularly pleasant experience.
"Especially when you see what's going on out there and you can't do anything to help," Creason said. "It's not enjoyable. I try not to yell too much."
Creason missed road games against USC, Stanford and Oregon. He had to watch them from home and sometimes would yell at the TV.
Creason might be able to suit up for the home finale. He at least will be on the sideline, where he can help his less-experienced linemates. He's been pitching in on the practice field and in the film room.
"You just try to guide them when watching film and show them things that a new player might not pick up on right away. It's all mental," Creason said.
"And little technique things here and there if I see them. Lose a rep in practice, and I'll try to give them advice for that too."
Like the rest of the seniors, Creason expects Saturday night to be an emotional experience.
What's his fondest memory of playing at Arizona Stadium?
"I would probably say the ASU game, my redshirt freshman year, when we broke the rushing record and beat them pretty handily here," Creason said.
Arizona defeated Arizona State 56-35 in the 2016 regular-season finale. The Wildcats rushed for a school-record 511 yards and ended an eight-game losing streak.
Creason wouldn't rule out returning for this year's finale at ASU.
"At some point," he said, "it's like, what do you got to lose?"
Extra points
• Cornerback Lorenzo Burns will participate in the senior-night ceremony but intends to return to Arizona for a fifth year. Burns missed the final 10 games of his freshman season, making him eligible for a redshirt year. But he needs to go through the process of applying for it before it becomes official. Like Taylor, Burns is listed as a redshirt junior.
• Utah held at No. 7 in the latest College Football Playoff rankings released Tuesday. Oregon, which defeated Arizona 34-6 last week in Eugene, remained No. 6.
Be the first to know
Get local news delivered to your inbox!