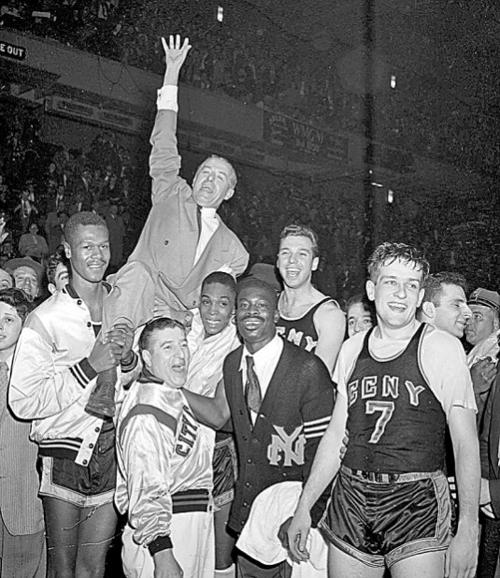 Welcome to Selection Sunday, consolation style.
To begin, please pick your favorite meaning for the acronym "NIT:"
1) Not Interested Tournament
2) Not Invited Tournament
4) Never Important Tournament
5) National Insignificant Tournament
6) National Invitation Tournament
The official answer is (6), but just about anything goes. Since it lost its footing as college basketball's premier postseason event in the 1950s, when the NCAA tournament began to take off, the postseason NIT has slumped in public consciousness to the point where it is sometimes chanted at highly regarded teams who are struggling in a game.
No bigger hit may have come than in 1975, when defending NCAA champ North Carolina State turned down an NIT invitation and Wolfpack star David Thompson called it a "loser's tournament." In the ensuing years, several other teams declined invitations, too.
But since the NCAA took over the NIT before the 2006 version, college basketball's secondary tournament has gained respect in basketball circles. No longer do ESPN's preferences and potential attendance influence the choice of teams and sites.
According to NIT selection committee chair C.M. Newton, it's all about seeds that are based on the same criteria that NCAA bids are based on - RPIs, strength of schedule, Sagarin ratings, etc.
Newton called the old version a "made-for-TV reality show" that has faint resemblance to today's version.
"This is a true basketball championship," he said.
Arizona coach Sean Miller, who is hoping to capture one of the tournament's final at-large spots tonight, has noticed a positive difference.
"The NIT is much different today than it was five years ago," he said. "It's a terrific tournament. There's some teams in that tournament that are among the best."
Here's a more detailed look at today's NIT, how it got there and where it's going:
Started in 1938, the NIT is the oldest tournament in college basketball and remained the top postseason option for over a decade even as the NCAA tournament sprung up in 1939, thanks to the valuable exposure playing at Madison Square Garden provided in that era.
Even as late as 1970, Marquette coach Al McGuire turned down an NCAA bid to play in the NIT, because he didn't like his team's NCAA tournament assignment in Texas, and his Warriors won the NIT title.
In 1977, the opening rounds of the tournament were moved to campus sites, with only the semifinals and finals held at New York, an arrangement that remains today. But as the NCAA tournament's influence grew, the NIT became more and more obscure, especially after the NCAA took away even more teams by expanding to 64 in 1985.
The NIT filed an antitrust lawsuit in 2001, claiming the NCAA was trying to put it out of business, and the NCAA wound up buying the NIT for $56.5 million in 2005 to put the case to rest.
The committee: Once the NCAA took over, it streamlined the NIT to look more like a junior NCAA tournament, with bids doled out by an eight-man committee of former college coaches, now chaired by Newton, the former Kentucky AD and NCAA selection committee chair.
Also on this season's committee are: Rudy Davalos (former New Mexico AD), Don DeVoe (coach for multiple teams), Reggie Minton (Air Force coach), John J. Powers (former NIT executive director), Les Robinson (Citadel coach), Bob Weltlich (coach at Mississippi, Texas and others), Carroll Williams (former Santa Clara coach and AD).
Williams has been monitoring the Pac-10. Incidentally, he's the Broncos coaching legend whose protégé, Dick Davey, led Santa Clara to its historic NCAA tournament upset of second-seeded Arizona in 1993. Davey is now an assistant coach at Stanford.
The brackets: The NIT seeds four brackets of eight teams each, with the winners advancing to New York's Madison Square Garden for the semifinals and final. The higher seeded team has the option to host each of the first three games, meaning a No. 1 seed would get three home games if it keeps winning.
The NIT gives out automatic bids to teams who win their conference regular-season titles but do not receive an NCAA tournament bid.
"That was my rule, basically," Newton said. "We feel like the teams that have great years should have an opportunity to play in the postseason if they aren't selected for the NCAA tournament."
The process: Teams that are on the radar for an NIT bid fill out a form late in the regular-season specifying whether they have interest in hosting games and if their arena is available for the dates in mind.
But the format no longer favors teams such as Arizona who have the potential to draw well, and schools don't receive any inside information about what they might receive.
"We have no idea at this point," said Rocky LaRose, UA's acting AD. "We'll learn that with everyone else Sunday."
Money is a negligible issue. The NIT covers traveling teams' expenses, up to a party of 25 people, though LaRose said the Wildcats would not earn anything for playing a road game.
At home, she said, it is possible the Wildcats could net up to a few thousand dollars.
For coaches, the real benefits come in additional practice time, game experience for younger players and maybe a trip to New York.
The schedule: The NIT tries to schedule its games around the NCAA tournament whenever possible, so first-round games are crammed into Tuesday and Wednesday.
Therefore, if the Wildcats receive a bid and a first-round assignment on the road, they could be leaving town as early as Monday morning.
Second-round games will be scattered over Thursday, Friday, Saturday and March 22. The third round will be played March 23 and 24, with the semifinals set for March 30 in New York and the championship game on April 1.
The Arizona connection: Thanks in large part to their just-ended 25-year NCAA tournament streak, the Wildcats are complete strangers to the current NIT format. They last played in the event in 1951, when it was still an all-New York affair, losing to Dayton 74-68.
Arizona is 0-3 in the postseason NIT, also having lost their first game in 1946 (77-53 to Kentucky) and in 1950 (72-66 to LaSalle).
The Wildcats are a much more prominent name in the NIT Season Tip-Off, a prestigious early season event formerly known as the Preseason NIT that the NCAA also runs. Arizona is 18-3 in NIT season Tip-Off games, counting two consolation wins last season, and have won that title three times.
The future: If Arizona is invited, it may be playing in the last NIT ever. The NCAA is considering expanding its tournament to 96 teams as early as next season, a move that would most likely swallow up the NIT.
There have been discussions about the NCAA opting out this season of the final three years of its $6.2 billion, 11-year contract for the NCAA tournament rights in order to seek bigger dollars with a bigger tourney field. Conveniently, ESPN's much more modest NIT deal ($24.1 million over 10 years) expires this season, too.
According to the New York Post, the NIT Season Tip-Off would also disappear, becoming the "First Four" with the semifinals and a final to be played at the site of that season's Final Four.
Those moves would leave New York City, for 73 years the host of the National Invitation Tournament, without high-level college basketball tournaments on both ends of the season.