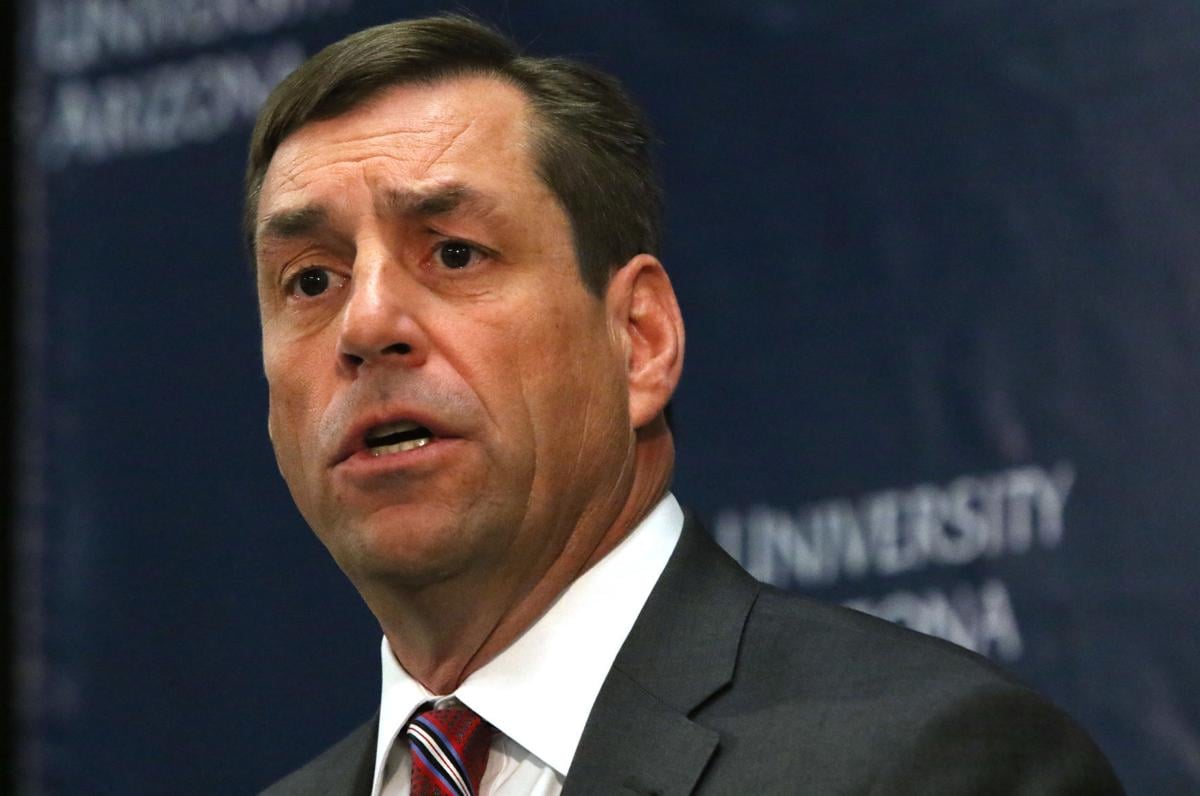 In his senior year at Albion College, 1985, Dave Heeke walked through Kresge Gym and stopped to read a display of names honoring the Britons' most distinguished sports figures. He saw the names J.F. "Pop" McKale and Cedric Dempsey.
"A man told me 'if you want to be someone, be like these people on the wall,' " Heeke says now. "It made an impact on me. Long before I came to Tucson, I was intrigued and interested in the University of Arizona. There was a definite attachment. To a degree, I idolized Ced Dempsey."
McKale built Arizona's athletic department from scratch. He vowed not to let it be a UTEP or New Mexico State or NAU.
Decades later, Dempsey disassembled and rearranged the course of Arizona's athletic department. Aided by latter day titans of UA athletic department history Mary Roby, John Perrin, Bob Bockrath and Rocky LaRose, Dempsey prepared Arizona for its glory years, 1985-2000, a time it became one of the nation's 10 or 15 leading athletic departments.
McKale and Dempsey graduated from Albion a half-century apart, but they excelled at crisis management at Arizona. They were transformative leaders with get-this-done and do-the-right-thing instincts.
Now comes Dave Heeke, an Albion man, who faces a crisis of such magnitude that 20th-century terms like "turning point" and "moment of truth" are fully inadequate. It's more like "zero hour" day after day.
"Sometimes it feels like an inferno," Heeke says.
It is conceivable that the UA's roughly $90 million athletic revenue of 2019 could be closer to $30 million or less in the coming fiscal year.
It isn't a stretch to think that the UA athletic department staff of about 260 could be reduced by unimaginably smaller numbers in 2021.
If there is no Pac-12 football in the fall, Heeke says it will "financially decimate the conference.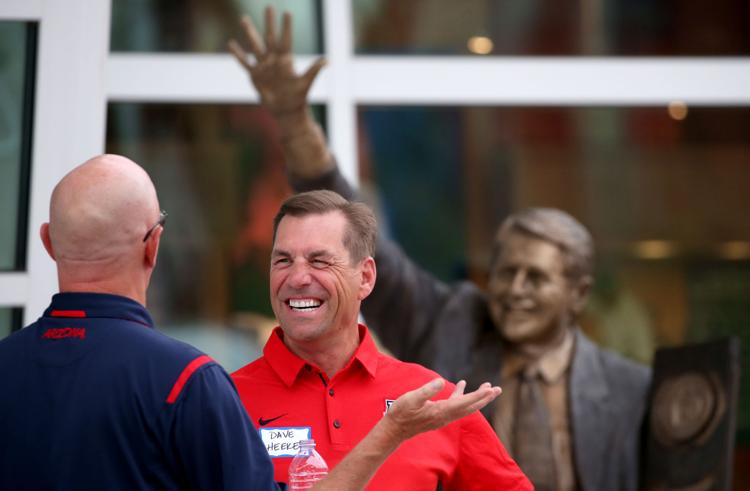 If it gets to that, you have to question the size of our staff and what we do with all those folks. We've basically cleaned out our war chest."
Every morning about 8:30, Heeke and the other Pac-12 athletic directors are linked for about 90 minutes in a Zoom conference to discuss every conceivable problem and potential strategic solutions related to the coronavirus pandemic. Health and finance have replaced talk of wins and losses.
Heeke, chairman of the league's ADs, has been upfront and at the lead of the pack, the first to be transparent about the financial chaos his/her school is experiencing. He was among the first in the country — and one of the few — to announce that the entire athletic department will face salary reductions.
At a time many Power 5 athletic directors have chosen a quiet, in-the-bunker mentality, Heeke has been, like his Albion College predecessors, on the front lines.
"This goes six days a week," he says. "Things are changing so rapidly that, frankly, it has been exhausting for our administrative team. It does wear on you, it really does."
Normally I wouldn't quote a coach talking about his athletic director; it would typically be gratuitous and fluff. But volleyball coach Dave Rubio, on the job for 29 years at Arizona, has job security, perspective and a resume that separates him from cover-your-backside political chatter.
When Heeke met with all UA head coaches in a virtual meeting a month ago, detailing their salary reductions, Rubio saw it as a defining moment.
"He got very emotional," says Rubio. "I like Dave, he's such a good man. I think he's genuine and sincere. He's done a really good job of communicating about all that is going on; he's been very transparent.
"It really hit him hard when he made the announcement of our (salary reductions). I think we all understand the sacrifices that are being made and that are going to continue to be made. I trust his leadership."
In his three years at Arizona, Heeke has stepped into some mud, Who doesn't? The hiring of Kevin Sumlin threatens to flat-line the school's football program. The future of Sean Miller and Arizona basketball is unsettling.
Compare that to the 20-year career of UCLA's Dan Guerrero, the dean of Pac-12 athletic directors. Guerrero has fired five basketball/football coaches, all of whom he hired.
What's happening now goes far beyond hiring the wrong coach.
What matters is how Heeke steers the UA athletic program back to financial health. He is certainly not hiding in the bunker.
"There's no good road map for what we're facing," he says. "If this goes on for an extended period, the overall structure of college athletics is at risk. We'll have to repackage what we've done for many years.''
Scheduling would change. Travel budgets would shrink. The number of games would be reduced. The salary excesses of college sports would be contained at levels not seen since the 1990s.
McKale and Dempsey faced many of the same variables in the 1920s and 1980s, but not to the extent that greets Heeke with every sunrise.
"We all want to get back together," says Heeke. "I'm hopeful that sports could be the mechanism to rally the community and help us turn the corner."
While working from home for two months, Heeke and his wife, Liz, have found time to experience joy away from sports. Their two youngest sons, Zach and Max, completed their degree work online at Central Michigan University last week.
Zach's senior year on the CMU baseball team was canceled. Max, who flew to Las Vegas for the Pac-12 men's basketball tournament, was re-routed to Tucson, living with his parents for two months while completing his education.
"You can get stir crazy hanging around with mom and dad for that long," Dave Heeke says with a laugh. "But thank goodness we're all safe and healthy. It puts all of the other challenges we face in perspective."
Contact sports columnist Greg Hansen at 520-573-4362 or ghansen@tucson.com. On Twitter: @ghansen711