The truth, the whole truth, half-truths, shades of the truth and other items admissible as UA football news:
ITEM I: Duke, Vanderbilt and Syracuse are among 80 teams invited to bowl games.
Who isn't? Arizona. This is getting to be awkward.
In a 20-season period, 1999-2018, Arizona ranks No. 57 in bowl bids among the 65 Power 5 Conference schools. It's difficult to imagine worse company in college sports.
Here are the bottom-feeders and their bowl-game totals of the last 20 years:
6 — Duke, Vanderbilt, Illinois
7 – Colorado, Minnesota, Syracuse
It is time to recognize that UA football has hit the bottom of a very dark period.
ITEM II: Once upon a time, Arizona was a football school.
Oh, no one ever stood in front of a TV camera and said "Arizona is a football school." Not with Lute Olson on the same campus.
But the Wildcats had 12 winning seasons from 1982-95, played in all of those fun-sounding bowl games — Aloha, Sun, Fiesta, Holiday — and routinely shed a few tears when future Hall of Famers named Cecil, Hunley and Bruschi moved on to the NFL.
Arizona's football program manufactured "The Streak" and "Desert Swarm." It seemed like every December you could turn on an ESPN awards show and watch Darryll Lewis or Chris McAlister or Antoine Cason win an award named after somebody like Jim Thorpe or Lou Groza.
Climbing the goalposts after beating top-10 teams seemed like it would never end.
Do you realize that in 1998, Arizona had 21 players active in the NFL?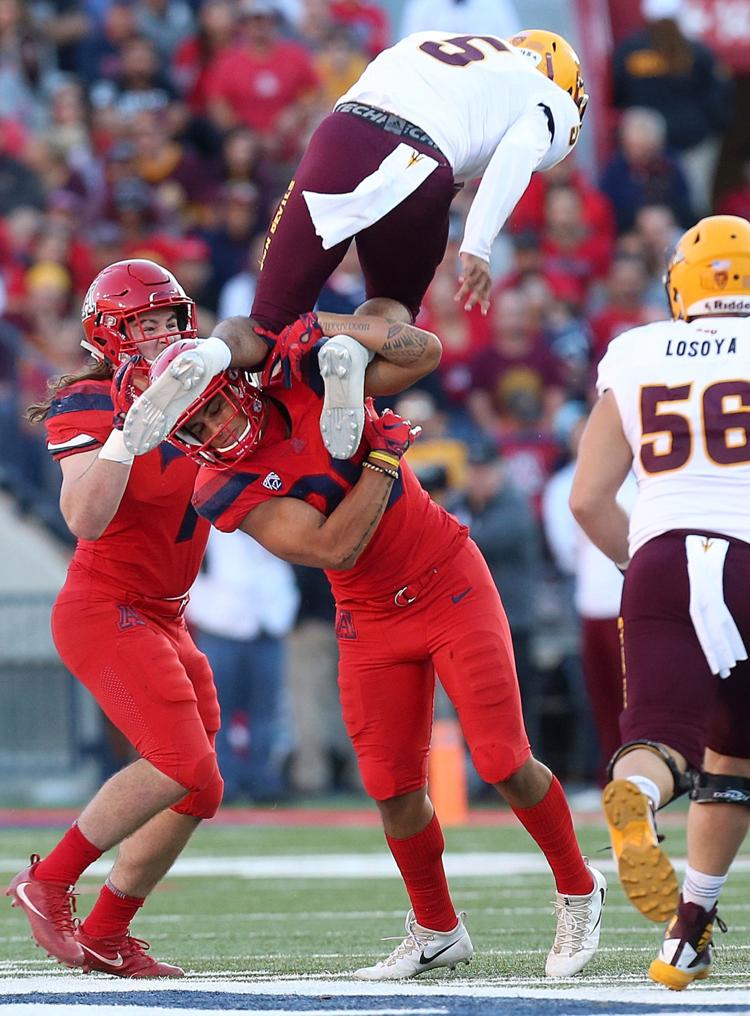 On NBC's Sunday Night Football telecasts, each starting player is allowed to state his name and alma mater. If you pay attention, you hear a lot of Alabamas and LSUs and Ohio States.
What you rarely hear is "Arizona." One of the reasons ASU athletic director Ray Anderson said he fired football coach Todd Graham a year ago was because, "We aren't sending enough players to the NFL."
You can't win in the Pac-12 without players of NFL timber.
Here are this year's Pac-12 school-by-school NFL numbers (as of last week):
Do you realize basketball-centric North Carolina has 21 active NFL players? Or that North Dakota State, with seven, matches Arizona?
This is one of the chief reasons Arizona is not in a bowl game again this year.
ITEM III: The Pac-12 will announce its 2018 all-conference football teams Tuesday.
It is possible Arizona could get shut out on first-team selections, as it was in 2015, 2016 and 2017.
There will be tight voting for first-team linebackers. Washington's Ben Burr-Kirven and Cal's Evan Weaver appear to be first-team locks. Arizona's Colin Schooler will vie with Cal's Jordan Kunaszyk and Utah's multi-position Chase Hansen for the remaining spots.
And it's possible Arizona running back J.J. Taylor could be a first-team choice, although ASU's Eno Benjamin and Washington's Myles Gaskin appear deserving, as does Utah's injured Zack Moss.
Perhaps the coaches will vote Taylor a spot as an all-purpose first-team player, although that spot is loaded, too, with Utah's Britain Covey, Cal's Ashtyn Davis and Washington State's Travell Harris, among others.
The most telling numbers about Arizona's fall into a dark place is its lack of first-team All-Pac-12 players. Here are the totals since the Pac-12 was formed in 2011:
3 – Arizona. Ka'Deem Carey in 2011 and 2012 and Scooby Wright in 2014. That's it. Two guys in seven seasons.
It all adds up: A lack of NFL-type prospects and all-conference players is the chief reason Arizona is again missing a bowl game. How does that happen? Ineffective recruiting.
ITEM IV: For the duration of the 2018 college football season, I kept a copy of the Aug. 13 issue of Sports Illustrated on my desk.
Khalil Tate is on the cover. The eye-catching headline says: "BIG AND BAD"
The sub-head reads: "He's the Nation's Best QB. Hand Him the Heisman."
On Monday, I sent my Heisman ballot to officials in New York City. You vote for three players, in order. Just to make sure, I compared Tate's statistics to QBs in the Pac-12:
He was seventh in pass completions, 12th in completion percentage and eighth in passing yards. He rushed for fewer yards than QBs at Cal, ASU and Utah.
For decades, Sports Illustrated has gotten a lot of mileage out of its "cover jinx." But what happened to Tate, and UA football, went beyond a jinx.
It was somewhere between voodoo and a football curse of the decade.
ITEM LAST: The Pac-12 has just one head coaching vacancy this year, and it appears Colorado will hire Georgia defensive coordinator Mel Tucker, a career assistant coach.
In modern college football, the Pac-12 is Exhibit A for not making (a) a splashy hire of a coach fired by a Big Name School or (b) bringing back a retread legend like Bill Walsh or John Robinson.
Here are my choices as the top football coach in the modern years at each Pac-12 school and their modest portfolios:
Washington — Don James, hired from Kent State.
Washington State — Mike Price, hired from Weber State.
Oregon — Mike Bellotti , promoted from within.
Oregon State — Dee Andros, hired from Idaho.
Cal — Jeff Tedford, hired from Oregon's assistants staff.
Stanford — John Ralston, hired from Utah State, or David Shaw, promoted from within.
UCLA — Terry Donahue, promoted from within.
USC — John McKay, promoted from within.
Arizona — Dick Tomey, hired from Hawaii.
Arizona State — Frank Kush, promoted from within.
Utah — Kyle Whittingham, promoted from within.
Colorado — Bill McCartney, hired from Michigan's assistants staff.
As Tucsonans have discovered, hiring a coach who ran the show at Texas or Michigan can lead to 20 years of bad football.