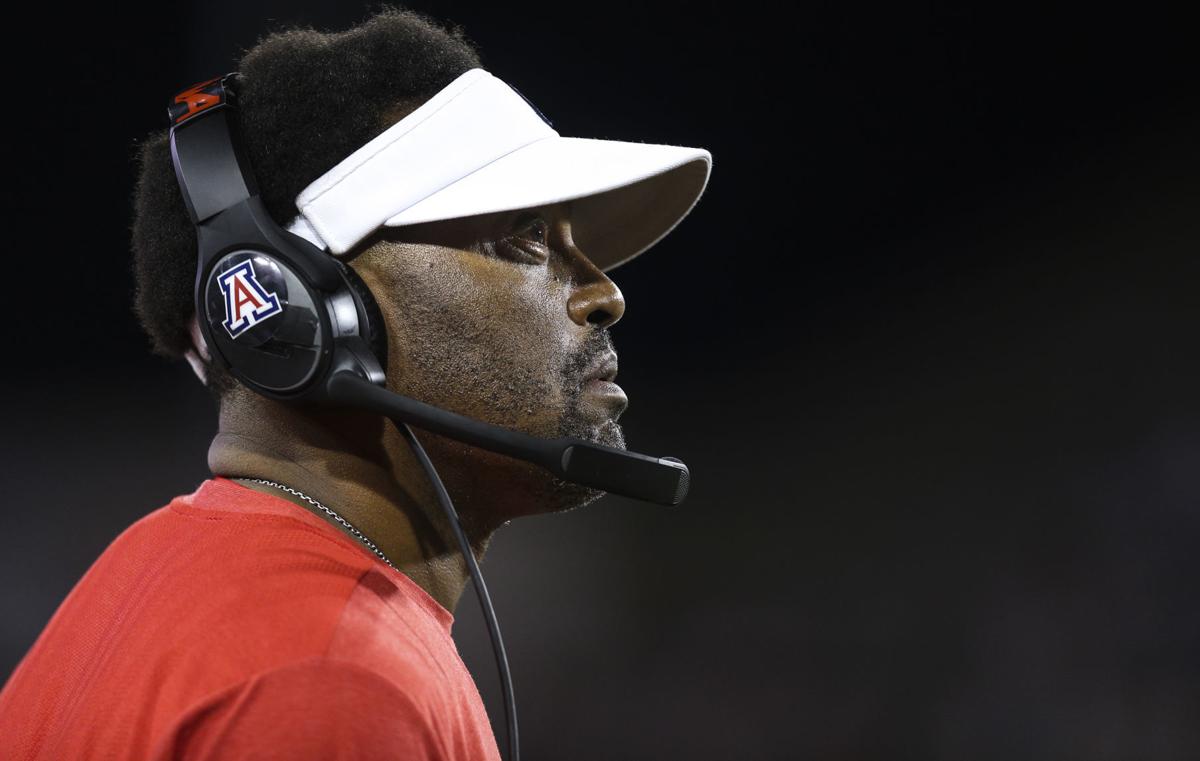 Given the keys to Texas A&M's football program in 2012, Kevin Sumlin inherited six first-round NFL draft picks. That's not a typo. S-I-X. Not to mention a Heisman Trophy quarterback.
His first A&M team swept Alabama, Oklahoma and Auburn.
There was no break-in time necessary. The Aggies were power brokers from the day Sumlin arrived in College Station.
Who gets a job like that?
Before his Texas A&M assignment, Sumlin's charge was to coach a Houston football operation coming off a two-year run of 18-8. The quarterback-on-duty was NFL-bound Case Keenam, who went on to throw for 16,958 yards and 141 touchdowns. Those are silly numbers. That's 6,900 more yards and 74 more touchdowns than record-setting Nick Foles produced at Arizona.
The man who runs Arizona's football enterprise hasn't been a turn-around specialist.
Sumlin's last assistant coaching position was at Oklahoma. The Sooners went 12-2 and played in the Rose Bowl in Sumlin's first season, 2003. Before that, at Purdue, the Boilermakers went 9-3 and finished No,. 15 in the final AP poll in Sumlin's first coaching season at his alma mater.
This is a man whose coaching career has been blessed by the football gods. His first full-time assistant coaching gig was at Wyoming, 1991.
The Cowboys went 9-4, capping a 35-15 run across four seasons.
Why wouldn't a football team want Kevin Sumlin, who always seemed to lead the league in good karma?
On Monday, 36 hours after Arizona was body-slammed 51-27 by Washington, Sumlin said "we want to win now. … everybody wants it right now, including me."
Alas, Arizona football fans have learned that "right now" might mean two or three times a decade. And this doesn't appear to be one of those "two or three times."
In 20 seasons before moving to Tucson, Sumlin was part of programs that went 178-79. Arizona lost 125 games over the same period.
To his credit, Sumlin has not asked for patience. He has not been quoted as saying "this thing's going to take a few years." Those pleas don't work. You trust that he's working on it and has surrounded himself with winners, not those from the good 'ol boy network, as Rich Rodriguez did.
"It's our obligation to put the best product on the field now," Sumlin said.
You and I both know Arizona is looking down the barrel of a 1-6 finish. Or, if things go well, a 6-6 season.
Victories over seriously flawed teams from UCLA, Texas Tech and Colorado were at the front-end of a soft opening.
Yet the Wildcats had to come from behind in the fourth quarter to beat all three struggling clubs.
Some coaches say that you can't win regularly until you understand why you lose.
That philosophy might've worked 40 years ago when Larry Smith came to Arizona after enduring consecutive seasons of 2-9, 3-8 and 4-7 at Tulane.
That sort of learn-from-losing football education gets a coach fired today.
Among the many reasons Arizona likely considered hiring Navy coach Ken Niumatalolo were that he was coming off a five-year stretch of 45-20 — nine wins per season at a service academy — and had just one losing season over 10 years.
There are fewer turn-around specialists in college football because there are fewer athletic directors and presidents willing to absorb a few years of losing. That's why Kansas hired someone like ex-LSU coach Les Miles instead of some turn-around guy you've never heard of from Tulane.
As he did Monday, Sumlin often drops the name of UA strength and conditioning coach Brian Johnson in his media sessions.
Because Arizona has never been able to recruit consistently at the elite level, it is on someone like Johnson to make up the size and strength difference between Arizona and, say, USC.
When Sumlin spoke of the Trojans on Monday, he described the Trojans' receivers as "big guys that can run, which makes it easy on their quarterback."
Other than Rob Gronkowski, when is the last time an opposing coach described an Arizona receiver as a "big guy that can run?" Maybe Derek Hill in 1988.
Saturday's loss to Washington was Arizona's 18th game under Sumlin. He is 9-9. He has not had time to fill the roster with his own recruits; it's entirely likely the only future NFL draft pick on Arizona's depth chart is sophomore tackle Donovan Laie.
That's a glaring departure from Sumlin's first two A&M seasons when eight players were drafted, four in the first round.
After 18 games at Texas A&M, Sumlin was 15-3. After 18 games at Houston he was 12-6. But football in Tucson isn't like that. It's a grind, it demands patience, not promises.
The last half of Arizona's regular season could look a lot like 2016, when the Wildcats went 1-5 and were outscored by an average of 24.8 points per game.
If it's anything better than that, Kevin Sumlin might for the first time be looked upon as a turn-around specialist.
Contact sports columnist Greg Hansen at 520-573-4362 or ghansen@tucson.com. On Twitter: @ghansen711
Be the first to know
Get local news delivered to your inbox!