Dear Mr. Football: How often does a college football team fail to score in the fourth quarter in four consecutive games?
A: At Arizona, it's every 56 years. Really. I looked it up.
Jedd Fisch's Wildcats didn't score in the fourth quarter against Oregon, Colorado, UCLA and Washington — all games in which they had a realistic chance to win. They were outscored 48-0.
The last time that happened at Arizona was 1965.
Dear Mr. Football? What's the most inescapable link to the 2021 and 1965 UA football teams?
A: The '65 Wildcats averaged 7.7 points per game, the lowest in modern school history (I consider "modern'' 1960, a period in which Arizona jumped from the old Border Conference and helped to create the Western Athletic Conference.)
Arizona is now averaging 14.3 points per game, its lowest since the offensive-challenged '65 season.
There's still a chance Fisch's team can surpass the 1965 club in fourth quarter ineffectiveness. That team, under Jim LaRue, failed to score in the fourth quarter in eight games. In fact, the '65 Wildcats only scored 10 points in the fourth quarter all season. Fisch's team won't break that record; they have already scored a not-so-robust 16 points in the fourth quarter.
Dear Mr. Football: How bad did it get in 1965?
A: The starting quarterback, Phil Albert, was injured and carried off the field in a stretcher on the final play of the final game of the year, a 14-6 loss at ASU. That capped a season-closing streak in which Arizona didn't score in the fourth quarter against UTEP, Air Force, BYU and ASU. (Although UA did win the UTEP game, 10-3).
As for Phil Albert, he rose far above the most impotent offense in school history. He went on to become the most successful college football head coach of any UA football player in school history. He went 117-91-3 at Towson State, leading the school to the Division III national championship game in 1976 and the Division II quarterfinals three times in the 1980s.
Albert began his coaching career under Jerry Davitch at Salpointe Catholic High School in 1969. Davitch and Albert were both recruited to Arizona from faraway Jonestown, Pennsylvania. Davitch was a two-year starting lineman at Arizona who went on to become TUSD's director of athletics in the 1980s.
As for Albert and his UA legacy, he left Arizona a success. After the points-scored scarcity of 1965, he switched to defensive back in 1966 and led Arizona in interceptions. Albert died last December. He was 76.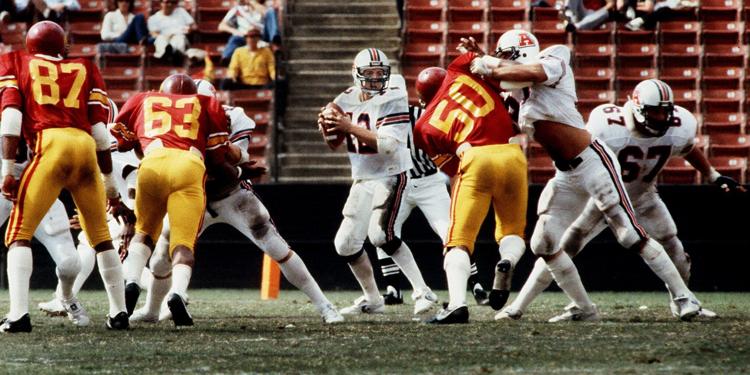 Dear Mr. Football: How many Heisman Trophy quarterbacks have been involved in UA-USC games at the Los Angeles Coliseum?
A: One for each team, 1981 and 2004. Really.
In '04, Matt Leinart passed for 280 yards and three TDs as the Trojans rolled over Mike Stoops' rebuilding first UA team, 49-9.
In '81, Arizona stunned No. 1 USC 13-10 at the Coliseum and, no, Arizona sophomore quarterback Tom Tunnicliffe did not win the Heisman Trophy. But Arizona's radio analyst of 1980-81, John Huarte, helped to describe what might've been the greatest upset in school history.
Huarte, who won the 1964 Heisman Trophy at Notre Dame, moved to Tucson in 1979 when the company he and his brother founded, Arizona Tile, established a Tucson office. He has since operated the company from Southern California.
Dear Mr. Football: If the 20-year-old Tunnicliffe were to be Arizona's quarterback this season, what would Arizona's record be?
A: With the Tunnicliffe who beat No. 1 USC and undefeated Notre Dame in 1982 — the Tunnicliffe who chopped up and overcame ASU's domination of UA football in '82 and led the Wildcats to a No. 3 ranking in 1983 — Arizona would've probably beaten BYU, NAU, UCLA, Colorado and Washington. One guy, one tough, determined, no-mistakes QB can make that much difference.
That's what should encourage Fisch and his staff for 2022 and beyond. Tunnicliffe had just two scholarship offers out of Burroughs High School in Burbank, California — Arizona and San Diego State. He was maybe 5 feet 11 inches and 180 pounds, but he was a gamer. He wasn't drafted by an NFL team, but he has been as successful in post-Arizona life as he was in Tucson.
For about 35 years, Tunnicliffe has been the president and CEO of Thomas Realty Co., in Burbank.
Dear Mr. Football: Is Fisch tempted to dust off the option offense, keyed by former Cienega High QB Jamarye Joiner?
A: I asked Fisch if an option offense would work in Power 5 football and it took him, oh, 17 seconds to shoot that theory to bits.
First, no Power 5 school has attempted a full-scale option offense since Georgia Tech's Paul Johnson retired in 2018. Johnson was a former Navy head coach, which is the home of the triple-option. Now the option is a relic in Power 5 football.
Second, Fisch confirmed that it would be nearly impossible to recruit NFL-hopeful offensive prospects to run an option system.
Third, the option can be defused by elite Power 5 defensive athletes. When Dick Tomey operated an option offense at Arizona in 1987-88, he once said that two USC players, future NFL safeties Cleveland Colter and Mark Carrier, were so quick and intuitive that they alone blew up the UA offense.
A year later, at midseason, Tomey changed to the I-Bone offense, crushing No. 22 UCLA 42-7 in its debut. No other Pac-12 team has since used the option as a base offense.
But that doesn't mean using the swift and elusive Joiner more at QB, maybe 12 or 15 snaps a game, wouldn't add production to Fisch's offense.
Dear Mr. Football: What are the odds that 2016 UA assistant Donte Williams, now USC's interim head coach, will get the job on a full-time basis?
A: In reality it's 0.0%. But based on Pac-12 history, it's 8.3%.
Before this season, Pac-12 schools had fired 12 head coaches in mid-season since 1979. Just one of the interim coaches, USC's Clay Helton, was elevated to the job on a full-time basis. Arizona's Fisch, who replaced fired UCLA coach Jim Mora in 2017, was one of the 11 not retained.
ASU's Bob Owens; Arizona's Tim Kish and Mike Hankwitz; UCLA's Fisch, DeWayne Walker, Ed Kezirian and Mike Johnson; USC's Ed Orgeron; and Colorado's Kurt Roper, Hankwitz and Brian Cabral were not retained.
If USC beats Arizona, it won't prolong Williams' chances to become USC's full-time coach; that small chance was blown when Williams lost at home to Oregon State and Utah.
But it doesn't mean USC won't rout the Wildcats.
Contact sports columnist Greg Hansen at 520-573-4362 or ghansen@tucson.com. On Twitter: @ghansen711