For 10 months, a small army of men wearing hardhats and orange-colored safety jerseys from CORE Construction Company, California Commercial Pools and various subcontractors swarmed the Hillenbrand Aquatic Center, rushing to beat deadline.
Finally, early last Friday morning, Arizona's nationally-ranked men's and women's swimming teams were given clearance to jump in the water.
It was 28 degrees outside. They jumped in anyway.
"We'll have a ribbon-cutting ceremony," says UA swimming coach Augie Busch, "but we'll wait until Arizona State is here for our meet in February."
From the outside, Hillenbrand Aquatic Center doesn't look much different than it has since "McKale Pool" was built on the site in 1973.
But after spending $13.2 million to restore the facility in 10 persevering months, Arizona now has a jewel matched by few in college swimming.
"I would put ours second only to Stanford now," says Busch. "As far as outdoor swimming facilities in the country, there's Stanford and ours, and not many, if any, to match it."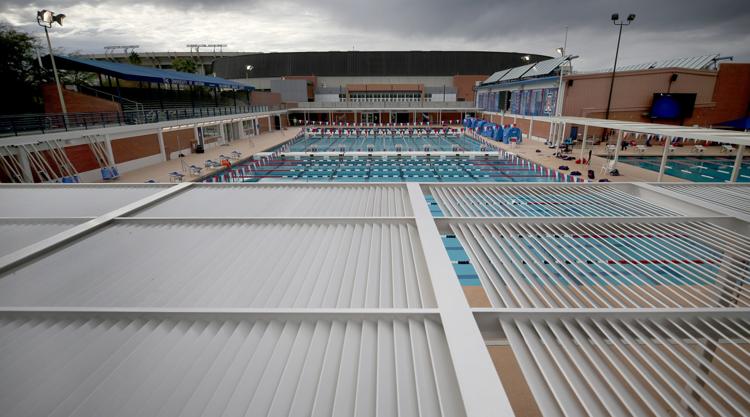 On Wednesday, workers from four large vans with California license plates continued to put the finishing touches on the Hillenbrand Aquatic Center; it is the same work force that in recent years built world-level aquatic facilities at Legoland, Disneyland, and for the USA Water Polo organization.
They'll finish just before deadline; Arizona's women's team is scheduled to debut Friday afternoon against Washington State.
Over the last 10 months, Busch at times bunched his teams into the Amphitheater High School pool, and at other times into the Kasser Family Pool, a world-class diving center adjacent to Hillenbrand and curtained off from construction crews.
The dust has finally cleared.
The timing is perfect. Restoration of Hillenbrand matches the rejuvenation of Arizona's swimming program.
It has been seven years since Arizona threatened to win NCAA championships in men's and women's swimming, a painful decline of one of America's leading swimming programs. After Augie's father, Frank Busch, left Tucson to become director of USA Swimming's national teams, the UA went through two head coaches in six years and all but vanished from America's swimming consciousness.
But as the Wildcats prepare to swim against WSU on Friday, and against mega-powers Cal and Stanford at the new Hillenbrand on Jan. 26-27, Busch has reestablished Arizona as a recruiting force.
The men's team has risen to No. 13 in the most recent CSCAA poll; the women are No. 21.
"I think our men can finish in the top 10," says Busch. "We're moving in the right direction."
Since Christmas, Busch has engineered the arrival of two difference-making swimmers: coveted Australian national team standout David Schlicht and Atlantic Coast Conference star Etay Gurevich, a Louisville transfer and potential 2020 Olympics swimmer for Israel.
"Both are instant impact guys," says Busch.
His women's team, which includes eight freshmen, recently got a commitment from Canada's Faith Knelson, one of the highest-ranked female recruits in school history, comparable to former Arizona All-Americans Amanda Beard, Beth Botsford and Whitney Myers.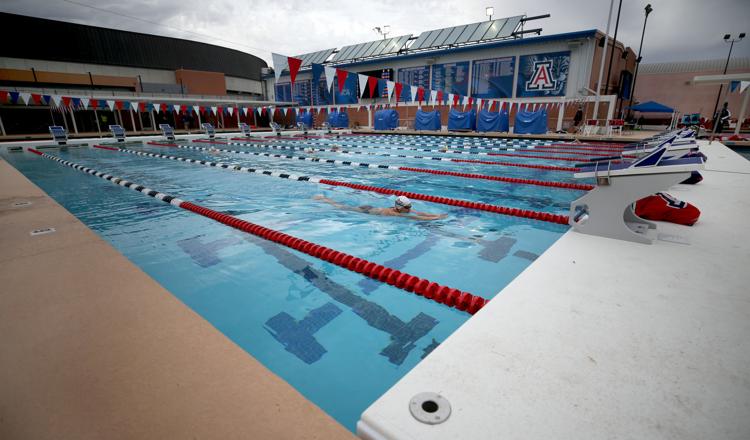 Rebuilding a broken swimming pool isn't any easier than fixing a broken recruiting system. The pool's recovery, requiring a complete infrastructure overhaul, was first identified by former athletic director Greg Byrne. It wasn't until Dave Heeke arrived on campus 20 months ago that a financial plan was created and successfully executed.
In the last few years, Pac-12 rivals Cal, USC and UCLA each spent in excess of $10 million to redo outdated swimming facilities. Even Arizona State built a new lobby and put a shine on 37-year-old Mona Plummer Aquatic Center.
Arizona was the last of the Pac-12's swimming giants to make a commitment to continued excellence.
"For the last 10 months, we've been able to make our training sessions work without much difficulty," says Busch. "It's hard to complain; the Kasser pool alone is as good as many in the country.
"And the entire process actually helped our recruiting. This was a big selling point to our recruits, coming out of our mouths all the time: Why wouldn't you want to swim here?"
As if on cue, the nation's No. 1 women's diving recruit, Maria Coburn of Round Rock, Texas, is scheduled to make her recruiting visit to Arizona in conjunction with Friday's season-opening meet at Hillenbrand.
Coburn's long-time Texas coach, Dwight Dumais, joined Busch's staff six months ago.
"Hiring Dwight has been a home run," says Busch.
And now Busch's recovering swimming programs are stepping to the plate in a sparkling $13.2 million facility.