Dear Mr. Football: How will Khalil Tate's quarterbacking career be remembered?
A: Inside the Pac-12, Tate's numbers are most favorably compared to those of Washington quarterback Marques Tuiasosopo, 1997-2000.
Tate has completed 431 of 753 passes, or 57%. Yards: 6,086.
Tuiasosopo: 418 of 761, or 55%. Yards: 5,501.
Tate has rushed 355 times for 2,207 yards. Tuiasosopo: 364 for 1,374.
But the difference is that Tate is 12-17 as Arizona's QB of record; Tuiasosopo was 20-7 as Washington's QB of record.
Sometimes statistics do not parallel reality. In 2000, Tuiasosopo was voted the Pac-10 offensive player of the year as the Huskies went 12-1 and won the Rose Bowl.
Isn't that what many thought was within Tate's reach — Arizona's reach — when Tate was named the Pac-12 offensive player of the week four times in succession in the middle of the 2017 season?
Tuiasosopo was blessed by a much superior supporting group. Washington tight end Jerramy Stevens, offensive linemen Elliot Silvers and Chad Ward and defensive starters Larry Triplett, Curtis Williams and Hakim Akbar all were selected to the all-conference first team in 2000.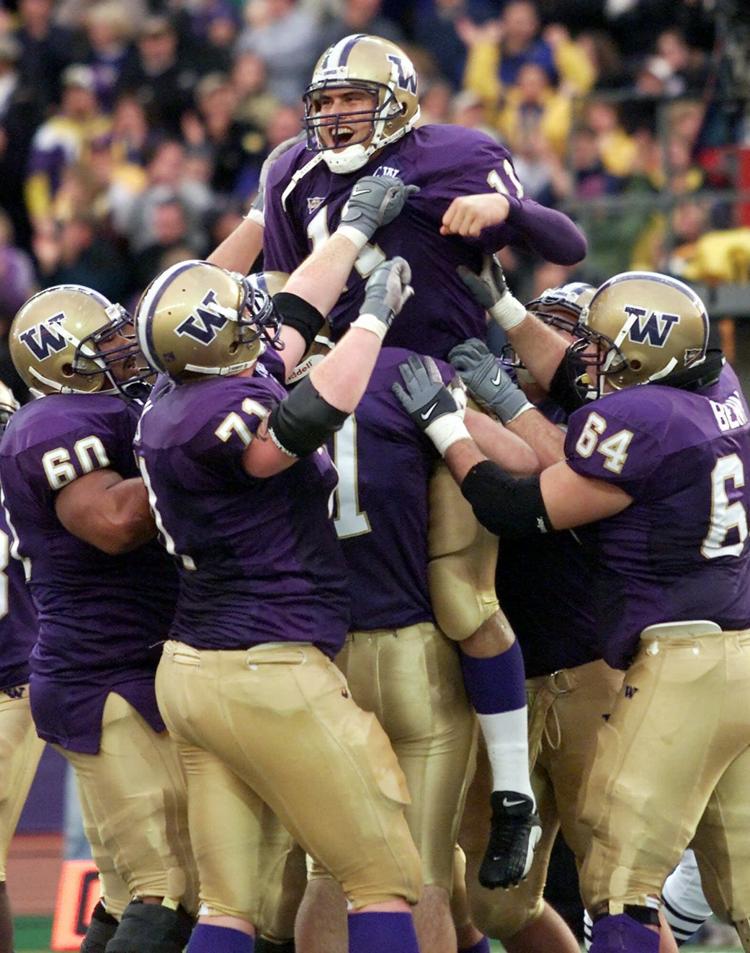 Arizona is almost sure to be blanked when the Pac-12's first- and second-team all-conference squads are announced next week.
Dear Mr. Football: Is the Territorial Cup known for historic bitterness?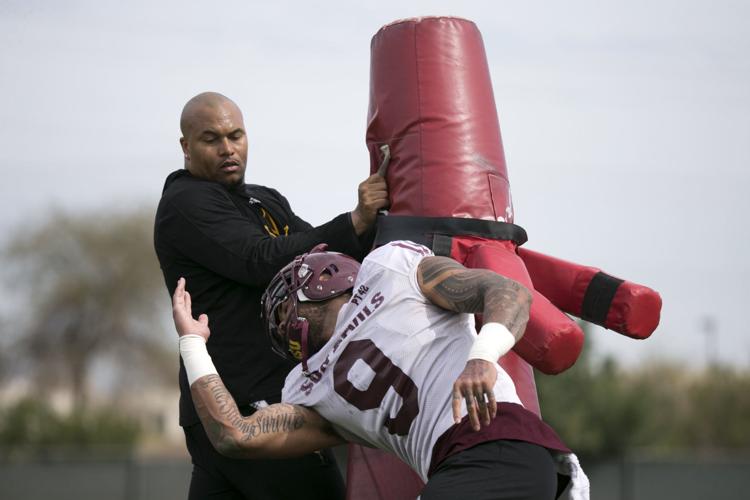 A: I strongly believe the height of the Territorial Cup was the mid-'70s to the mid-'80s, when Arizona knocked ASU out of the Rose Bowl in 1982 and 1985, and beat the Rose Bowl-bound Sun Devils in 1986 — a time when much-feared Sun Devil coach Frank Kush stirred contempt in Tucson. The UA-ASU game was the state's No. 1 sporting event each year.
Now? ASU and Arizona have combined to recycle 10 head football coaches in the last 20 years. Tradition has ebbed. Attendance at both schools has hit decades-long depths. Nine of the last 20 Territorial Cups were not sold out.
Society has changed, the old-school rivalries have lost some edge. Now, Arizona coach Kevin Sumlin is represented by an agent, Trace Armstrong, who was a Sun Devils defensive lineman from 1984-87. ASU coach Herm Edwards employs a linebackers coach, Antonio Pierce, who played for Dick Tomey's final two Arizona teams.
In the 1990s, Tomey compared the Territorial Cup with his college rivalry, DePauw vs. Wabash.
"At DePauw, there was a rule that we couldn't have cars," Tomey said. "So the guys from Wabash, in all of their big cars, would drive the 50 miles to DePauw and date our girls. If we ever caught them, we'd shave their heads. So it wasn't a friendly deal at all. There'd be a lot of fights, name-calling. People would throw bricks through windows and stuff like that."
This is yet another year the DePauw-Wabash football rivalry may have more bite than UA-ASU.
Dear Mr. Football: What happened to the tradition of playing the UA-ASU game on a Friday afternoon?
A: Television happened. Eight-figure media rights deals, worth about $30 million annually to each school, happened.
From 1993 to 2006, the UA-ASU game was played on a Friday afternoon 12 times, including every year from 2000 to 2006. The kickoff times were blissful: 1 p.m., 3 p.m., and 4:30 p.m. This was during a period that Fox Sports Arizona broadcast UA games 10 times.
Even when the game drew more national interest, it moved to ABC on a Saturday in 1999, with kickoff at 11 a.m.
Now anything goes. The game was played on a Thursday in 2010. The game was played in December in 2007, 2008 and 2010. The UA-ASU game isn't even a lock to be the final game of the year. In 2009, Arizona played at USC a week after the Territorial Cup, and in 2011 it played a home game against Louisiana-Lafayette after the ASU game.
That had only happened three times since the UA-ASU game became the traditional year-ender for both schools: In 1963, Arizona played a December game at New Mexico, one that had been postponed the week of the assassination of President John F. Kennedy; in 1977, Arizona took advantage of the NCAA's offer to play a 12th game if it involved Hawaii, and the Wildcats played in Honolulu on Dec. 3; and in 1986, a week after Chuck Cecil's 106-yard interception knocked off the Rose Bowl-bound Sun Devils, Arizona played Stanford in Tokyo as part of a Pac-10 experiment with Pacific Rim business interests.
Dear Mr. Football: Is it likely Arizona will pay Kevin Sumlin's contract buyout and move to hire a new coach?
A: At Pac-12 schools over the last 50 years, a coach has been removed after two seasons just three times — and all of them were recent transactions:
USC fired Steve Sarkisian in the middle of his second season, 2014.
Colorado fired Jon Embree after two years — and a 4-21 overall record — in 2012.
Stanford fired Walt Harris after two seasons, in 2006. He went 6-17.
Over the same period in the league, more coaches left to accept better jobs after two or fewer seasons:
Stanford's Bill Walsh, 1977-78, left to coach the San Francisco 49ers.
WSU's Dennis Erickson, 1987-88, left to coach the Miami Hurricanes.
Utah's Urban Meyer, 2003-04, left to coach Florida.
Washington State's Jackie Sherrill, 1976, left to coach Pitt.
Washington State's Warren Powers, 1977, left to coach Missouri.
The last time an ASU or Arizona football coach left for a better job: 1988, when ASU's John Cooper bolted for Ohio State.
Dear Mr. Football: Who are the Big 3 in this rivalry?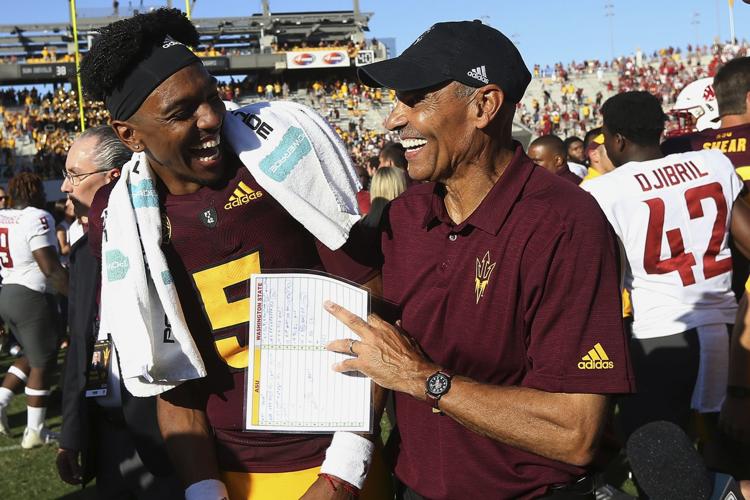 A: It's the Arizona State hierarchy of president Michael Crow, athletic director Ray Anderson and football coach Herm Edwards.
Over the last few years, those three men have been transformative, changing the image and trajectory of the Sun Devils athletic department from one that consistently operated between fair to middlin' since it joined the Pac-10 in 1978.
The Sun Devils spent about $300 million to remake Sun Devil Stadium and have become a consistent basketball winner under Bobby Hurley. They outsmarted critics by hiring Edwards from his ESPN/NFL past.
Perhaps the UA can outlast the Crow-Anderson-Edwards threesome; Crow is 64, and both Anderson and Edwards are 65.
The two most daunting challenges that confront ASU are building a better basketball arena and making sure Edwards' impressive ability to engage the Sun Devil community continues until he has restocked the ASU football program with Rose Bowl-caliber recruits.
Both ASU and Arizona have failed to take advantage of the UCLA-USC football recession. Since the Pac-12 expanded in 2011, the Trojans have been to just one Rose Bowl; UCLA zero. Only USC, in 2016, has finished inside the top 10 of the final AP poll.
ASU has gone 43-37 in conference games in that period; Arizona a sad 32-48. The Pac-12 South has been there for the taking. Utah is the school doing the taking.
These two football programs appear to be moving in opposite directions. It is apt to continue Saturday night.
Sun Devils 41, Wildcats 23
Contact sports columnist Greg Hansen at 520-573-4362 or ghansen@tucson.com. On Twitter: @ghansen711.