Dear Mr. Football: Does any Pac-12 team except Arizona State and USC get a Tucsonan off the couch and into the seats at Arizona Stadium?
A: After the Territorial Cup, Washington is consistently the No. 2 draw in Tucson, ahead of USC and Oregon. Perhaps that's why the Arizona business office expects more than 50,000 at the Old House on Saturday.
From 1990-2018, Washington drew an average of 53,417 in Tucson. That's more than USC (50,726) and Oregon (49,894).
What's the appeal of the Huskies? There's nowhere near the drama and excess of the Ducks and Trojans. And it's not like Washington has consistently been an item on the national football ticker. The Huskies have only been ranked three times in three decades in Tucson: No. 1 in 1992; No. 10 in 1997 and No. 9 in 2016.
Maybe it's that the 12 Arizona-UW games in Tucson across that period have been split, 6-6, with the average score Arizona 27, Washington 26. The Wildcats have won four of the last five in Tucson, so it could be that the "we've got no chance" feeling doesn't exist.
Dear Mr. Football: Do you think Arizona will win in a shutout?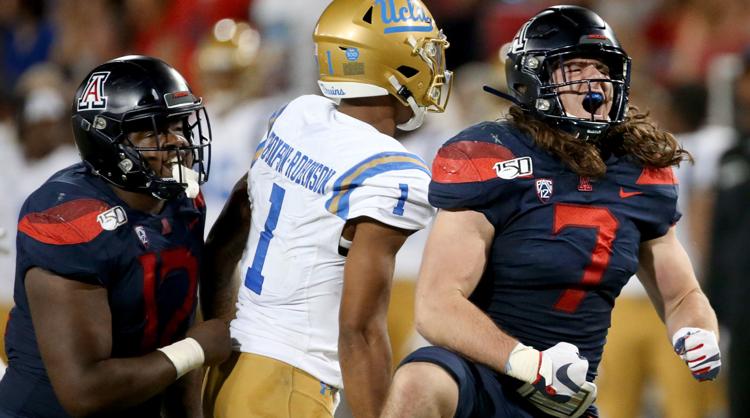 A: In a Tuesday media session at the Lowell-Stevens Football Facility, UA sophomore safety Christian Young told reporters that the next step for the Wildcat defense is to hold an opponent scoreless.
Mr. Young has good intentions, but he hasn't been on campus long enough to appreciate that shutouts essentially do not exist anymore in Pac-12 football.
Arizona last blanked a conference opponent on Sept. 25, 1993, winning 33-0 at Oregon State. The Wildcats have since played 159 league games without a shutout.
Since the Pac-12 began in 2011 — that's 447 games — there have been five shutouts in conference play:
2012: Oregon 49, Arizona 0
2012: Stanford 48, Colorado 0
2015: UCLA 41, Oregon State 0
2017: Washington State 28, Colorado 0
I consider the modern era of college football the last 50 years, 1970-2019, but perhaps that needs to be amended by a decade.
When Jim Young coached Arizona in 1974-75, the Wildcats shut out four opponents in five games: ASU (10-0), Pacific (16-0), Wyoming (14-0) and UTEP (36-0).
Today, it's usually the first team to 30 that wins.
Dear Mr. Football: Who's the best quarterback at Arizona Stadium for this game? (Hint: he's been on the cover of Sports Illustrated).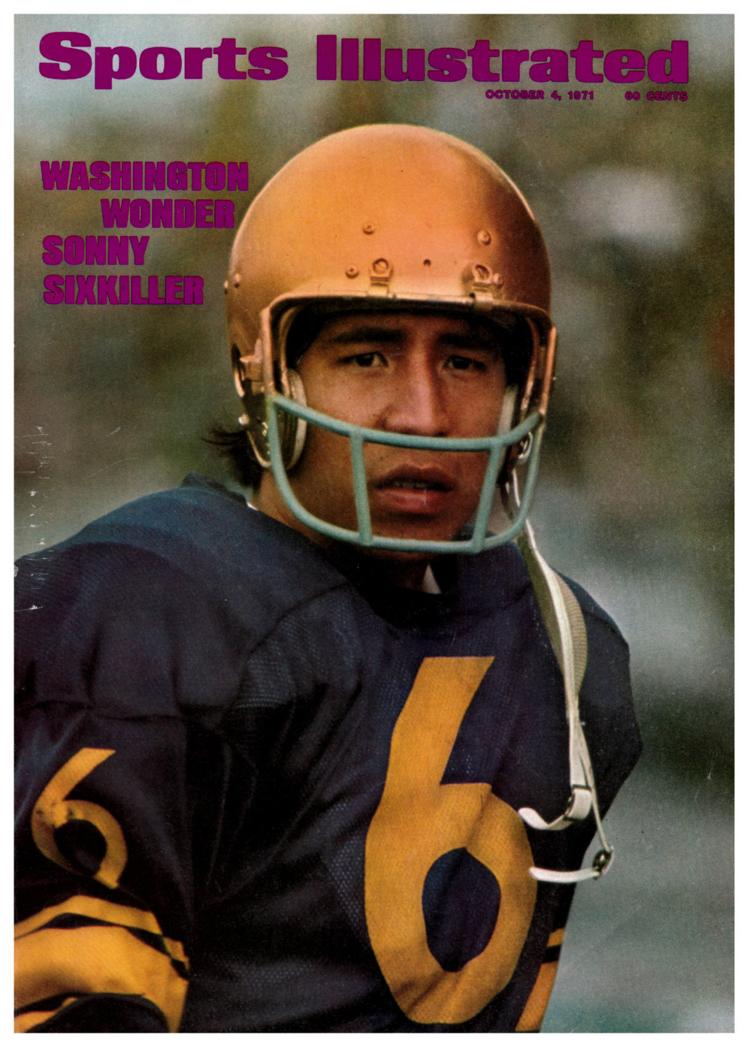 A: Sonny Sixkiller was on the cover of SI in 1971 when the 5-foot-10-inch, 160-pound quarterback from Ashland, Oregon, got more attention than the Pac-8's big name QBs of the day — Stanford's Jim Plunkett, USC's Pat Haden, Oregon's Dan Fouts and UCLA's Mark Harmon.
Sixkiller, now the associate general manager of Washington's IMG Sports Network, which will broadcast the UA-Washington game, had such a profile that it goes beyond Saturday's two starting quarterbacks: UW's Jacob Eason, rated the nation's No. 1 high school quarterback of 2016, and Arizona's Khalil Tate, who, of course, was on the cover of Sports Illustrated more than a year ago.
A full-blooded Cherokee from Ashland, Oregon — the son of a lumbermlll laborer — Sonny wore No. 6 for the Huskies. After breaking 15 UW passing records (he launched an unheard of 57 passes in one game), the school bookstore sold thousands of "6-Killer" T-shirts. He received about 75 letters from fans every week. UW's athletic department fielded about 25 calls a week requesting Sixkiller make public appearances.
Imagine if someone like Sixkiller came along today. Given the recent push for college athletes to receive endorsement money for their names and likeness, Sixkiller could probably clear a quick $100,000 in a football-bent market like Seattle.
Dear Mr. Football: In college football, what does WWWW mean?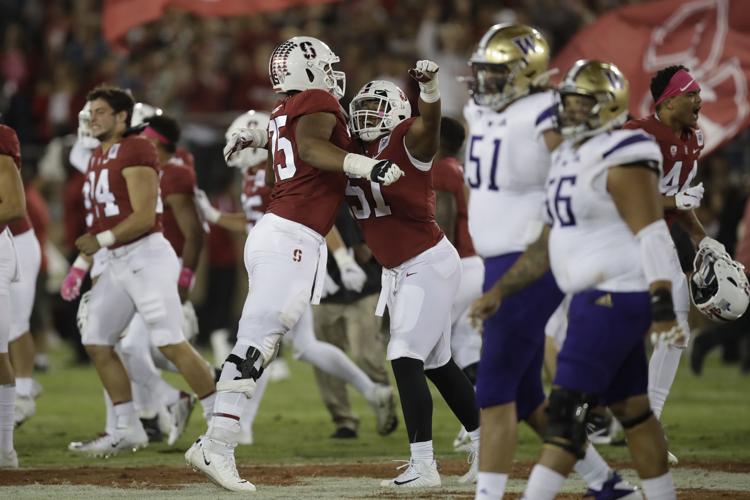 A: Given the Huskies' losses to middling Stanford and Cal teams, it means What's Wrong With Washington?
The Huskies play with the same toughness and SEC-type size that led to their return to power five years ago. But the passing game, with Eason as a first-year starter, has been unreliable.
In last week's loss at Stanford, Eason completed 16 of 36 passes — that's a 44% completion rate in a day when anything less than 60 percent is viewed the same as a baseball pitcher giving up six runs in a game.
It was viewed with such displeasure that standout 1980s Washington star Hugh Millen, a longtime NFL quarterback, broke down all 36 UW passes on video as part of KJR 950-AM radio's coverage of UW football. I watched the entire 55 minute analysis and Millen used phrases such as "here's a cardinal no-no," "I'm not crazy about this" and "the UW passing game is broken."
It's not much different than an Arizona basketball team losing to Oregon State and Cal. The public isn't going to be forgiving.
Dear Mr. Football: Is Eason as good as his No. 1 recruiting ranking?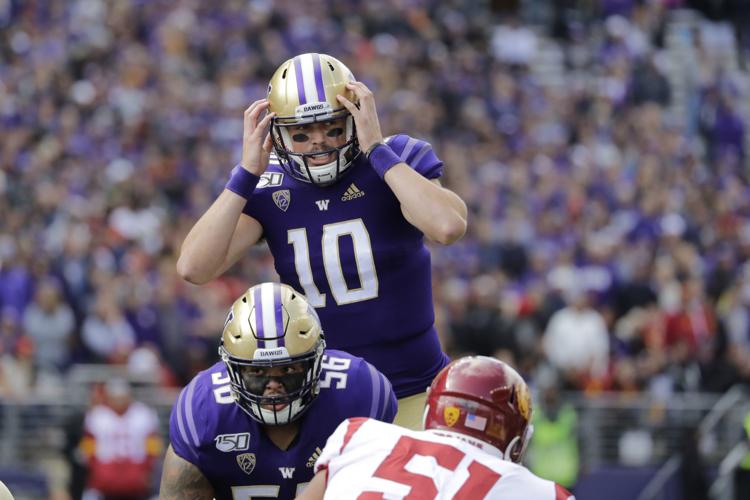 A: Eason has only started 19 college games, the first 12 at Georgia — which is fewer than Tate, who has been Arizona's QB-of-record in 24 games.
The thing that separates Eason from the average QB is that he is Gronk-ish. He's huge, listed at 6-6 and 227 pounds.
One common link between Eason and the elite QBs of Pac-12 history is that they, too, were comparatively huge.
Ryan Leaf was 6-5, 245 at Washington State;
Marcus Mariota was 6-4, 222 at Oregon;
Nick Foles was 6-6, 240 at Arizona;
Troy Aikman was 6-4, 220 at UCLA;
Drew Bledsoe was 6-5, 238 at Washington State;
Matt Leinart was 6-5, 225 at USC;
Josh Rosen was 6-4, 225 at UCLA.
By comparison, Arizona lists Tate at 6-2 and 215, and he's a rock. Standing next to Eason, however, he's a middleweight.
Dear Mr. Football: If the UW-Arizona game kicks off by 8:10 p.m., is it likely to finish before midnight?
A: Arizona's average game time this season is 3:22. Washington's average is 3.09 So it'll probably finish on Saturday instead of Sunday.
The danger of an unusually long game is tied to "upon further review" replays that can sometimes add 20 minutes to a game and change the outcome.
This might make you shake your head: I came across an item from the WAC's annual football meetings in May of 1966 that led to this headline in the Star: "WAC bans electronics from football in 1967."
The WAC athletic directors of 1967 from schools such as Arizona, Utah, BYU and ASU, voted to eliminate closed-circuit TV, electronic coaching devices and "instant replay machines" — although so few games were televised and technology was so new that it probably didn't add a minute to game times. It was viewed as unnecessary.
The only electronic tech approved for the 1967 season was a phone in the press box linked to a phone on the sideline for the coaches to communicate. Even walkie-talkies were banned.
Walkie-talkies? Times change. That year's Arizona-BYU game, won 17-14 by the Cougars, was completed in 2 hours, 19 minutes.
Saturday night, with the clock ticking toward midnight, Arizona and Washington are apt to be engaged in such a close game that an "until further review" delay helps to determine the winner.
Arizona 31, Washington 27