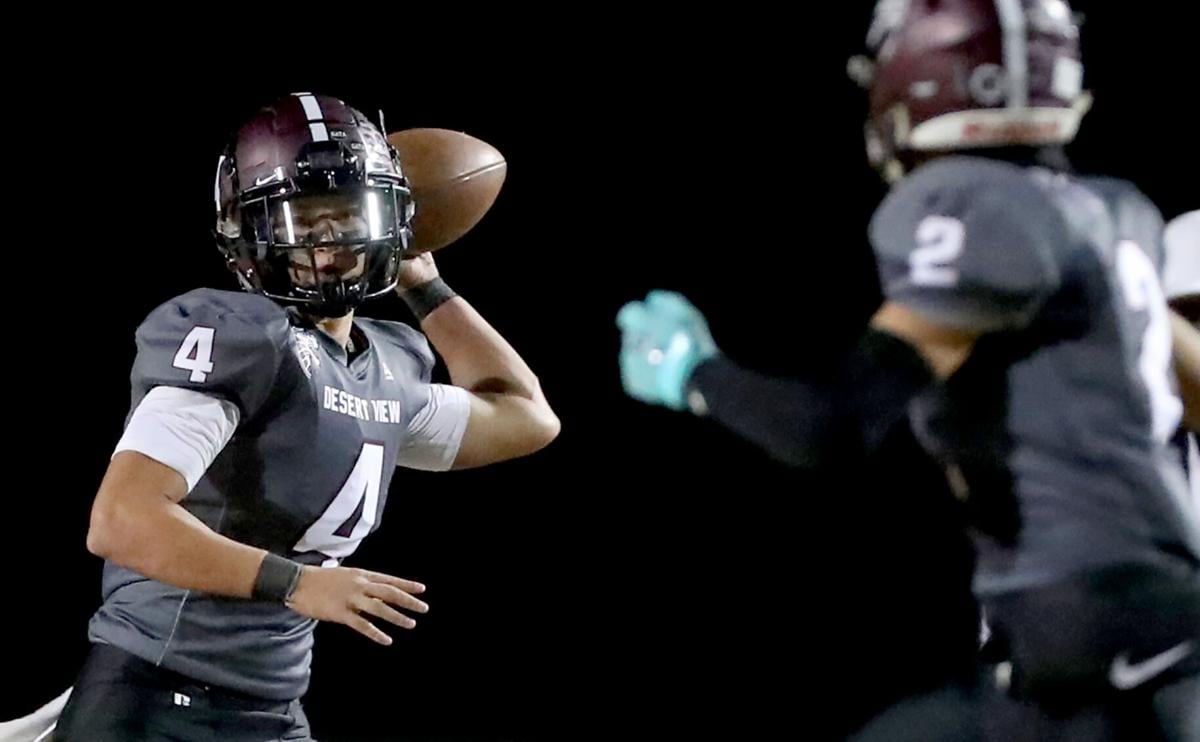 After scrambling to find last-minute charter bus arrangements from Oro Valley to Lake Havasu City, 12th-seeded Canyon del Oro had a happy ride home.
The Dorados outlasted fifth-seeded Lake Havasu 35-21 Friday night in the first round of the Class 4A state playoffs. CDO, which has won seven out of its last eight games, advances to the state quarterfinals for the first time since 2014.
The Dorados will face fourth-seeded Glendale Cardinals on the road this week.
CDO booked the last remaining charter bus available in the entire state, coach Dustin Peace said. Rather than make a six-hour trek on game day, the Dorados spent Thursday night in a Lake Havasu City hotel.
Their fresh legs led to a season-high 342 rushing yards. Sophomore Kayden Luke led the way with 26 carries for 193 yards, three touchdowns and a two-point conversion.
"For us to get our season-high in rushing in a playoff game, that says it all. … We won the run-game battle, and most of the time in football that's what seals the deal," Peace said. "We protected the ball well, we were able to run it and it was just awesome."
CDO quarterback Caden Dawes "had a gutsy performance," Peace said, after taking a brutal hit in the first half. He completed 6 of 14 passes for 86 yards, one touchdown and one interception.
"Snaps were all over the place and Caden was just grabbing the snaps, handing them off and then he also threw the ball well," Peace said.
Jaguars win at home, advance
As the Desert View band blasted "Livin' La Vida Loca," the Jaguars lived out Ricky Martin's 1999 hit on the field.
But at the end of the rollercoaster ride, the Jaguars (10-1) hopped off with a 26-13 victory over Goodyear Millennium (5-6) in Friday's first round of the Class 5A state playoffs. Desert View will travel to face another Goodyear opponent, Desert Edge, in the quarterfinals. The Scorpions (9-2) pummeled Canyon View 43-7 in their first-round game.
"We did a good job of keeping our heads in our game," coach Robert Bonillas said. "Maybe, we haven't been here, huh, so we got too excited. But the energy was there all week."
In its first playoff victory since at least 2003, Desert View had an onside kick recovery, a forced fumble on Millennium's final drive, and an interception by Jah-Li Govan on a half-back pass, which led to its final score. It overcame 14 penalties for 138 yards.
But a big part of the success was the emergence of quarterback Oscar Barraza, keeping the defense from keying on star running back Serge Gboweiah.
Barraza only completed six of 11 passes for 97 yards, but each time he found an open receiver, it felt like a crushing blow to the visitors. In the first half, he found Enrique Cancio twice on third down to keep an eventual touchdown drive alive. On fourth-and-8 at Millenium's 40-yard line, he hit Santiago for a 23-yard reception on a drive that led to an 18-13 lead. Then, with 4:45 left, he found Santiago again, this time in the corner of the end zone for the final score.
"He's doing a better job of being our quarterback and our leader," Bonillas said. "Our kids are following him more. They're responding to him. He does a great job of just going out there and going hard."
Salpointe rolls past Sunnyslope
Despite a somewhat nerve- wracking second quarter, the Salpointe rolled into the state quarterfinals.
On Friday night, second-seeded Salpointe (9-2) beat 15th-seeded Phoenix Sunnyslope 63-24 in the first round of the Class 5A state tournament.
"I'm really, really proud of the kids," said Salpointe coach Eric Rogers. "We had an unbelievable week of practice, we worked out tails off and we came out and just came out and played really, really well."
Salpointe hosts No. 7 seed Scottsdale Notre Dame Prep in the quarterfinals.
Salpointe jumped out to a 7-0 lead after a 49-yard touchdown run by senior running back Anthony Wilhite. Wilhite ran for 197 yards on 21 carries, scoring three times. Bourguet passed for 189 yards and two touchdowns, going 13 for 19 with no picks.
Salpointe junior defensive back Jaxson Greene scored on a 60-yard pick-six to put the Lancers up 35-3.
The Lancers outscored the Vikings 28-7 in the second half to pull away.