The Star is counting down the top football players in Southern Arizona in the weeks leading up to the season.
Today: Salpointe Catholic senior Bijan Robinson, our No. 1-ranked player.
The rundown: Robinson is a 6-foot, 205-pound running back.
Who he is: When discussing Robinson's legacy as a high school football player, the question that is often brought up is could the Salpointe Catholic star be arguably the greatest running back to ever play in Arizona?
"I've seen some great, great (running) backs in the state of Arizona, but no question Bijan deserves to be in that conversation," Lancers coach Dennis Bene said. "We'll see how he finishes off this season, but he is deserving to be in that conversation, he's that special."
The legend of one of the top players in Arizona history began in 2017, when Robinson — then a sophomore — scored a 60-yard touchdown in the second game of the season against Mountain View.
"We never looked back from that point on," Bene said. "It was a great run and you knew right then and there, 'Holy smokes, this kid is special.'"
Since then, Robinson has posted video-game numbers in nearly every game he's played in while also going viral after he hurdled over a Tucson High defender and ran in for a touchdown. Over the last three years, Robinson has rushed for 4,801 yards and 72 touchdowns. One of his most notable performances from last season was his 247-yard and three-touchdown performance on four carries. If you're doing the math, that's 61.8 yards per rush. Against Mesa Dobson last season, Robinson rushed for 301 yards and four touchdowns — in one half.
Robinson verbally committed to the Texas Longhorns earlier this month. He'll leave for the Lone Star State less than a year from now.
"It hasn't settled in yet, but when it does, I hope I find wisdom to keep myself right," he said. "I've been in Tucson my whole life and people think Tucson is a bad city or it's not a fun city for young adults, but being in Tucson gave me so much of everything. I'm going to give this year all I got because this city and school has given me all it's got."
Robinson's goals for this season: rush for 3,000 yards, score 40 touchdowns and win a state championship. Robinson only needs 900 yards to surpass former Canyon del Oro standout Ka'Deem Carey for career yards. If Robinson can reach his season goal, he'll also pass Amphitheater legend Mario Bates who had 2,740 yards in 1990.
However, Robinson wants to be remembered for more than just his productivity between the lines.
"I want people to remember me as more than a football player," he said. "Yes, I've done a lot of great things for football and football has been an outlet for my life, but I want people to remember me as a kid that has a big heart for everyone. Someone that can help you get through problems and just be a great person to you."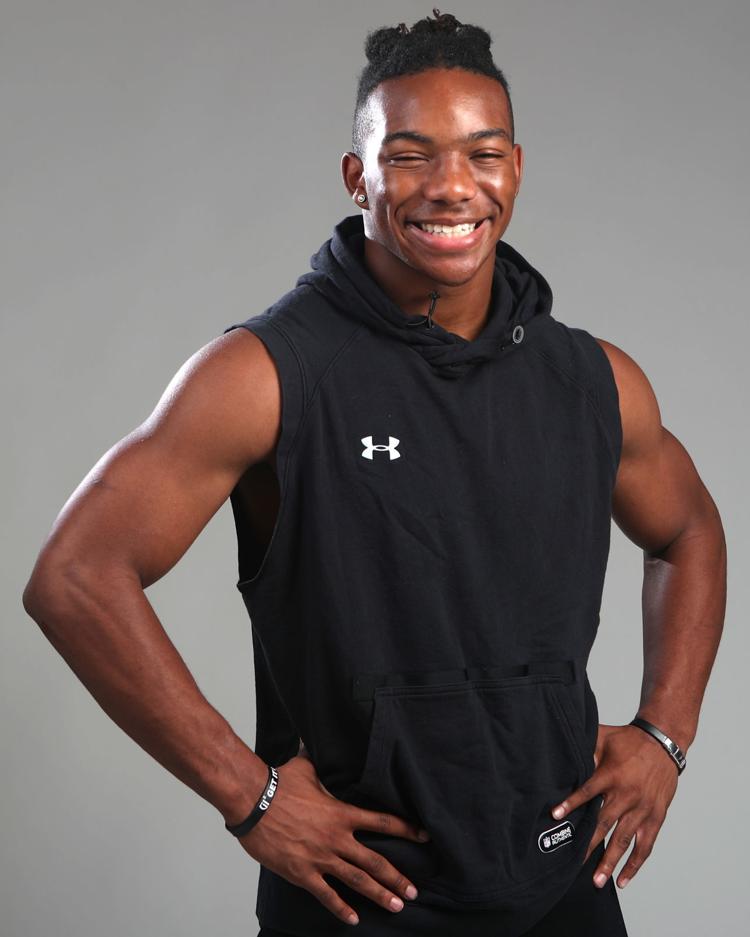 Proof he's good: Last year, Robinson was named the Class 4A Kino Region Offensive Player of the Year, but more importantly, he was the winner of the 2018 Ed Doherty Award, an accolade given to the top player in Arizona. Robinson has a chance to become the first player in Arizona state history to win back-to-back Ed Doherty Awards. Robinson is listed as a five-star recruit for the 2020 recruiting class and is ranked the second-best running back on 247sports.com, and the top running back on Rivals.com. Before committing to Texas, Robinson had offers from Ohio State, Alabama, USC, Auburn, LSU, Michigan, Nebraska, Notre Dame, Tennessee, Texas A&M, Washington, UCLA, UA and ASU, among others.
He said it: "He's as fine of a young man as I've ever coached, that's the bottom line. He's very humbled and grounded into his faith and a tremendous teammate. That's one of his best qualities is he's a wonderful teammate and he never makes it about himself. Although he has very high personal goals, he is all about the team. I think that's what makes him so special and so fun to be around. He's a fantastic kid and I'm really blessed to be able to work with him every day." — Bene