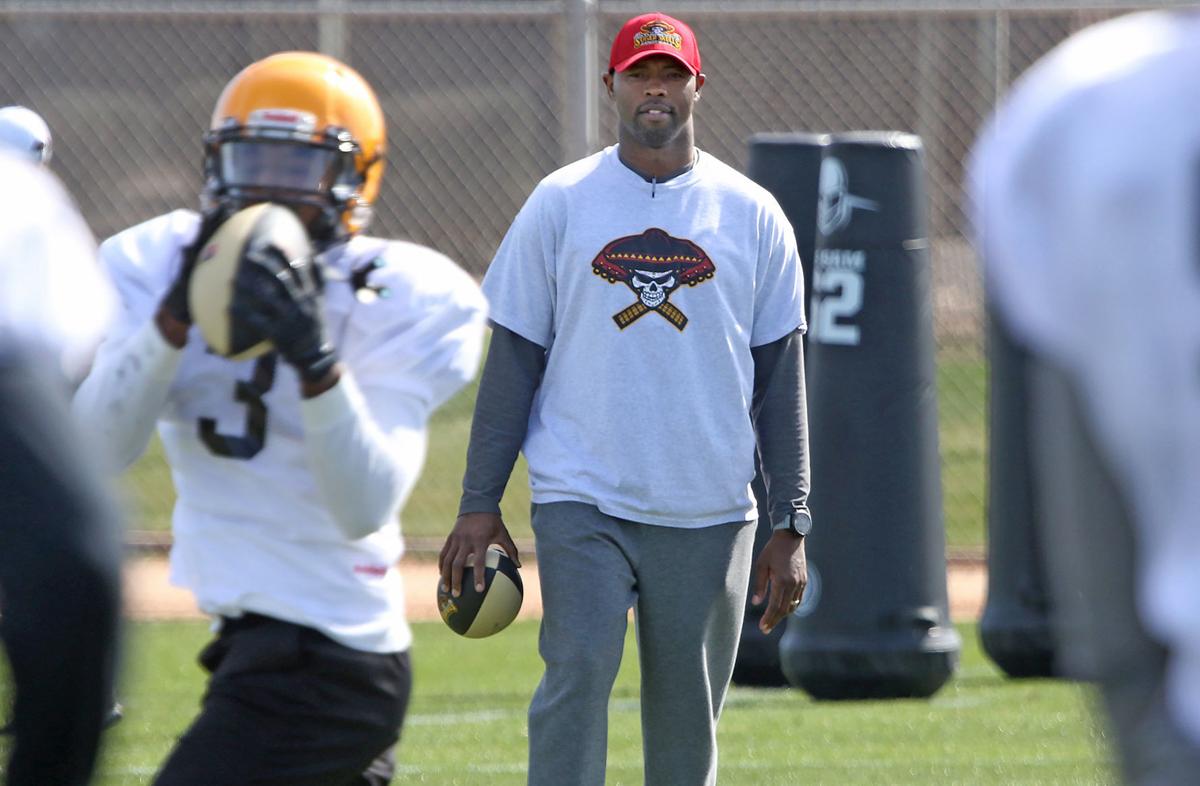 The Tucson Sugar Skulls will board a plane this week for the longest road trip of their young indoor football season.
Danger awaits them. No, seriously. Saturday's game against the Nebraska Danger in Grand Island, Nebraska, will mark an early test for the 3-1 team. Here are a few takeaways from the Skulls' early start and a glance at the Indoor Football League standings:
Medlock's moment: Quarterback Jake Medlock got his first start of the season on Sunday. Playing the entire game, he completed 13 of 22 passes for 148 yards and two touchdowns as the Sugar Skulls beat the San Diego Strike Force at the Tucson Arena.
He also rushed for two touchdowns in the second half.
"He still has a lot of work to do, but he kept us in the game when things weren't going well," coach Marcus Coleman said. "We kind of got out of sync offensively and we didn't get into the rhythm that I wanted to, but it's a learning process."
Medlock and Matt Behrendt had swapped snaps in each game before Sunday. Behrendt, a dual-threat quarterback, typically started the first half while Medlock, a pocket passer, grabbed the reins in the second half.
Medlock treated every practice like he was the starter. That won't change now that he is.
"Doesn't matter if I'm starting or doing the two-quarterback system, you've got to prepare for the game like you're the starter no matter what. And I've done the same stuff for my whole entire career," he said.
Medlock led the IFL in completions and passing yards last season quarterbacking the Cedar Rapids River Kings. After being released by the Jacksonville Sharks of the National Arena League, Medlock packed up his belongings, wedged them into his car and drove 28 hours to Tucson for another chance at the IFL. Medlock came off the bench to throw for 142 yards in the team's season-opening win over San Diego. He missed the first home game and contributed just 56 yards in the second half against the Rattlers in Week 3.
Adjusting the offensive line: Tucsonan Alex Rios was removed from the starting offensive line unit against San Diego. Rios had started every game at left tackle for the Sugar Skulls this season, but was replaced by Tucson High product Antonio Rosales, who switched over from right tackle. Rosales played left tackle, ex-Florida International lineman Mike Montero started at center and Trenton Saunders — another FIU prospect — received his first snaps at right tackle.
Be a pro, Coleman says: The atmosphere at Tucson Arena escalated into a hostile environment on Sunday — especially on the turf.
The teams scuffled after San Diego offensive lineman Royce Roxas blindsided Tucson defensive tackle Keith Jones Jr. 15 yards from a play. Fans booed Roxas, and Jones had to walk to the Sugar Skulls bench to cool down after being restricted from any further conflict on the field.
Coleman wasn't happy with the way the game devolved. Tucson committed 10 penalties for 94 yards, and Coleman said his ideal penalty count is three. Over two home games, the Sugar Skulls have 22 penalties for 201 yards combined.
"What I want to say, I can't say because obviously I'm not trying to get fined by the league, but I felt like the game should've been controlled a little bit more and it wasn't," Coleman said.
"It's an emotional game, so it got out of hand on both sides of the ball. But this is your profession. This is professional sports. Just because this is indoor doesn't mean you can't act like one. You got to carry yourself like one, and that's throughout the entire game regardless of what's going on."
More from Coleman: Coleman said he's been impressed with his team's performance, but knows it can get better.
"This is our fourth game, and yes, we have a team, but do we really have a team?" he asked. "Anybody can fill a team. I can go outside and fill a team with a bunch of dudes out in the park right now, but I don't know them, we're not studying together, we're not meeting together, working our butts off together.
"We're trying to play for something that's bigger than just playing, so I don't think we're at that point yet and we have a long way to go to get to that point. We're slightly better than what I expected. I thought we were going to be better than how we've been, but as we continue to grow, we'll get there."
Where they stand: The Sugar Skulls are in fourth place in the IFL with a 3-1 record. The Sioux Falls Storm (4-1), Arizona Rattlers (4-0) and Iowa Barnstormers (4-0) make up the top teams in the league. Saturday's opponent, the Nebraska Danger, is 2-3.