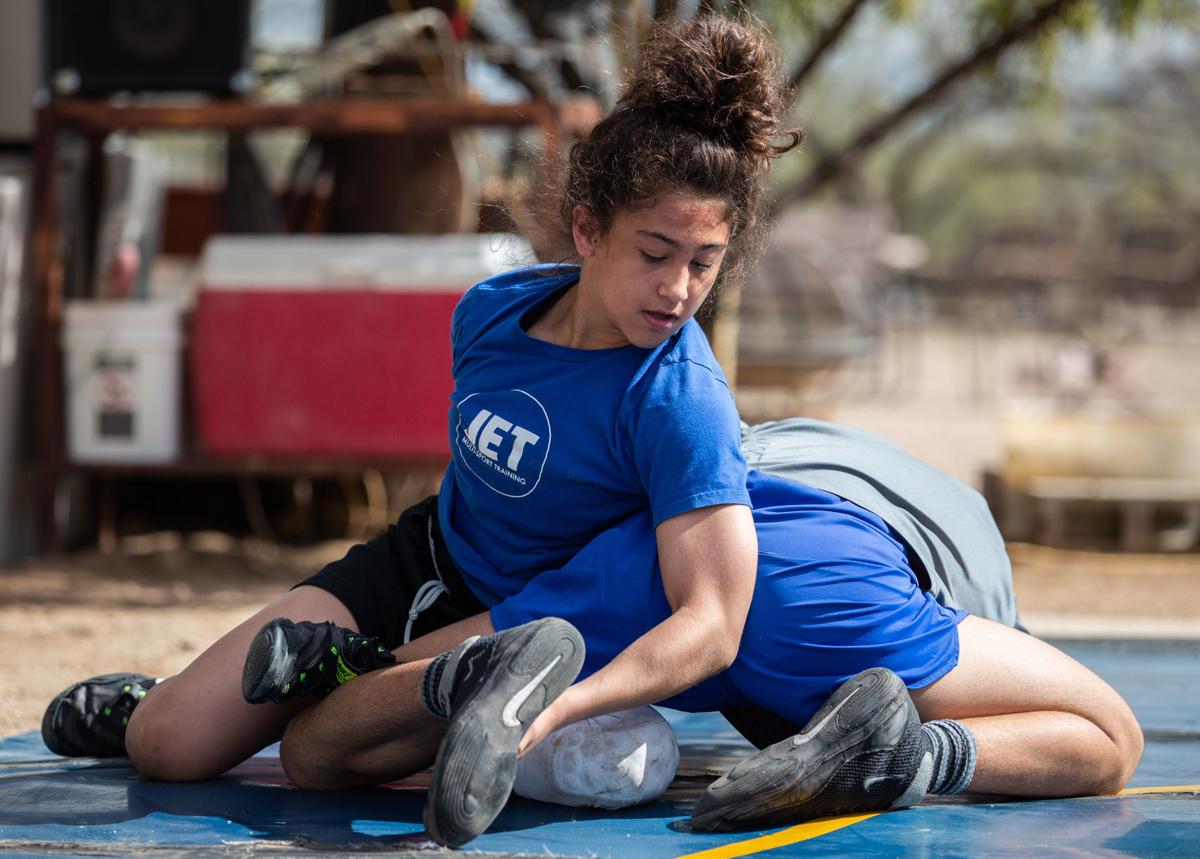 Years ago, long before the coronavirus was on anyone in Tucson's radar, Billy Jimenez's cousin asked if he had any use for a regulation-size wrestling mat.
Jimenez, whose daughter had recently taken up the sport, figured the mat might come in handy someday. Jimenez moved it into his house and forgot about it — until a few weeks ago.
The statewide closure of schools included the cancellation of practice at the Sunnyside Wrestling Academy, where Jimenez's 14-year-old daughter Audrey was training five to six days a week.
For a young athlete whose finely-tuned regimen included specialty training, cryotherapy and a rotating cast of grappling parters, the new routine is a change. But she is adapting.
The big blue mat now sits in the Jimenezes' backyard, where, on most afternoons, Audrey and a few friends who are helping each other through the quarantine put it to use.
Audrey's plans to make her European wrestling debut in Estonia last month, representing Team USA at the Tallinn Open, were scrapped days before the trip because of COVID-19. Within days, schools were shuttered. So were the rest of Audrey's go-to training spots, part of citywide — and then statewide — orders.
Before coronavirus, the eighth grader would wake up at 4:30 a.m. and go to Jet Sports Training to get into a specialized workout before school. After school came running or cryotherapy, followed by wrestling practice until 6 p.m., after which came dinner and homework.
Her life these days bears only a vague resemblance to the one she led a few months ago.
"I sleep in a lot later," Audrey said with a laugh. "It's not weird, but it's different. Now, I'll wake up around 8:30, drink a (meal replacement) shake and then start on my schoolwork."
Audrey is always on a strict diet to maintain her weight, as she must compete in a specific weight bracket. Her current diet — in anticipation of July's USMC 16U and Junior Nationals — consists of two shakes and one regular meal per day.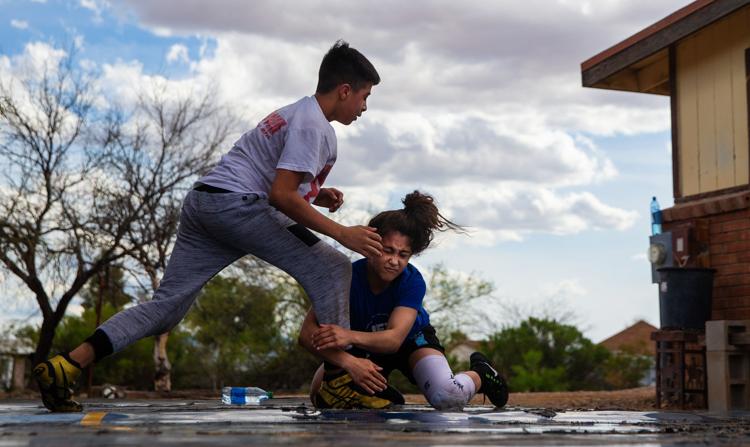 A 4.0 student at Gallego Intermediate Fine Arts Magnet School, Audrey said she usually finishes up her schoolwork around 1 p.m. Then it's time to train.
"Now, I either go for a run at 2 or start riding the (stationary) bike. When I run, I run for about 3 miles, but on the bike I go between 10 and 14 miles," Audrey said.
Audrey is ranked sixth in the nation on USA Wrestling's 2018-19 Future Olympian Rankings' 14 Under division. Last spring, she won first place in the Women's Freestyle Nationals.
In November, she brought home a gold medal for her weight class in the U15 Pan American women's freestyle championships in Panama.
She said the scrapped trip to Estonia, her first trip outside of North America, "was frustrating for me, because we'd trained and got our trip planned and at the last minute, it got canceled."
"But I know it's for the best," she said, "and there will be more opportunities in the future."
Right now, Audrey is eyeing a July trip to Fargo, North Dakota, as her next big opportunity.
Even though she knows nationals might be canceled, Audrey is preparing as if they're happening.
In Tucson, Audrey can look forward to four more years of training at the Sunnyside Wrestling Academy. This time, she'll be training as a student at Sunnyside High School and official member of the school's wrestling team.
While she misses her time with her coaches and teammates at Sunnyside, Audrey still gets to see a few of her friends who come over some afternoons to run wrestling drills on the mat.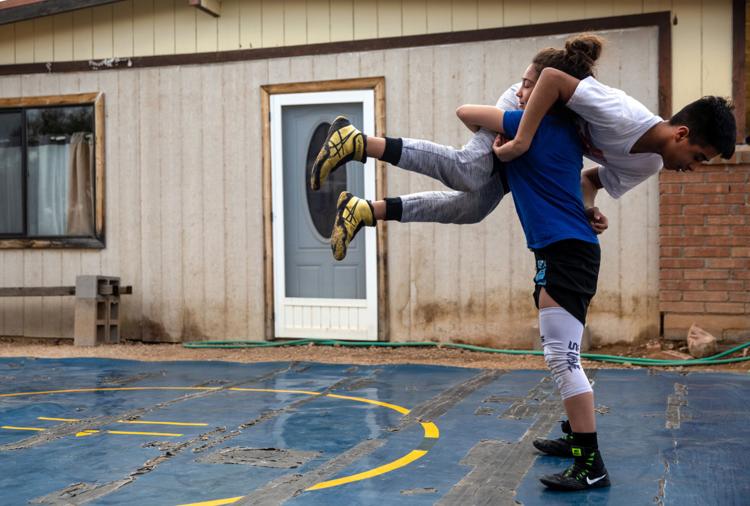 "If I don't have any friends over, I do motion or other individual drills," Audrey said. "Then after practice, I either lift weights or work with the Bulgarian bag."
The latter is a specialized piece of equipment designed to strengthen and increase muscular endurance in wrestlers. It also helps with core strength, coordination and improving mobility.
Despite the uncertainty of all of it, Audrey is staying positive and keeping her focus on nationals, despite the occasional moments of wistful reflection.
"We just don't know how long this is going to go on," she said. "But I miss how it used to be and wrestling in the room."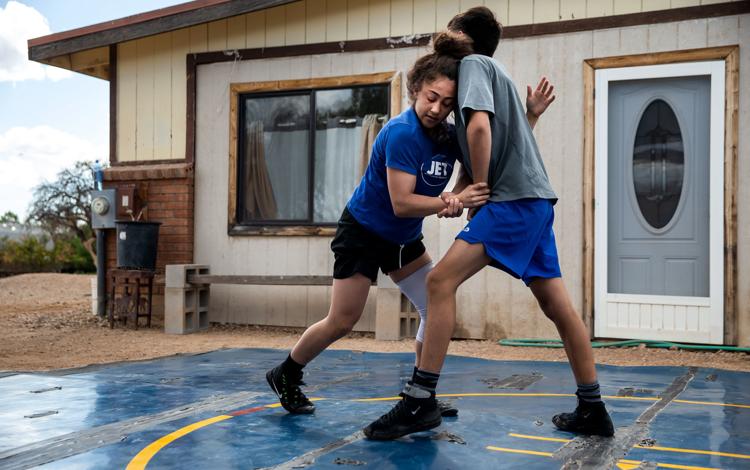 Contact reporter Caitlin Schmidt at cschmidt@tucson.com or 573-4191. Twitter: @caitlincschmidt.