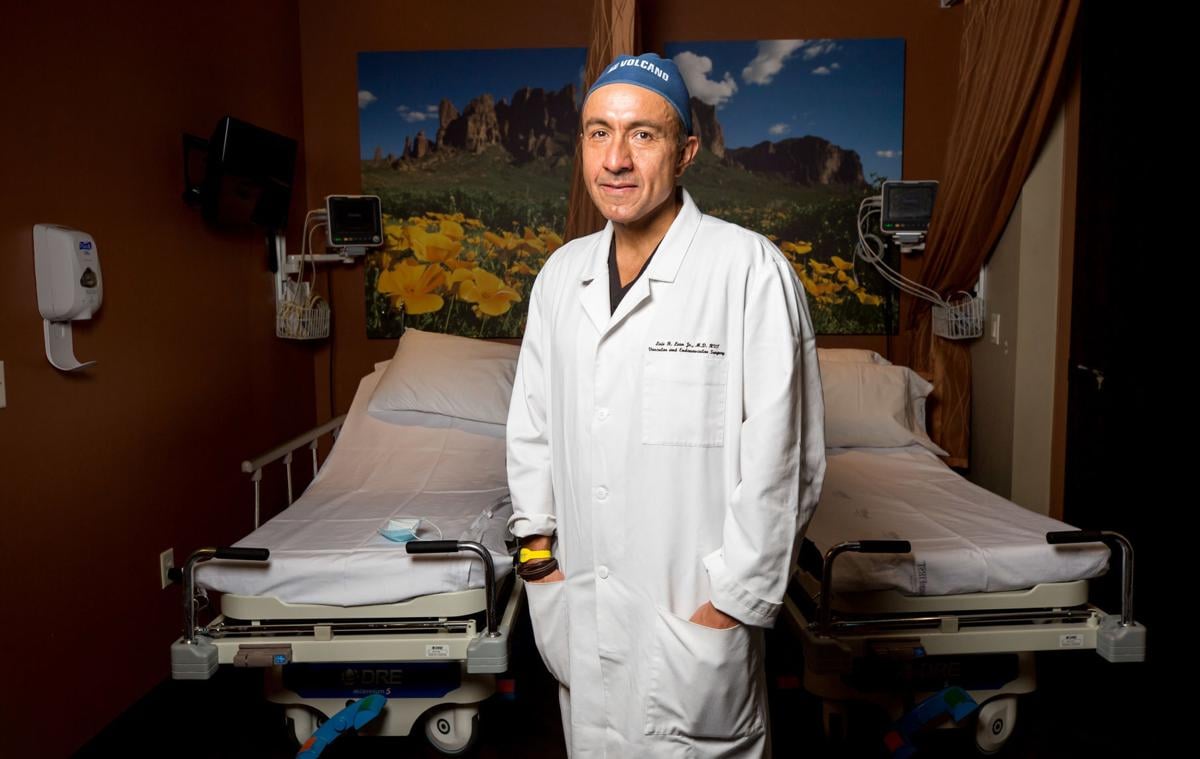 Dr. Luis León was 80 miles into a 240-mile endurance race, and all he could think about was giving up.
In order to complete October's Moab 240, León had to traverse canyons and deserts, climbing 29,000 feet in elevation over four-and-a-half days. One-third of the way into the race, he was spent.
Temperatures ranged between 80 to 83 degrees, and León realized that training in the dry Arizona heat wasn't paying off.
"I never had been running in that kind of altitude and I've never been that hot in my life," León, 51, said. "I was absolutely sure I was going to quit."
León kept going, remembering his friends and family in Tucson. What would they say if he traveled more than 200 miles to take part in a race only to give up?
Leon decided that he'd quit … later. He settled on the aid station at the 110-mile mark.
At 3:30 a.m., while León was climbing a mountain with no one else around, his phone connected to a WiFi signal following hours with no service.
"There was an explosion of texts from people from everywhere, telling me how proud they are and how inspiring I am," León said.
Unbeknownst to him, one of León's business partners had reached out to León's friends and colleagues around the country and asked them to send along texts of encouragement.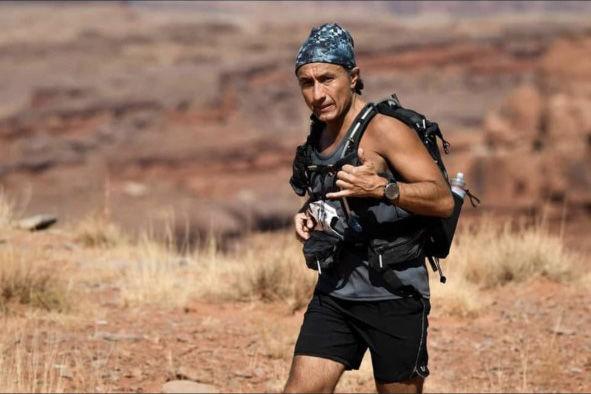 León made it to mile 110 with that encouragement, thinking about the people who traveled to Moab with him to help him through the race. He had to finish for them. He had to finish for himself.
"I told my crew, 'I'm going to stop feeling pity and I'm going to find a way to finish. Please help me,'" León said.
León crossed the finish line, finishing 82nd out of the 127 runners that completed the race. Sixty four others did not finish; many of them quit in mile 80 due to the heat.
When he returned to Tucson, he asked his business partner why he rallied his friends to text.
"He said he didn't know why, but he felt like I needed it," León said.
León, a surgeon with Pima Heart and Vascular, ran his first endurance race in 2014. He's run three since, with hopes of completing his fifth one in May.
León said he competes in these grueling events to inspire his kids and other people about the benefits of exercise and healthy living.
León operates on people with peripheral artery disease, a circulatory issue that causes narrowed arteries and reduced blood flow to a person's limbs.
PAD is often self-inflicted by people who lead a sedentary lifestyle, are obese or who smoke, León said.
"My business would be nonexistent if people would do the right things," León said.
León takes exercise to the extreme, waking at 3:45 a.m. every day so he can get in a 15-mile run and make it into the operating room by 7:30.
"I go to bed at 8:30 (at night), before my kids do," León said.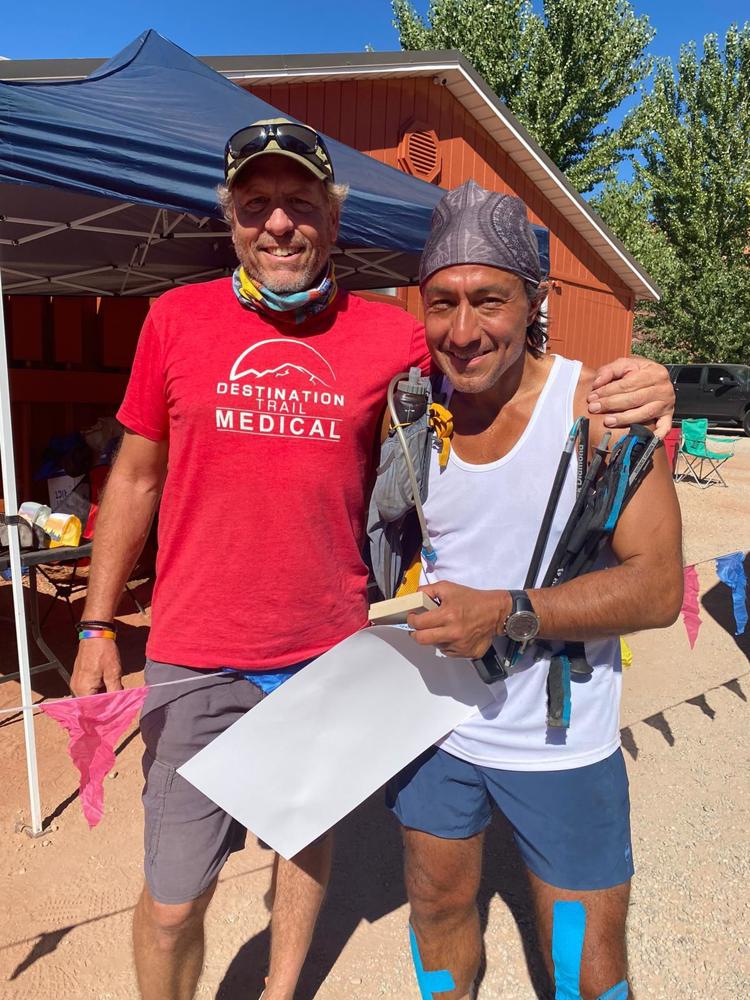 Growing up in Peru, León played soccer "from Monday to Monday, day and night." Soccer was his life until he left Peru in 1997 to attend UCLA for his surgical residency.
New to Los Angeles and with his life consumed by the hospital, León realized he wouldn't have time for team sports. He started looking for individual sports, settling on triathlons. But after a few years, he no longer had time to train for the cycling and swimming components.
That was when León found marathons. When those didn't seem like enough, he entered longer races, with courses up to 100 miles. In 2010, León ran his first race longer than 100 miles. The Moab 240 was his fourth race of 200 miles or more.
Training for races of that distance is much different than training for marathons, in part because the mental component is so important.
"When you put yourself in this event, the first night of the first day, you have to know that there's three more days and nights coming ahead of you that you have to run on blistered feet," León said.
"You have to be committed and determined to finish mentally."
In endurance races, competitors run, walk, climb and even crawl to make it through. The courses traverse mountains, and the elevation takes a toll.
The Tahoe 200 Endurance Run, León's first ultra race in 2014, consisted of 45,000 feet in elevation to be climbed. That's one-and-a-half times the height of Mt. Everest. León meditated to handle the mental load.
León doesn't make these trips alone. Competing in ultramarathons requires a full team of people to assist: Someone to drive the car that paces the runner, someone to bring supplies to far-reaching aid stations and haul coolers full of food and water into canyons or up mountains, and others.
León says he's indebted to the crew that traveled to Moab with him.
"It's a big ask, to have to take five days out of your life to drive a car next to a runner," León said, adding that he has a close friend who has crewed for all of his 200-mile races and a few of the 100s in which he's competed.
A married couple who works with León at Tucson Medical Center came along on his last trip. Others join the crew because they're curious or passionate about the event — or the runner.
Then there are those who want to compete in the race, but the entry fee is too steep. Ultramarathons cost upwards of $1,600 to enter.
León said he spent a year training for his last race after realizing in 2019 that he wasn't ready.
"I knew I had to do it this year," he said.
With the Moab 240 completed, León doesn't have much time to rest up.
In January, León plans to take part in a 100-mile ultra race in Phoenix to prepare him for May's Orcas Island 200 in Washington.
"I'm not sure this is a mid-life crisis or what it is, but I'm going to do this until my body won't let me anymore."
Contact reporter Caitlin Schmidt at cschmidt@tucson.com or 573-4191. On Twitter: @caitlincschmidt