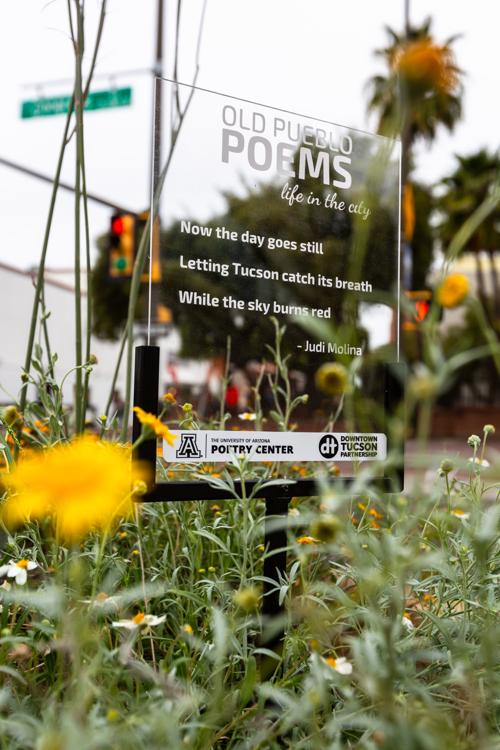 Tucsonans are encouraged to take a "haiku hike" through Downtown Tucson over the next couple of months, on the hunt for signage that highlights everything that makes our city beautiful.
The works of 20 Haiku writers waxing poetic about Tucson's monsoons, sunsets and community, amongst other topics, were selected to dot downtown until June 1.
The signs — some in English and some in Spanish — are etched on clear acrylic and are located along Congress Street and Stone Avenue. They can be seen seven days a week from dawn to dusk.
The haiku hike is approximately half a mile long.
The winners of the first Old Pueblo Poems literary contest were Philip Brown, Eric Carr, Gerry Connolly, Micaila DeClouette, Mark English, Isaac Flater, Rachel Haimowitz, Robert Hernandez, Wayne Heuple, Clara Luna, Lisa Periale Martin, Alanna Mejia, Judi Molina, Kevin Orduno, Elizabeth Salper, Joel Smith, Monique Soria, Jill Sweeney, William Y. Velez and Geri Hooper Wharam.
The competition was presented by the Downtown Tucson Partnership and the University of Arizona Poetry Center. This year's theme was "life in the city."
The winners were selected by Tucson's Poet Laureate, TC Tolbert, from nearly 1,000 entries. Of the entries, 825 came from Tucson and the others came from 12 different states and five countries.