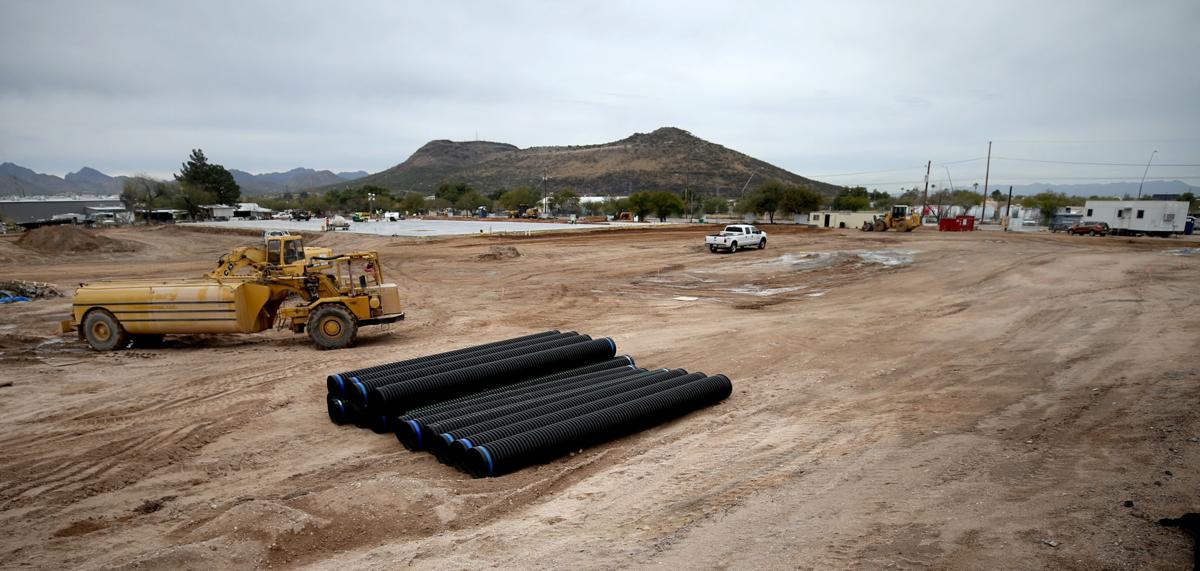 Amazon is expanding its presence in Tucson with a major development under construction on the city's west side.
The e-commerce giant is building an auxiliary distribution site for independent contractors and flex drivers to load up goods and gadgets for delivery.
Paperwork filed with the city of Tucson Planning and Development Services Department shows the project, dubbed Project Cactus, will receive and sort packages from larger warehouses to be transferred onto vans and smaller delivery vehicles.
The site is at the southwest corner of Silverlake Road and the Interstate 10 frontage road. Construction crews have already begun grading the land and placing infrastructure.
City records show the project received an initial building permit of $4.3 million.
A vehicle storage, washing and fueling station will also be at the site, as well as a customer pickup station for preordered merchandise.
The single-story warehouse and adjacent vehicle support stations will sit on about 12 acres and will operate 24 hours a day.
Employment numbers were not available, but jobs will be a mix of direct Amazon employees, contract "last mile" business owners and flex drivers who can pick their available drive times using an availability app, said Amanda Ip, a spokeswoman for Amazon.
"We are excited to continue our investment in Arizona to speed up delivery times for customers and provide great job opportunities for the talented workforce," she said.
Last year, Amazon announced plans for a massive warehouse at the Port of Tucson, just south of Davis-Monthan Air Force Base. The 855,000-square-foot building is expected to open this year with more than 1,500 full-time employees.
The west-side facility will be complementary to that operation.
Joe Snell, president and CEO of Sun Corridor Inc., said landing the project involved the Arizona Commerce Authority, Pima County and the city of Tucson.
"The city's Planning & Development Services Department helped expedite this important project in short order … very proud of our staff and happy to have this new, last-mile distribution center to complement Amazon's larger fulfillment center — both in the city of Tucson," Mayor Jonathan Rothschild said. "Amazon has discovered that Tucson is the logistics center of the Southwest."
County Administrator Chuck Huckelberry echoed the mayor's sentiment.
"Pima County congratulates Amazon on its continued expansion in Pima County, bringing hundreds of good jobs and continuing our region's strong economic growth," he said.
JOB OPPORTUNITIES
Amazon launched the Delivery Service Partner program last year to recruit drivers. The company provides vans, insurance, fuel and training support to independent owners who buy into the program and recruit their own drivers.
The $10,000 start-up to become a contract driver comes with all of Amazon's support services and customers.
Participants are independent owners of the driving service.
The Flex program is similar to driving for Uber or Lyft, with drivers picking days and times they are available to make deliveries.
A Flex app allows drivers to upload their availability, and the pay is between $18 and $25 an hour.
"So far, Amazon has attracted tens of thousands of aspirants eager for a ground-floor opportunity serving the fast-growing company," Bloomberg reported last month. "In just a few months, more than 100 new businesses have sprouted up around the country that employ thousands of drivers. Even more hopefuls are on a waitlist eager for Amazon to expand further."
The company has 97 million U.S. Prime members who pay monthly and annual fees in exchange for fast delivery, according to Consumer Intelligence Research Partners.
Bloomberg says shipping is one of Amazon's fastest-growing expenses and consistently outpaces online sales growth.
"The company must find cheaper ways to deliver packages or its e-commerce business could be unsustainable without further price hikes," Bloomberg reported.
Amazon increased the yearly cost of Prime membership by 20 percent in 2018 to $120, the first hike since 2014.
The business news you need
With a weekly newsletter looking back at local history.