Bruce Springsteen takes a tour out West on his recently released album "Western Stars" — his first studio album since 2014's "High Hopes" and his first record of new original songs since he put out "Wrecking Ball" in 2012.
"Western Stars" takes Springsteen back to his roots when he wrote songs populated by working-class guys and girls just trying to get by and figure out life. There's plenty of heartbreak and making up, including on the album's months-old second single "Tucson Train."
"This record is a return to my solo recordings featuring character-driven songs and sweeping, cinematic orchestral arrangements," Springsteen said in a statement. "It's a jewel box of a record."
We're not really sure what inspired the Tucson reference — as far as we can tell, Springsteen hasn't played a Tucson show since he sold out the Tucson Convention Center during 1978's "Darkness on the Edge of Town" tour. But the song conjures up visions of the downtown rail station on East Toole Avenue — especially if you've found yourself parked behind the blinking red crossing guard lights as a train rambled along — and a working-class Joe anxiously awaiting love to pull into the station.
In "Tucson Train," Springsteen writes about finding love on the 5:15 after a crash-and-burn romance in 'Frisco. "Now I carry my operator's license / And spend my days just runnin' this crane / And my baby's coming in on the Tucson train."
The song has an almost folksy country-Western feel with sweeping orchestral passages. There are similar full-string compliments on the record, and while Springsteen hasn't done a whole lot of media around "Western Stars," he said in an interview with Variety back in December that the record was inspired and influenced by "Southern California pop music of the '70s" and artists including Glen Campbell, Jimmy Webb and Burt Bacharach.
"I don't know if people will hear those influences, but that was what I had in my mind," he told the magazine. "It gave me something to hook an album around; it gave me some inspiration to write. And also, it's a singer-songwriter record. It's connected to my solo records writing-wise, more 'Tunnel of Love' and 'Devils and Dust,' but it's not like them at all. Just different characters living their lives."
The reviews of "Western Stars" have been mostly positive, with The Associated Press saying the album "breaks fresh ground for the veteran rocker, who turns his back not only on the blistering sound of the E Street Band but also abandons the haunting acoustic moods pioneered on 'Nebraska' and fine-tuned on later solo efforts."
Said the New York Post: "Although Springsteen has ventured into country and folk territory in the past on albums such as 1982's 'Nebraska,' 1987's 'Tunnel of Love' and 1995's 'The Ghost of Tom Joad,' here he brings a cinematic scope to the rootsy terrain with sweeping strings and vivid, scene-setting lyrics."
Springsteen's hometown newspaper, The Star-Ledger in New Jersey (NJ.com), called the record the "most disappointing" of Springsteen's career.
"'Western Stars' exhibits no discernible purpose, no new ground covered by the 69-year-old songwriter fresh off his glitzy Broadway run," it said. "(It) is, ultimately, a tumbleweed — here for a few moments, but soon to be gone and forgotten, swept away by the howling wind that's already begun to swirl around the news that Springsteen will record with The E Street Band this fall and then head back on the road for a full-band concert tour in 2020."
26 songs that have the word "Tucson" in them:
Tucson Train ─ Bruce Springsteen
Lyric: "Just to show her a man can change / Now my baby's coming in on the Tucson train."
Release date: May 30, 2019
Fun fact: The song is on his new album "Western Stars," which comes out on June 14. 
Closer — The Chainsmokers (feat. Hasley)
Lyric: "Stay, and play that Blink-182 song/That we beat to death in Tucson, OK"
Release date: July 29, 2016
Fun fact: This song was inspired by the Blink-182's 2004 hit "Miss You." We may have just solved the mystery about what Blink song was overplayed on their tour bus in Tucson.   
Must Be Losing My Mind — Brett Dennen
Lyric: "Burned out in the lawn in Tucson, Arizona/With the scavengers on 4th Avenue"
Release year: 2011
Fun Fact: Brett Dennen is an American pop/folk singer who loads up a lot of modern day Tucson references in this song.
Wouldn't Wanna Be Ya — Toby Keith
Lyric: "I made it out to Tucson where I turned my truck around/I started barreling down that highway boy, back to that Texas town"
Release year: 2007
Fun Fact: The singer had some Tucson roots momentarily when a "Toby Keith's I Love This Bar and Grill" opened in the Tucson Mall on New Year's Eve, 2012. He then turned "back to that Texas town" when the restaurant closed about 14 months later.  
Road to Gila Bend — Los Lobos
Lyric: "Got to Tucson in the dark/Keeping an eye out for the law/Five hundred miles or more from a broken heart"
Release year: 2006
Fun fact: Can't get enough Los Lobos? The band runs a "Classic Live Lobos" section on their website where you can watch past performances.
Hows about tellin' a story? — Devendra Banheart
Lyric: "Mansonite and the Wolfman, Katmandu, and Honest Abe/Something happens up in Tucson and then it happens again in Maine"
Release year: 2005
Fun Fact: Singer Devendra Banheart was raised for most of his childhood in Venezuela before moving to Los Angeles with his mother and stepfather at the age of 14. 
Idiot Summer — Gin Blossoms
Lyric: "There's no telling I was so confused/I try but I can't help you choose/Tucson is so far away"
Release year: 1989
Fun fact: This song was part of the Wayne's World 2 soundtrack. Party on!
Under African Skies — Paul Simon
Lyric: "I said take this child, Lord, From Tucson Arizona/Give her the wings to fly through harmony/And she won't bother you no more"
Release date: August 1987
Fun Fact: Part of the song was written for Linda Ronstadt — about her life growing up in Tucson. She also contributes to the backing vocals.
Thumbelina — The Pretenders
Lyric: "Hush little baby, don't you cry/When we get to Tucson you'll see why/ We left the snowstorms and the thunder and rain/For the desert sun, we're gonna be born again"
Release year: 1984
Not so fun fact: The song is featured in The Pretenders' third studio album, "Learning to Crawl," which was produced after two of the band's four original members died from drug overdoses.
Leila — ZZ Top
Lyric: "I begged her not to go away/She left my ex best friend out in old Tucson/Told me she was leavin' and would be rollin on."
Release year: 1981
Fun Fact: The band has appeared on a few television shows over their 40+ years in the business, including hosting an episode of WWE Raw.
It Ain't All Bad — Charley Pride
Lyric: "I picked last night in Tucson I sang 'em a country song/Missed my plane this morning Lord cause we parted all night long"
Release date: March 1975
Fun Fact: Pride has been part-owner of the Texas Rangers since 2010. At 82, he also takes time off to work out with the team at their spring training facility in Surprise. 
Willin' — Linda Ronstadt
Lyric: "And I've been from Tucson to Tucumcari, Tehachapi to Tonopah/Driven every kind of rig that's ever been made"
Release year: 1974
Fun fact: The song was originally written and performed by the American rock band, Little Feet. Ronstadt is a native to Tucson, so it's seems pretty fitting she has her own rendition of the song.
Check out this Ronstadt throwback from the Arizona Daily Star's archive.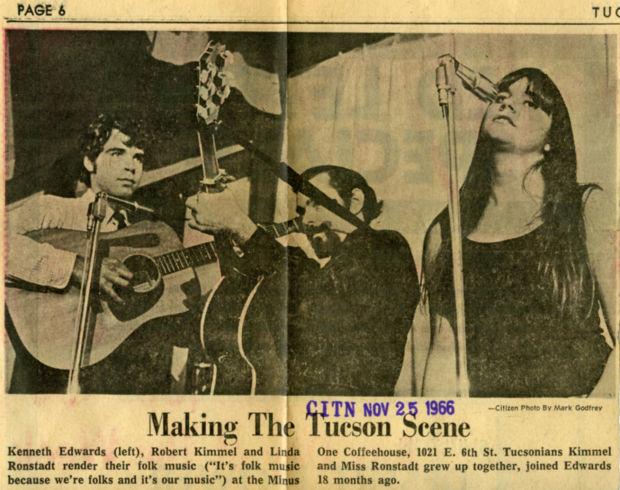 Here's what her band, The Stone Poneys, has to say about their sound in 1966: "It's folk music because we're folks and it's our music."
Seashores of Old Mexico — Merle Haggard
Lyric: "We left out of Tucson with no destination in mind/We were runnin' from trouble and the jail-term the Judge had in mind"
Release year: 1974
Fun fact: There is a duet version of the song featuring Haggard and Willie Nelson. In fact they recorded a whole album together titled "Seashores of Old Mexico."
Get Back — The Beatles
Lyric: "Jojo left his home in Tucson, Arizona For some California grass"
Release date: April 11, 1969
Fun fact: When released as a single as part of the Beatles' final studio album "Let it Be," the song hit number one in the U.S. and international charts. 
Bonus fact: Paul McCartney's first wife, Linda, studied at the University of Arizona in Fine Arts. They married in 1969, the same year "Get Back" was recorded. The couple bought ranch property in Tucson in 1979 and lived here for several years until Linda's death in 1998.
The Ballad of Boothill — Johnny Cash
Lyric: "Out in Arizona just south of Tucson/Where tumbleweeds tumble in search of a home/There's a town they call Tombstone where the brave never cry"
Release year: 1959
Fun fact: This song is more about Tombstone than it is about Tucson. But hey, it's Johnny Cash singing about the famous gunfight at the O.K. Corral, so we'll deal.
Sister's Keeper ─ Pure Prairie League
Relevant Lyrics: Tuscon Arizona... Casa Grandes over my shoulder / And these evenin' feelin's come so strong
Release Year: 1975
Jack Straw ─ Grateful Dead
Relevant lyrics: Half a mile from Tucson / By the morning light / One man gone and another to go / My old buddy you're moving much too slow
Release year: 1972
Lights of Tucson ─ Jim Campbell
Sample lyrics: Gotta see the lights of Tucson / Gotta pack, come on, get a move on / Gotta see the lights of Tucson / Ain't coming back / Wheels, get a move on
Release year: 1970 
Send Me Down to Tucson ─ Mel Tillis
Sample lyrics: No one wants to go down to Tucson in the summer / So this time the boss chose me
…
Go on and send me down to Tucson and I'll get the job done
Release year: 1979
Della and the Dealer ─ Hoyt Axton
Relevant lyrics: Down Tucson way there's a small café / Where they play a little cowboy tune.
Release year: 1979
Americano ─ Roger Clyne and the Peacemakers
Relevant lyrics: All roads lead back to Tucson / Pray, Maria I don't find the noose on
Release year: 2004
Vienna Calling ─ Falco
Relevant lyrics: Womit spielen kleine Mädchen heute, hier und dort und da, (What do little girls play today, here and there and there,) Und in (And in) Tucson, Arizona; Toronto, Canada.
Release year: 1985
Ghetto Cowboy ─ Bone Thugs-N-Harmony
Relevant lyrics: These directions say we go to Tucson, Arizona / When we arrive we'll cop a place we can bunk
Release year: 1998
Painted Desert ─ 10,000 Maniacs
Relevant lyrics: I wanted to be there by May at the latest time. Isn't that the plan we had or have you changed your mind? I haven't read a word from you since Phoenix or Tucson. April is over will you tell me how long before I can be there?
Release year: 1987
Tucson, Arizona (Gazette) ─ Dan Fogelberg
Sample lyrics: Tucson, Arizona / Rising in the heat like a / Mirage / Tony keeps his Chevy / Like a virgin locked in / His garage
Release year: 1984
Tucson Too Soon ─ Tracy Byrd
Sample lyrics: Tonight on a plane bound for Dallas / I see the bright lights of Tucson below / Shining on all of the memories / I thought I'd finally let go
…
For leavin' Tucson too soon / At the time it was something that I just had to do / But tonight face to face with that old desert moon / It seems I left Tucson too soon
Release year: 1996