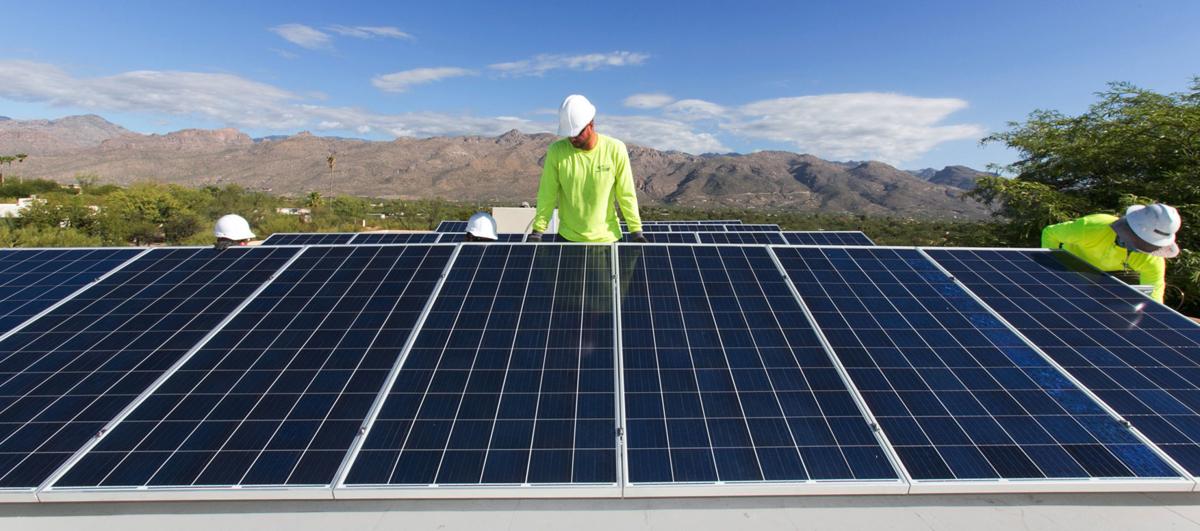 After years of regulatory wrangling, the Arizona Corporation Commission is expected to decide Tuesday on rates for customers of Tucson Electric Power Co. and sister rural utility UNS Electric who install grid-tied rooftop solar panels.
Proposed changes would cut the credits new rooftop solar customers will get for their excess power production and impose new charges in a move solar backers say will cause the local industry to shrink and perhaps collapse.
The new rates will apply to customers who apply to connect rooftop photovoltaic systems after the commission's decision goes into effect, which could be immediately.
Tuesday's open meeting will be held at 10 a.m. the Corporation Commission's Phoenix office and will be streamed live on the agency's website, www.azcc.gov.
After years of debate and following regulators in other states, the Corporation Commission in December 2016 voted to end the practice of net metering, where solar customers are credited for their monthly excess energy production at full retail rates.
Regulators mandated that net metering initially be replaced with new "solar export rates" based on the cost of power generated by large, utility-scale solar farms.
TEP and other utilities contend that because they use less power from the grid, customers with rooftop solar systems aren't bearing their fair share of fixed system costs.
Solar industry backers including the Alliance for Solar Choice and the Energy Freedom Coalition of America say new solar export rates proposed by TEP and UNS ignore some economic and societal benefits of rooftop solar.
They say the utility proposals would make installing solar uneconomical for many customers and halt the industry's growth, citing a steep drop in installations in areas where solar credits were cut.
In mid-April, a Corporation Commission administrative law judge recommended setting the TEP solar export rate at 9.64 cents per kilowatt-hour, compared with the retail rates averaging about 11 cents per kWh.
The judge also rejected the utilities' rate-design proposals — including a new solar "grid-access charge" — ruling the plans were based on a flawed formula and ordering new studies.
For UNS, which serves Santa Cruz and Mohave counties, Judge Jane Rodda proposed an initial export rate of 11.5 cents per kilowatt hour compared with the rural utility's 2016 average rate of 10.8 cents.
The rates would be locked in for each customer for 10 years and could be cut by up to 10 percent annually, under the commission's earlier decision.
The utilities proposed an initial export rate of 10.7 cents per kWh for both TEP and UNS, to be reset July 1 at 9.3 cents for TEP and 9.4 cents for UNS and declining annually. With no July reset, the utilities proposed a combined export rate of 9.73 cents per kWh.
In a subsequent filing, TEP said the export rates proposed by the judge would delay efforts to recover more fixed system costs from solar customers, and it defended its cost-study methodology.
TEP also contends that the administrative judge used outdated data, and that using the correct information would result in much lower solar export rates.
The commission already has approved new solar export rates for other state-regulated utilities.
The panel last year set Arizona Public Service Co.'s initial solar export rate at 12.9 cents per kilowatt hour, declining 10 percent annually, as part of a settlement with solar industry groups.
Members of the public may phone in to listen or to comment at 1-800-689-9374 (Passcode: 415962 for public comment or 415960 to listen only).